Welcome to The Hanged Jackal. We do hope you enjoy your visit.
If you have found us, then you belong here. It is no chance that you came upon our neon sign down the dark road and decided to stop. Please peruse our offerings, and if you feel so inclined, rent a room.
Ominous, right? It is spooky season after all, and if you're in search of your next perfect decorations to celebrate good ol' Oct. 31, you're in luck: The Hanged Jackal just opened. And if the description above didn't clue you in enough, let me tell you: it's your one-stop Etsy shop for all things eerie.
Roan Vaughan, a Tampa resident, unveiled The Hanged Jackal on Sep. 22, the first day of fall. Its store description pitches it as "An Inn for Dark and Decadent Creatures" and it's easy to see why. Roan's paintings are filled with rich, dark colors and chilling settings: a lone, illuminated greenhouse in a dense navy forest, a yellow eye emerging from an orange pumpkin and a dark and detailed grave lit only by a single candle's glow. These are just a few of the pieces you can find on her page.
Vaughan's been painting since first grade but began to take a true level of seriousness to it back in 2016 when she enrolled in an art class with a particularly encouraging teacher. "She let me choose my own subject to paint so I never felt uninspired. She made art feel serious and important and exciting. I've been in love with it ever since!"
While running an Instagram page dedicated to her work, Vaughan has also been exhibiting at the Carrollwood Cultural Center since 2018. She showed three paintings at LeRoux Body Art & Adornment's Lore exhibition the following year, which is located in Tampa and emphasizes storytelling through different creative mediums. 
Vaughan says that opening The Hanged Jackal has been on her mind for some time, and with COVID-19 closing nearby galleries, it was the perfect push to get it started. 
Basing her store's aesthetic around all things spooky wasn't a mistake: she's always loved this time of year and everything that it represents. She finds the idea of donning a new persona while still staying true to yourself to be incredibly fascinating. 
"That juxtaposition sparks inspiration for me. I try to combine elements of that joy and darkness, beauty and horror, into what I make because I think it's quite complicated and human," said Vaughan. "A monster isn't quite as monstrous with a kind face."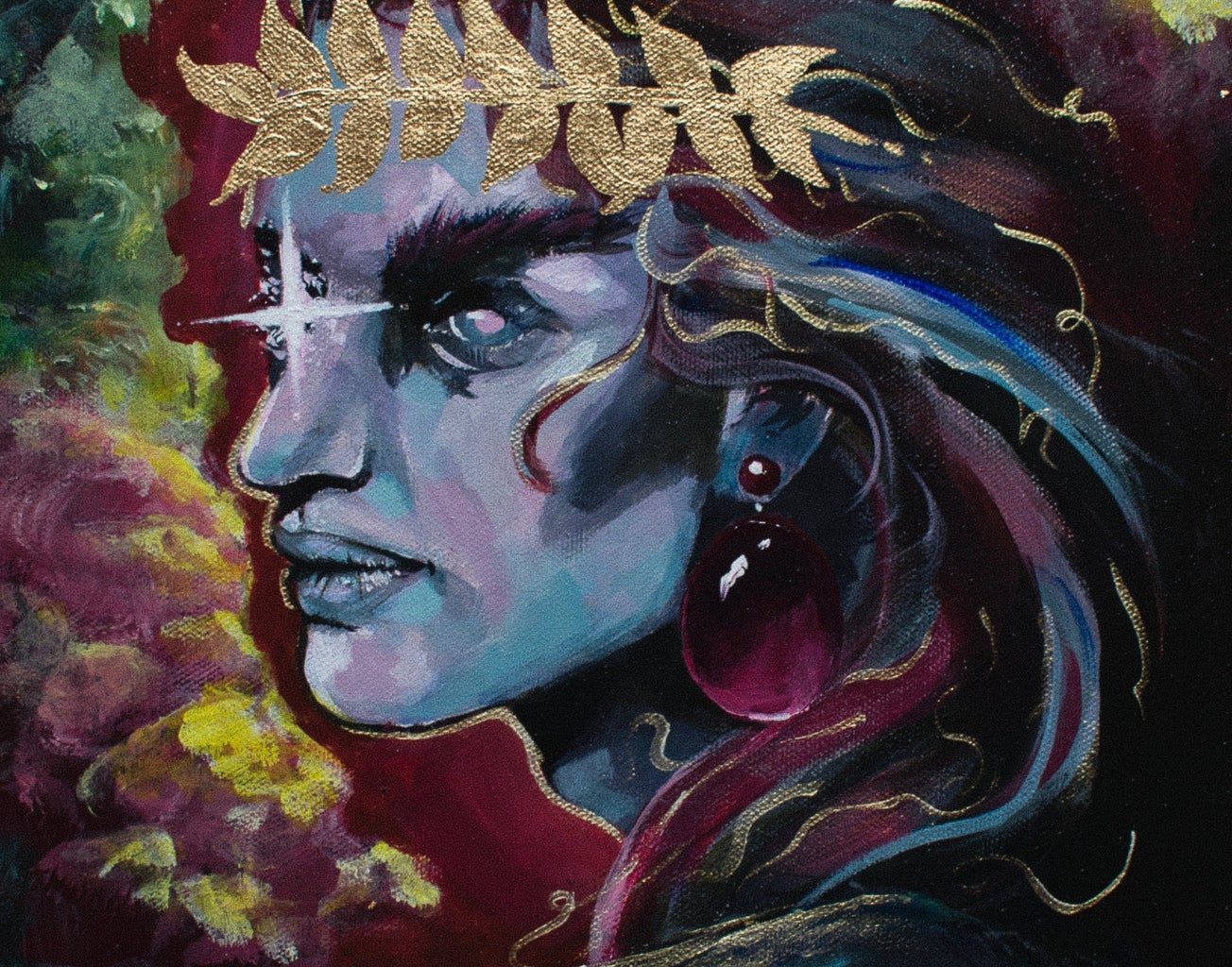 The Tampa artist isn't a one-trick pony: in addition to being a painter, she's also a gifted writer. The two aren't mutually exclusive either. She takes inspiration from her artwork, particularly her portraits, and puts it into her stories, and vice versa. The two passions play off of one another.
Aside from her creations, there are other things Vaughan adores about Halloween. I mean, who doesn't love curling up with a scary movie or two when the other outside gets chilly and the darkness a little foreboding? Roan Vaughan's spooky toolkit includes Kit-Kats, corn mazes, pumpkin carving and a short animated series called Over the Garden Wall.
All of these influences swirl together to help her to create her art. There are thousands of Etsy stores on the Internet, but the immersive nature of The Hanged Jackal makes it far from your average online shop.
"The Hanged Jackal is my fictional inn for all creatures dark and decadent, a place for the characters and monsters that I paint to stay. Each piece has its own story that ties to the inn and comes with a handmade room key," promised Vaughan. 
Visitors of her shop have a great variety to choose from: prints, originals and digital items are all available, with more on the way. After all, winter is just around the corner… who knows what festive beauties this artist will have for us by then?
Check out Roan's store The Hanged Jackal or follow her on Instagram @roanvart!
Want to see more HCFSU? Be sure to like us on Facebook and follow us on Instagram, Twitter and Pinterest!