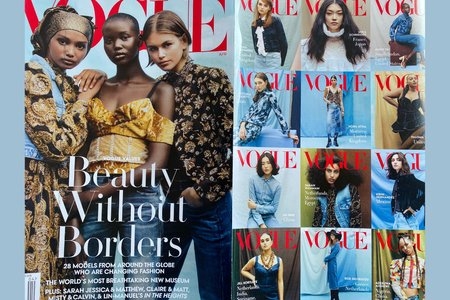 Vogue's April Issue: Beauty Without Borders
Despite all the madness that is going on in the world, Vogue's April 2020 issue could not have come at a better time. With their Vogue Values headline "Beauty Without Borders," Vogue editors-in-chief have come together to shed light on diversity in fashion. Nominating 28 models from around the world, they were able to showcase an inclusive shift in runways while also getting personal anecdotes from all 28 models on their personal upbringings and how it has affected their experience in modeling.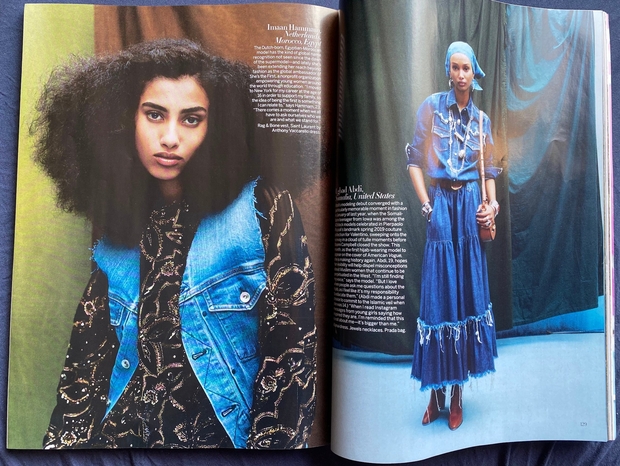 The shoot for this spread took place in New York and was themed as a "mosaic of denim." As described in the editorial spread, this is a time to "embrace an idea of beauty that encompasses the entire world." Models, and the fashion industry they represent, are no longer being confined in a very small box that idealizes what they should be. Aside from using their own voices, the industry has come together to value representation so that every nationality, ethnicity and race is seen. Vogue, representing their 23 international editions, also spoke to this on a political level. Explaining that most political leaders are looking "inward" at a nation where borders and walls are put in place, models are looking "outward" by seeing the world as a place of inclusion.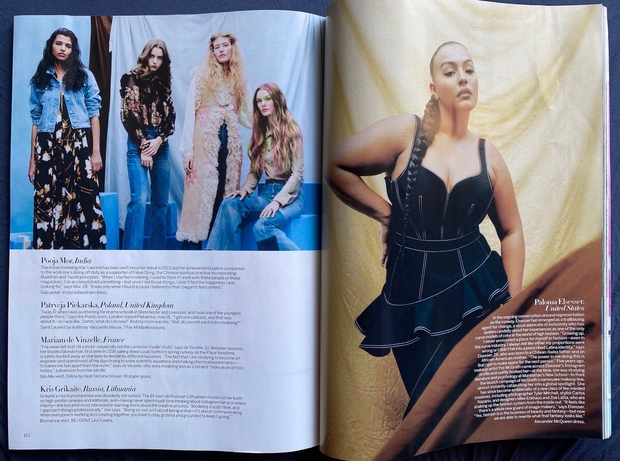 The models of this campaign did not shy away from using this platform to share their voices. Adut Akech and Paloma Elsesser for example, both share powerful stories through an individual lens. Akech, from South Sudan and Australia, shared her life growing up as a refugee. She explained her path from being born in a "war-torn" area that is now South Sudan to being raised in Kenya in a refugee camp until she moved to Australia when she was eight. At just 20 years old, Akech has used her platform to advocate rights to refugees and support fundraising for the fires in Australia. Elsesser, from the United States but of Chilean-Swiss and African American descent, used her platform to share her experience as a curve model of color in high fashion. Growing up, Elsesser felt she didn't fit into the idea of what it meant to be a curve model or a Hispanic model. Studying literature and psychology in New York until being scouted by a modeling agency, she has found that the new wave of industry leaders aren't afraid to change the narrative of stereotypes and rewrite the fantasy of fashion. All 28 of these models have and share their own unique story that makes both their journey and their voice so powerful.
Looking forward, there is no denying there has been a lot done to create inclusivity in fashion, but there is also a lot to be done. Being that models have such a public platform in fashion, they are often the voice for the industry. These women are the faces the next generation will see and look up to. These young, female industry leaders are not just models, but they are also activists who are hungry for change and not afraid to set the pace for the generation to come. Quoting Dutch-Egyptian model, Imaan Hammam, "There comes a moment when we all have to ask ourselves who we are and what we stand for."
Want to see more HCFSU? Be sure to like us on Facebook and follow us on Instagram, Twitter and Pinterest!