Understanding the Movement Behind the "Princess of Pop"
The year is 2007. The iPhone has its debut and the final Harry Potter book is released to millions of fans. It was quite the year for popular culture and just the beginning of a hectic journey for the 26-year-old Britney Spears.
The young, wildly famous artist spent the year getting treatment at rehabilitation centers. Her privacy was kept under wraps as she checked in and out of multiple centers. After divorcing her husband and losing custody of her kids, her father Jamie Spears was named her conservator through a court-sanctioned conservatorship. Because of her hospitalization from mental health struggles, the court of Los Angeles made this permanent between her and her father. In a conservatorship, the conservator has designated control over financial, daily life and medical decisions. Jamie Spears has been said to have "worked hard to restore Britney to good health, reunite her with her children, and revive her career," as said by his legal team through CBS News. It is important to note that Jamie was given a yearly salary of $130,000 and "1.5 percent of the revenues of performances and merchandise linked to Britney's residency in Las Vegas." In the end, Britney did not go through with the residency plan in 2019 and took a break to focus on her family.
Still to this date, Britney does not have control over her financial and personal assets, as well as her estate.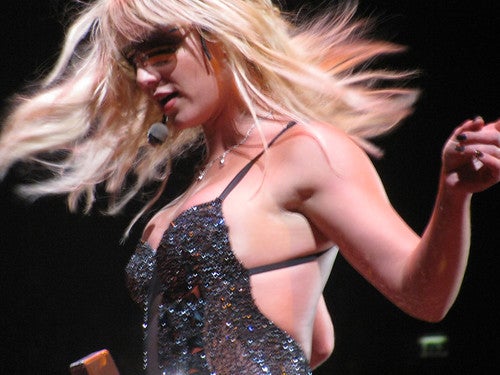 Photo by SuperSamPhotography distributed under a CC BY-SA 2.0 license Britney stated multiple times that she firmly opposed her father having the position as the sole conservator. She requested that a professional conservator had control of her person. It was not until Britney's father voluntary stepping down due to health issues that allowed for a licensed conservator, Jodi Montgomery, to temporarily take over Jamie's role in 2019.
Now, what caused this to all resurface in 2019 to the present day? A podcast named Britney's Gram, hosted by Tess Barker and Barbara Gray was created in 2017 to just be a humorous critique of Spears' Instagram account, as told by Los Angeles Times. The mystery behind Britney's posts is what drew them in and eventually led them to start the trend #FreeBritney. The popularity of the hashtag grew over multiple different platforms such as Instagram, Twitter and Tiktok. There have even been groups of protestors in L.A. that held up #FreeBritney signs and protested that Britney was ultimately being held against her will. Britney's legal team stated in Sep. of 2020 that Britney "...welcomes and appreciates the informed support of her many fans."
Also in 2020, Britney was able to establish Bessemer Trust as the co-conservator and is still fighting for the financial group to become the sole conservator of her estate, rather than her father. Britney's attorney, Samuel D. Ingham III, even stated that she had not communicated with Jamie in a while and even said she was "afraid of her father."
This year, the recent spark of the movement was caused by the new documentary Framing Britney Spears made by The New York Times Presents Series. The one-hour and 15-minute documentary included detailed descriptions and explained Britney's struggle through her legal conflicts. This documentary also included details about the pop star's romantic relationships – one detail being her relationship with Justin Timberlake. The ex-boyband member apologized to both Britney Spears and Janet Jackson through an Instagram post because of his "past sexist and misogynist behavior that affected both female stars' careers."
The movement has sparked a lot of media attention over the past couple of years and will continue to be followed as Miss Spears proceeds through her legal journey.
Here is a direct link to the podcast Britney's Gram, Britney's Instagram account and the documentary on Hulu.
Want to see more HCFSU? Be sure to like us on Facebook and follow us on Instagram, Twitter, TikTok, Youtube and Pinterest!