"ISO a basketball ticket… I'm graduating this semester [sad emoji]."
"ISO: basketball ticket. Y'all don't want to be going to the game with [the coronavirus] going around anyway— I'm doing you a favor."
"Will pay $30 for your basketball ticket for Saturday! P[LEASE]!"
These are the desperate cries in the official "FSU Class of 2022" Facebook group. The final home game for the Florida State University men's basketball took place this past Saturday against Boston College at 4:30 p.m. Unsurprisingly, it was the most popular game of the season— student tickets for the game sold out within a handful of minutes! While I love our basketball team, I – among many other students – am upset that a large amount of those tickets was not claimed by students intending to attend the game (i.e. ticket scalpers). 
It has become a common practice for students to resell popular sports tickets (e.g. football, basketball) on online marketplaces like student Facebook groups. Usually, this doesn't present a problem. At football games, there is an abundance of bleacher seats and students buy tickets off of each other only because it's cheaper than buying a regular ticket for a parent or a guest ticket for a visiting friend. The effects of ticket scalping are felt more heavily during basketball season because, as the Tucker Center has a limited number of seats, there is also a very limited number of student tickets available. As our rankings grow (Florida State is currently first in the ACC and seventh in the country), the student ticket demand grows. As the demand grows, the amount of ticket scalpers increases, who in turn also crash the online servers.
One of the most frustrating parts of the situation is that as FSU students, we receive basketball tickets for free. The ticket scalpers are literally making a profit off of nothing (unless you count the $7.90 athletics fee that all students are required to pay). Some ticket scalpers are defending themselves by arguing that they have the right to resell tickets since they pay the athletics fee. I would argue that since everybody pays the athletics fee, nobody has the right to make a profit off of the tickets.
While the FSU Ticket Office did not respond to my email for more information on the case, they did send out this tweet this past Sunday, March 1 (tickets went live 5:00 p.m. that afternoon):
"#FSU students who wish to report code of conduct violations can do so by contacting the Student Rights & Responsibilities Office at [email protected]."
I looked up to see exactly what code ticket scalpers are violating and learned that it's against our statutes for tickets to be "resold for more than $1.00 over the original admission price." As someone who missed the deadline and ended up buying a ticket for $25, I'm mad, but I'm also contributing to the problem.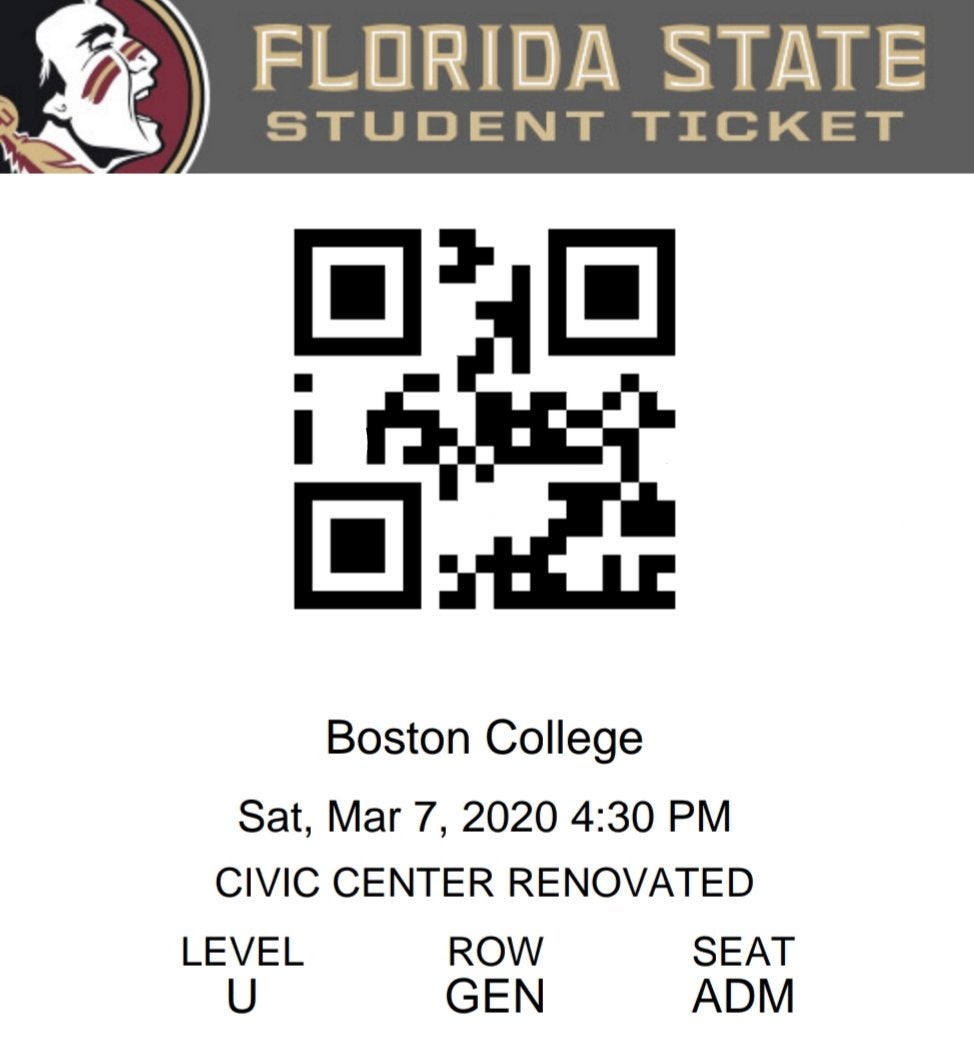 Ticket scalpers are also defending themselves by arguing that they are acting in the name of "capitalism" or that it's a "dog eat dog" world. Students like me, who are willing to put a little cash forward to watch a quality game, create a market for ticket scalpers to act in, but that still doesn't mean it's fair. While yes, we can report ticket scalpers there should be more measures in place to prevent the overall issue. 
These are three steps that the FSU Ticket Office could take in this situation:
Check student IDs at the door. Many students won't go through the effort of doctoring a ticket.
Offer student guest tickets for a low price. As crazy as it seems, the Ticket Office is competing with ticket scalpers for business and the scalpers are coming out on top. If cheap guest tickets were offered, students wouldn't go online to find a deal.
Make tickets first-come, first-serve, day-of and in person. Obviously, this isn't a perfect solution (none of these are) but this would be the most difficult barrier for ticket scalpers to overcome.
Basketball is my favorite sport, and men's basketball is my favorite sport to attend on campus. I haven't been able to attend a game yet because of scheduling or not wanting to deal with ticket scalpers. If Florida State wishes to make the ticket-claiming process easier for its students, students that are technically paying for these tickets either way, then they should reach out and listen to what we have to say.
Want to see more HCFSU? Be sure to like us on Facebook and follow us on Instagram, Twitter and Pinterest!