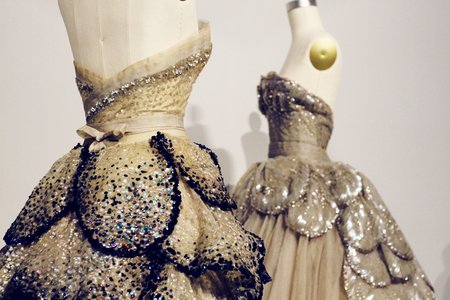 Alanna Martine Kilkeary / Her Campus
Thoughts and Predictions on the Postponed Met Gala 2020
The Met Gala has always been the most iconic day in fashion history. Being held every year on the first Monday of May, this red carpet event and ball found at the Metropolitan Museum of Art in Manhattan, New York, is a time for all people of the fashion and entertainment industry to come together to celebrate fashion in the launch of the new Costumes Institute's exhibition. The Met Gala is hosted by Vogue under the gala chairwoman and Vogue editor-in-chief, Anna Wintour. This year's Met co-chairs were Nicolas Ghesquière, Lin-Manuel Miranda, Meryl Streep, Emma Stone and Anna Wintour. Every year holds a new theme for fashion designers to interpret and bring to the runway for the world to see. However, due to the global impact of COVID-19, this year's Met Gala has been postponed indefinitely.
This year's Met Gala theme, About Time: Fashion and Duration, speaks to the evolution and reimagination of fashion throughout history. In the May 2020 Vogue issue, we are given an inside look into the exhibition that is scheduled to relaunch in late October as well as how fashion has transformed over the past 150 years. This exhibit has parallels of many fashion trends such as menswear embroidered jackets from 1902 and a 2018 Louis Vuitton vest and blouse set (pictured below). The idea is to visualize that fashion is nonlinear through displaying pieces from the early centuries in conjunction with their modernized portrayal in technique and silhouette. Fashion is the ultimate tale-teller of time and that the exhibit helps portray not only history but also how fashion is moving forward.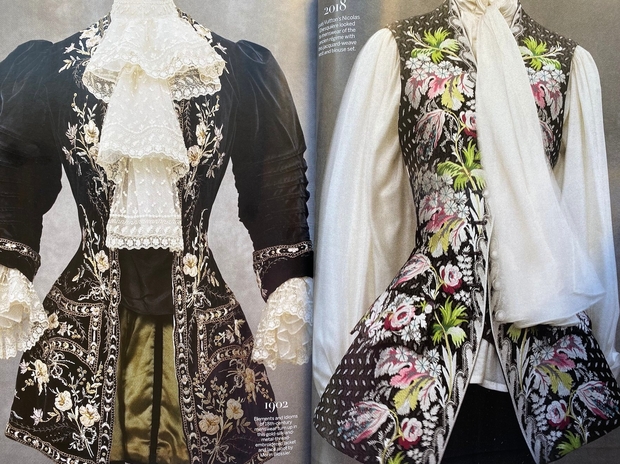 Seeing that the Met Gala is my favorite holiday and I look forward to it more than I do my own birthday, the postponement of this event has canceled the month of May for me. However, I am also using it as an opportunity to get excited about it in new ways. I am planning to mark the first Monday of May by watching the Met Gala documentary The First Monday in May and also coming up with my own predictions and conspiracies about this year's Met. Because this is the biggest event in fashion, predicting who celebrities will wear and who will be invited is helping me keep spirits alive and celebrate in style. 
Currently, there are several notable attendees at the Met Gala that were likely to make a reappearance this year. For starters, Kendall, Kylie and Kim of the Kardashian/Jenner clan have become iconic names in both fashion and entertainment. They have a history of leaving a lasting impression on the Met Gala carpet as they always team up with major designers. Last year, Kendall and Kylie wore correlated Versace gowns and the year before Kendall rocked an Off-White white jumper. Being that Kendall Jenner always finds a way of having one of my favorite looks of the night, my mind goes into overdrive when I try to predict who and what she will be wearing. Of the many designers that she has worn and this year's theme in mind, I predict (and really hope) she would have worn a Marc Jacobs look.
Aside from being the former creative director of Louis Vuitton and current head of his own brand, Marc Jacobs also gave Kendall Jenner her start in runway fashion. When Kendall turned 18, her first show was a Marc Jacobs runway. A reinvention of her bleach blonde hair and risqué outfit for that show presented for the audience of the Met Ball would be the perfect combination of paying homage to both the theme and her personal life. Another celebrity/designer prediction for this year is Elle Fanning and Gucci. Last year, Fanning rocked a chic Malibu-Barbie-esque look by Miu Miu. However, she has recently been featured on Gucci's Instagram in numerous looks assuming the actress and the brand have built a relationship in the past year. Lastly, this is more of a manifestation than a prediction but I have high hopes for Lizzo to wear Louis Vuitton because of the lyric in "Juice" that says "Louis down to my drawers, LV all on my shoes."
Almost as important as who people are wearing to the Met Gala is who gets invited. Knowing that this is the event of the year, celebrities are always eager for an invite to this exclusive event. Anna Wintour always makes the final decision on who is in and who's out. The invites have a lot of the consistent icons in fashion and entertainment, but new invites are typically correlated with who has blown up in pop culture over the past year. Although there were likely a lot of new invites, I have three major predictions for new faces on the red carpet.
First, Florence Pugh. Pugh has recently skyrocketed in fame due to her major films of 2019, Midsommar and Little Women. These successes also led her to be on the cover of the Vogue February 2020 issue. Because this is a Vogue event, there is no doubt she would be invited. Perhaps she would've made an appearance with some of her other iconic Little Women co-stars and director. Second is Emma Chamberlain. YouTube superstar herself, Chamberlain would probably make her Met Gala debut in Louis Vuitton due to her recent collaborations with them and Vogue. She has been featured on both Louis Vuitton and Vogue's YouTube channels and has also been invited to Paris Fashion Week twice with the brand, helping her break into the fashion industry as an influencer. Based on James Charles' invite last year and Liza Koshy's two-year role as an interviewer at the Met, it is clear Vogue has been pushing to help influencers have a more mainstream role in media. For my last major prediction, and in my opinion, long overdue invitee, Tyler, The Creator. Tyler is one of the biggest icons in music today and his status is also reflected in his fashion. He has a very unique and camp approach to his looks that are perfect for the Met. There is no doubt he would partner with a major designer and take over social media alongside his Met Gala vet friends, Frank Ocean, Jaden Smith, Kendall Jenner and more.
Despite the Met Gala's current postponement, fans are still looking for a way to celebrate the famous "First Monday of May" in style. Like everything else in today's climate, the biggest party in fashion is getting a unique virtual experience. Fans have started the #MetGalaChallenge where anyone and everyone is meant to recreate iconic Met Gala outfits of the past right from their own home. The Met Gala, at its core, is an event for the spectators and it pushes for inclusivity in fashion. This challenge is the silver lining of the pandemic that can bring together everyone from fans to celebrities to designers.
Want to see more HCFSU? Be sure to like us on Facebook and follow us on Instagram, Twitter and Pinterest!