Taylor "Activism" Swift Openly Supports the Biden Harris Campaign
In light of the recent vice presidential debate on Oct. 7, many celebrities have voiced their support for Democratic candidate Joe Biden and his running mate Senator Kamala Harris. This list includes Dwayne Johnson, Stephen and Ayesha Curry, Tracee Ellis Ross, Mark Cuban, Tom Hanks, Aubrey Plaza and more. Singer and songwriter Taylor Swift is among the plethora of public figures to openly support the pair. 
Within the last few years, especially during the Trump administration, Swift has become more outspoken about political issues such as LGBTQIA+ rights, women's rights, racism, healthcare and other hot topics. In some of her songs, including "Miss Americana and the Heartbreak Prince" and "You Need To Calm Down," Swift utilizes her influential voice to highlight issues troubling many Americans in a lyrical and poetic way. 
Earlier in 2020, Swift partnered with Netflix to release her Miss Americana documentary to show both fans and non-fans her activist side, which has been suppressed most of her career. Following this came the release of her single "Only The Young," which encourages young eligible voters to cast their ballots for positive change. Most recently, Swift was interviewed by V Magazine on who she would be supporting in the presidential election this November. 
In the article by V Magazine, Swift states, "The change we need most is to elect a president who recognizes that people of color deserve to feel safe and represented, that women deserve the right to choose what happens to their bodies, and that the LGBTQIA+ community deserves to be acknowledged and included. Everyone deserves a government that takes global health risks seriously and puts the lives of its people first. The only way we can begin to make things better is to choose leaders who are willing to face these issues and find ways to work through them. I will proudly vote for Joe Biden and Kamala Harris in this year's presidential election. Under their leadership, I believe America has a chance to start the healing process it so desperately needs."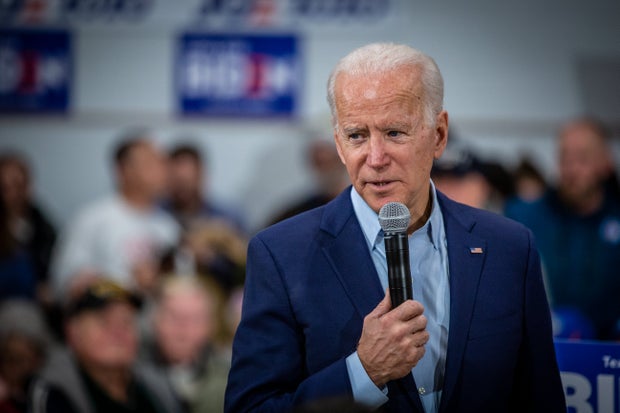 Photo by Phil Roeder from Flickr
To promote the article and encourage the nation to watch the debate, Swift took to social media. Alongside the V Magazine cover and a photograph of her homemade campaign cookies, Swift wrote on Twitter, "I spoke to @vmagazine about why I'll be voting for Joe Biden for president. So apt that it's come out on the night of the VP debate. Gonna be watching and supporting @KamalaHarris by yelling at the tv a lot. And I also have custom cookies."
Both Joe Biden and Kamala Harris responded to Swift's statement of support with gratitude and lyrical puns. Biden quote-tweeted it, saying, "Taylor — Thanks for your support and for speaking out at this crucial moment in our nation's history. Election Day is right around the corner — are you ready for it?" A few hours later Harris replied, "Voting never goes out of style. Thank you so much for the support Taylor. P.S., Please share your cookie recipe."
The next presidential debate on Oct. 15 has been canceled, but the final debate is still scheduled for Oct. 22. For more information on how you can best prepare for Election Day, visit vote.org.  
Want to see more HCFSU? Be sure to like us on Facebook and follow us on Instagram, Twitter, TikTok and Pinterest!