Summer Camp Gone Slasher: American Horror Story Season 9 Premiere
It's 1984: the hair is big, everyone owns a Walkman, summer's just begun and there's a killer on the loose… FX's American Horror Story (AHS) returns on Sep. 18 with the horror anthology's ninth installment. Fans have been raving on Twitter about the new season and new insight has just been released on how it's all going down.
Despite the title of this season being identical to the well-known George Orwell novel, the creators of the series, Ryan Murphy and Brad Falchuk, had the vision of honoring classic slasher films from the 80s, such as A Nightmare on Elm Street and Friday the 13th: The Final Chapter, both released in 1984, according to Entertainment Weekly. 
According to Cosmopolitan, this season will feature 10 episodes with some familiar cast members and new faces. To some fans' surprise, a few veterans of the show have revealed that they will not be returning in the newest season. Among the actors not returning are Billy Eichner, who starred in AHS season seven Cult and season eight Apocalypse, Evan Peters, who has been cast in all eight of the previous seasons typically with a major role, and Emmy award-winning Sarah Paulson, who has also been a cast member from the very beginning. This isn't the first time AHS has had a seasoned actor step down from the show, as Jessica Lange called it quits in 2013 despite her brief return in season eight. 
However, producers of the show have disclosed that AHS alumna Emma Roberts will return this season with a significant role. They've also decided to cast some new members on the screen including Olympian Gus Kenworthy, famous trans actress Angelica Ross, DeRon Horton from the Netflix show Dear White People, Zach Villa from Showtime's Shameless, and Glee's very own Matthew Morrison. Cody Fern, who played Michael Langdon in Apocalypse, will also return this season, along with stars Billie Lourd, John Carroll Lynch and Leslie Grossman.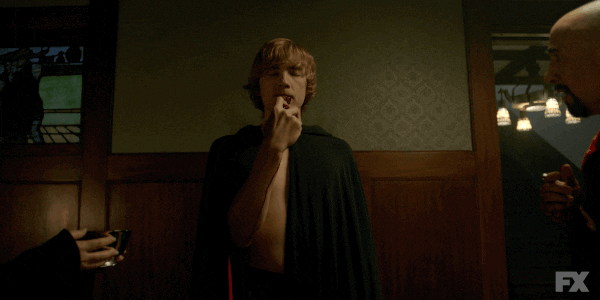 Courtesy: Giphy
While the details for the new season have been limited, the teasers and official trailer released for1984 have provided some clues to this season's plot. The main setting is Camp Redwood, presumably in California - hence the name Redwood, like the national park. Infamous 80s serial killer Richard Ramirez, also known as the "Night Stalker" and was previously featured in the episode "Devil's Night" from season five Hotel, will be played by Zach Villa. The killer on the loose called Mr. Jingles, likely to be played by John Carroll Lynch, was a patient at a mental institution from which he escaped.
Viewers should brace themselves for the blood and carnage coming this season, but it's nothing new for long-time fans of AHS. FX has also announced that the show has been renewed for a season 10, so the ride doesn't end here and maybe Evan Peters will make a reappearance. Although there is no certainty that this season connects with previous installments, the creators have done it in the past, so the idea shouldn't be ruled out. American Horror Story has stayed loyal to its brand of TV horror with each season unveiling a new plot under this genre, so fans can rest assured that there will be even more twisted tales in the future.