Start of Something New: Disney+ Releases High School Musical Series Trailer
On Aug. 23, Disney released the trailer for High School Musical: The Musical: The Series and although Zac Efron did not make an appearance, the trailer did detail what viewers can expect in this new series. The plot slightly follows the original High School Musical, with the drama teacher Miss Jenn announcing that East High will be putting on a production of High School Musical. Thus, the fight for the most iconic roles begins. The main conflict surrounding the trailer is the complicated relationship of ex-couple, Ricky and Nini, aka Troy and Gabriella. Many fans will live for the teenage angst and drama that comes with Nini's new boyfriend and Ricky's fight to win her back.
According to Playbill, audiences can expect ten episodes in the first season and it will premiere on Disney's new streaming service Disney+ on Nov. 12. Fans of the original High School Musical speculated that this new series would be a remake.However, each episode will supposedly include a new interpretation of a classic High School Musical number, in addition to an original song from the new series. As Sharpay Evans would say, "It's out with old and in with new."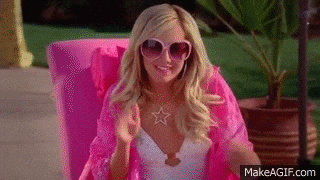 Courtesy: Giphy
As many can expect, there have been many mixed feelings about this new series. Many fans of the High School Musical franchise expressed their opinions about this new series on all social media platforms when the casting was released. Some fans are looking forward to the series and are excited about the new storylines that fans never witnessed in the original. For instance, Florida State freshman Megan Vila grew up with High School Musical and always had a hunch a series like this would happen.                                 
"I believe this series will be great for the younger generation that never really experienced our HSM craze," Vila expressed. "The series has a fresh storyline and I have a feeling many will enjoy it."
Other High School Musical fans have expressed their little belief on the success of the series. For instance, Florida State freshman Carson Kreide has been a huge fan of High School Musical ever since she can remember and believes many fans her age will be too busy comparing to the original movie to truly enjoy the series. 
Kreide stated, "In my personal opinion, I don't believe this series will receive much success because many will be comparing this series to the original and iconic High School Musical. Honestly, no one can replace Zac Efron and that's the tea." 
Courtesy: Indie Wire
Although there are many opinions about this upcoming series, former High School Musical cast member, Corbin Bleu, spoke about his experience watching the first episode. According to D23, Corbin stated, "I was watching with bated breath, of course. But then I breathed a sigh of relief because you guys are gonna love this. The cast is awesome; they're the real deal!" 
As many fans keep expressing their mixed feelings on High School Musical: The Musical: The Series, there is no lie the anticipation for this is real. It's been nearly 14 years since the first movie of this iconic trilogy came out and fans are ready to just get a little East High feels back. 
You can watch the trailer for High School Musical: The Musical: The Series here.
That's all for now, Wildcats.