So, You Want To Join a Panhellenic Sorority at Florida State
Picture this. It's Aug. 2019, and you have just moved into your dorm in Landis Hall. It's your freshman year, and you're going to be here for the next four years. (Did you get the Taylor Swift reference? Sorry, I just couldn't help myself). You've spent the summer getting ready for one of the most significant changes of your life. You have watched hundreds of vlogs of women going through formal sorority recruitment all over the country. However, you weren't prepared, and you ended up dropping the day of the preference round, also known as the last day before bid day. Then, the following year you went through an entirely virtual formal recruitment during a global pandemic. You thought you were so close to joining a chapter, but you dropped again. But you didn't give up, and you finally joined a chapter that felt like home and one that wanted you no matter what during informal recruitment, also known as continuous open bidding.
That story right there is the SparkNotes version of my experience joining a Panhellenic chapter at Florida State. It was a rough ride, to say the least, but at the risk of sounding somewhere between Gouda and Swiss, it was worth it. But I can't help but wonder if I had the knowledge that I have now if things would have turned out differently my freshman year. So, I have decided to share my unrequested opinions like a mother-in-law at a bridal fitting and tell you six things you need to know before starting recruitment in August.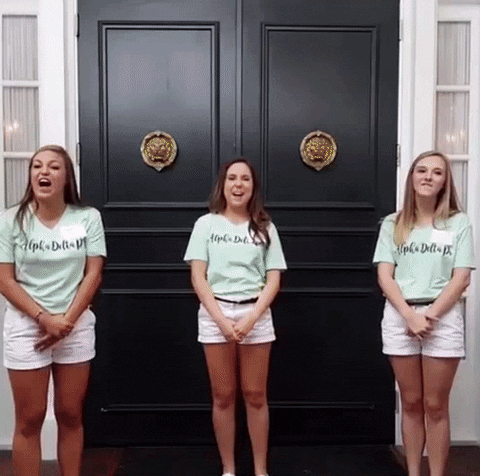 Original photo by Alex Bedder
1. Do NOT go on Greekrank!
I know for a fact that I will tell you not to do this, but you are going to do it anyway and regret it later! Greekrank causes so many potential new members emotional turmoil throughout recruitment, and it perpetuates the tier system. To be quite blunt with you, there are typically two types of people who post on Greekrank. The first is boys with fragile egos who were probably either rejected by a woman in the chapter or who get pleasure from feeling superior to women. The other is a mean girl, and why would you want to listen to one of them?
2. Bring a change of shoes, a fan and an umbrella.
When I went through in-person recruitment, I vividly remember standing outside of one of the chapter houses when it immediately started downpouring. My potential new member number was in the thousands, which meant that I could not stand under the tent while in line. Ultimately, I had to decide to keep the hair and lose the makeup or vice versa. I went with keeping the makeup and bent over in an "L" shape, so my hair caught all the rain. I proceeded to almost slip on the marble flooring when I entered the house because my slip-on sandals were wet. So, the lesson is, bring an umbrella, bring a change of shoes to wear as you walk in between houses (my friend recommends Crocs in sport-mode) and get one of those handheld fans to hold against your face to try and stop your makeup from melting off.
3. Sign up for recruitment as early as possible!
Remember when I talked about standing in the rain because my potential new member number was in the thousands? Well, this is how you avoid that situation. Those numbers are assigned as women sign up for recruitment, meaning when I signed up for recruitment the first time, approximately 1,100 women had signed up before me. So, go ahead and follow @fsupanhellenic on Instagram so you can know precisely when registration starts so you can get under that tent!
4. Do your research on the cost of joining a chapter.
This right here is the reason I had to drop out of recruitment my freshman year. I remember sitting down during the investment round and being shocked by the finance sheet placed in front of me. Joining a chapter at Florida State is a significant investment, and I could not afford every chapter my freshman year. The costs per chapter vary, but a big chunk of money is in the meal plan, which is essential to think about because if you are low on funds, you can skip a standard university meal plan, eat at your chapter facility when you can and then eat ramen the rest of the time!
5. Follow all of the chapters on Instagram.
It's time to put your Instagram stalker hat on! There is absolutely no judgment from me when it comes to this topic! The summer before I went through my first formal recruitment, I stalked all of the chapter's social accounts so much. This is one of the best ways to get to know the chapters and their values before recruitment starts, and it is so much better than Greekrank!
6. If you don't think you can emotionally or physically handle formal recruitment, consider informal recruitment.
Informal recruitment or continuous open bidding is my favorite form of recruitment. It doesn't involve a grueling schedule and sprints across campus in the heat. It is also a lot gentler when it comes to expectations and is literally less formal. Typically, informal recruitment is held in both the fall after formal recruitment and in the spring. The only downside is that not all chapters are accepting new members during the process. However, the participating chapters will often hold informal events at their chapter house such as movie nights, or they will have you go for coffee with one of their initiated members.
Want to see more HCFSU? Be sure to like us on Facebook and follow us on Instagram, Twitter, TikTok, Youtube and Pinterest!