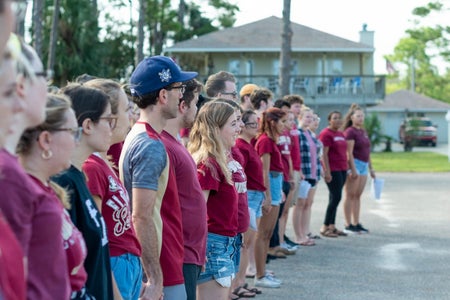 Singing a Hymn to the Garnet and Gold: The Florida State University Singers
With college and university closures in full swing due to COVID-19, professors and students alike have been feeling the growing pains of transferring to an online class format. And while some classes are having an easier time with this transition than others, it's safe to say that performance-based classes such as band, orchestra, choir and theater are being faced with a very unique challenge: how do you take such a personal and collaborative form of learning and make it effective through a computer screen?
University Singers, Florida State University's auditioned undergraduate choir, is making good use of their quarantine time. They've already met over Zoom several times (all 60 of them!) to go over official business and prepare for next year.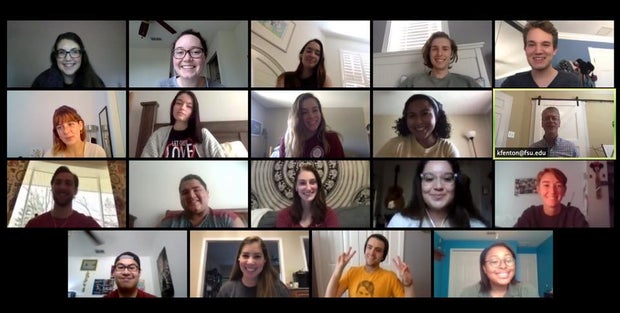 Grace Hayes
The members of University Singers have been making beautiful music together since the choir was founded in 1948. Currently directed by Dr. Kevin Fenton, University Singers is made up of undergraduate vocalists of all majors and voice types, meaning any FSU student can audition! 
"Last year, several of my friends had been recruited to be in the choir, so naturally I went to their fall and spring concerts to support them," says sophomore Ava Bratic. "Immediately, l was blown away by the sheer talent and joy that had touched all of these members, and I know in that first moment I wanted to be a part of something that special, that close of a community."
"I had heard [University Singers] when I was in high school here in Tallahassee and I always knew I wanted to be a part of this group," explains senior Mia Pesta. "To be honest, I didn't think I was going to get in when I auditioned, so I was so excited when I did!"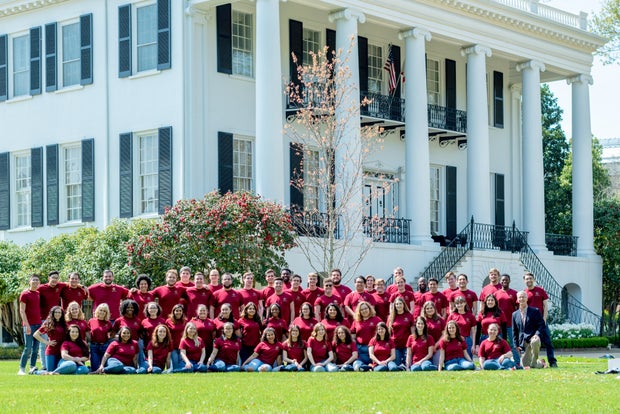 Noah Gunn Photography
The choir meets Mondays, Tuesdays, Thursdays and Fridays for an hour in the afternoon. They also participate in a weekend retreat every September and a week-long performance tour every Spring Break. This past year, they traveled across the southern U.S. for their Spring Break tour and went all the way to France in May to participate in the American Music in France Festival in commemoration of the 75thAnniversary of D-Day. That might sound like a lot of time to some people, but to many Singers members, it means more time with their closest friends.
"My favorite part of University Singers is definitely the friendships I've made," says Mia. "Our tours were always so much fun and allowed for a lot of time to bond with the amazing people around me. And once we all became closer, that's when our music was best."
Junior Haley Jones also agreed, "This choir is different because of our group dynamic. The sense of family in this choir is so strong and they're all such good people and great friends."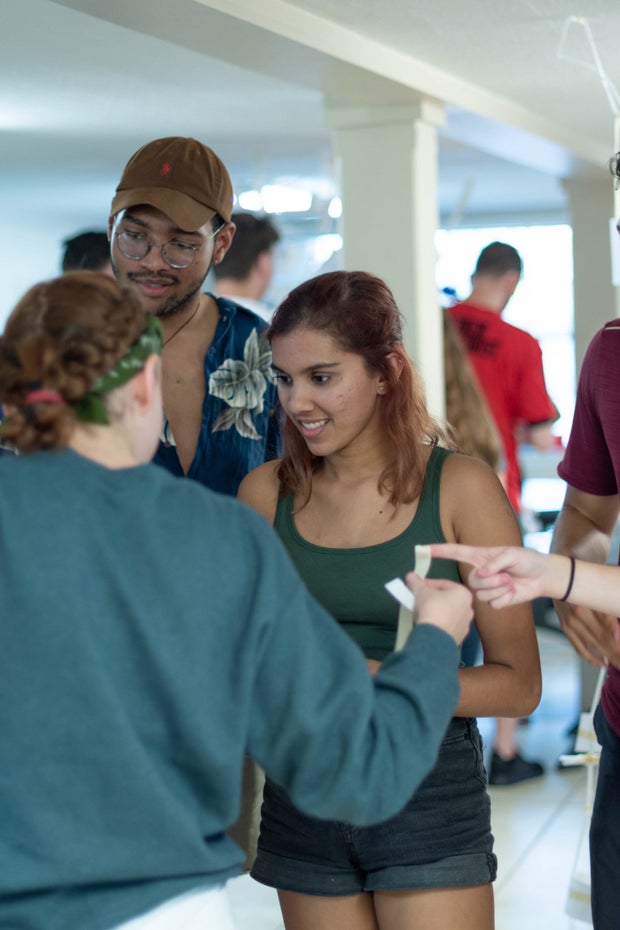 Noah Gunn Photography
The greater mission of University Singers isn't just to sing beautiful music – it's also about making a difference in the world through song. Dr. Fenton is the founder of AVoice4Peace, an organization centered around the idea that peace and unity can be achieved through the power of music. In that spirit, the repertoire that University Singers performs often contains important themes such as peace, social justice and grief. "Ukuthula," the ensemble's signature song that they sing at the close of every concert, is a traditional Zulu hymn for peace.
"Every piece in this choir has a message that brings us closer together and makes us sing with purpose," says Ava. "My first touching moment was through Rob Redei's 'See Me,' a cutting piece that brings light to mental health awareness. I was beginning to struggle with my own mental health for the first time that fall semester, and it brought me to tears every time we performed that piece. I felt that I wasn't alone."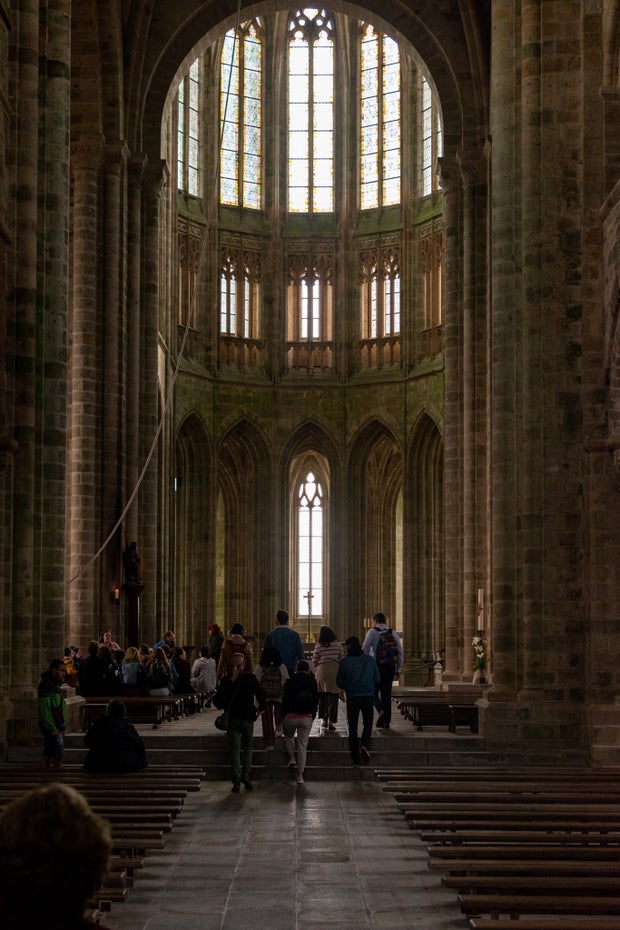 Noah Gunn Photography
Now that classes are online, the members of University Singers are definitely feeling the loss of camaraderie. "Even though my ensembles were a huge time commitment and would occasionally be a little stressful, the pure joy of showing up to class and being able to see all my friends and family while making gorgeous music outweighs all the negatives a thousand fold," says junior Kelvin Nguyen.
However, Haley remains optimistic during this time. "I'm upset that rehearsals are canceled because we've all worked very hard this past year and we were looking forward to future concerts and events. But being apart for so long means that when we can make music together again it will make it that much more special," says Haley.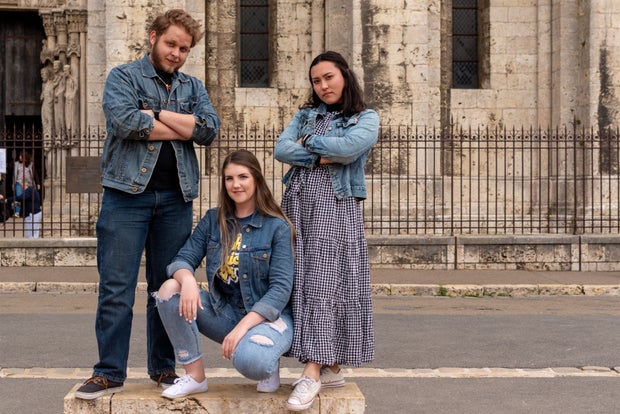 Noah Gunn Photography
Ava agrees. "I miss my Singers family like no other, and I know the second we come back together, we will all feel home again."
Follow the FSU Singers on Facebook and Instagram!
All photos courtesy of Noah Gunn Photography.
Want to see more HCFSU? Be sure to like us on Facebook and follow us on Instagram, Twitter and Pinterest!