Seven Things in My Closet That Have Made My Style Better!
Are you on fashion TikTok? Because I am and everyone seems to be building the most perfect wardrobes in preparation for summer but does anyone else always have trouble putting everything together? Or that it all looks so cute but it's just not your style? As much as I love what they post, I tend to wear the same three things each week. What I've learned is that the best thing to do is add basics to your closet all year round. I'm going to help you guys with what pieces will help your summer wardrobe from what I have learned works best!
1. Sweatshirts and cardigans
I mean, nothing groundbreaking, right? I absolutely love wearing sweatshirts and I've found the best basics ever. The men's section at H&M has so many options, sizes and colors for sweatshirts. I've never been a fan of hoodies because they bulge on the back of my neck in an unflattering way and these are a great and affordable alternative. You can pair them with jeans, yoga pants, skirts and shorts. You can always dress them up or dress them down. As for cardigans, I bought a super cute pink cardigan from Francesca's a few months ago and it's one of my favorite things to wear. It's knitted and has fluffy sleeves with hearts on the side. Perfect to elevate any look and give it a girly touch. You can even do this with a cute flannel shirt if a cardigan is not your style—perfect for any occasion.
2. Rings, necklaces and hair clips
Would you believe me if I told you I've hated wearing earrings my entire life? This was up until a few months ago when I got my ears pierced (on a spontaneous day) and when I really started enjoying them. I never realized how much accessories add to an outfit. They take you from basic to not and you don't even have to spend too much money on them. If you don't like wearing jewelry, start by wearing something small that you really like. Once you get used to it, you'll never go back. I always find it hard to know where to buy good jewelry that won't turn my skin blue and won't get rusty if I shower with it on. I've learned to not sleep on the jewelry from Ross, Marshall's or TJ MAXX. I got the colorful star necklace and star ring from TJ MAXX! My 'A' initial ring was a gift, but I can't wait to get the 'F' to match Harry Styles and his own 'HS' rings.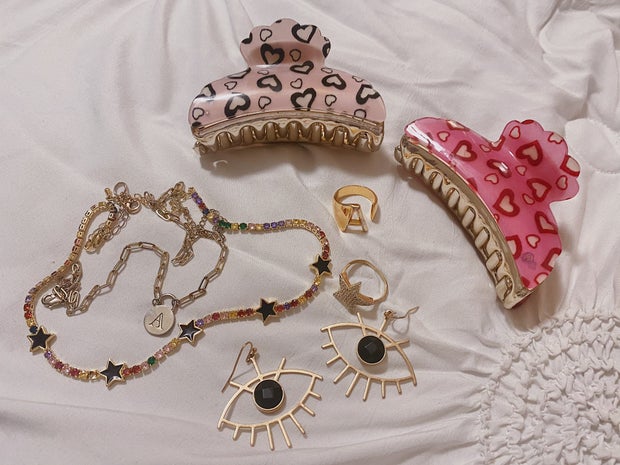 Original photo by Alexa Flores
3. Bags! Bags! Bags!
Little ones, big ones, it doesn't matter. Little purses have been back for a while now. It's important to have a few staples that match any outfit or for any occasion, and while I still use them daily, my new go-to's have been reusable tote bags. With cute designs and lots of space, they're useful for pretty much anything. Grocery shopping, beach trip, library or picnic? You already have the perfect bag with you. They make you look effortlessly unique.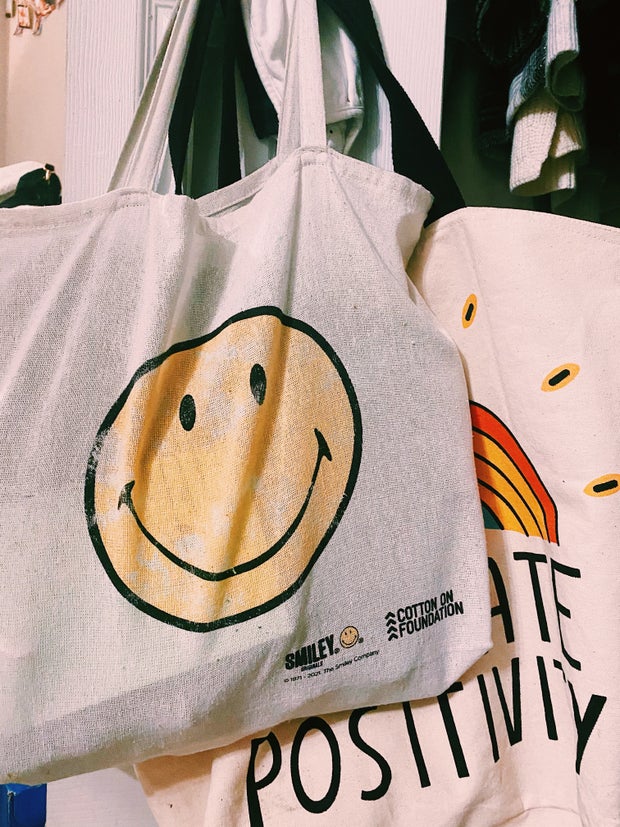 Original photo by Alexa Flores
4. Merch that doesn't look like merch
Personally, I love buying merchandise from my favorite artists, especially when they don't look like merch, and incorporating them into outfits. This is such a fun way to let people know what you like without making it too obvious. Also, I tend to only buy stuff from artists I actually enjoy because of the "name 10 songs you know" meme but some of the shirts are so cute.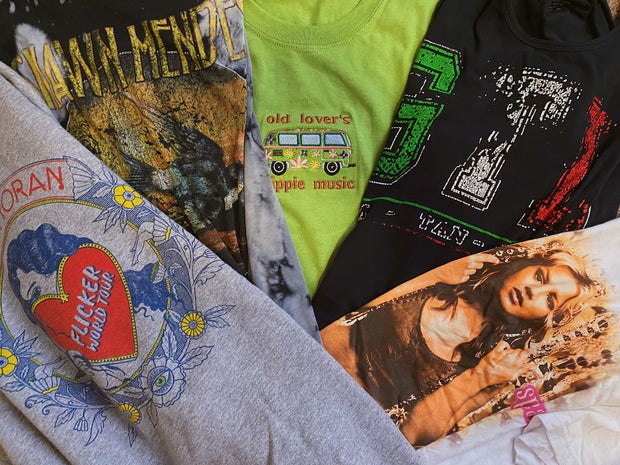 Original photo by Alexa Flores
5. Jeans that you actually like...
I'll keep this one simple; I have about 15 pairs of jeans in my closet and only about two that I actually enjoy wearing. Since I'm graduating soon, I'm getting ready to throw out everything that I don't like and most of my jeans are going. So, here's your push to do some spring cleaning and splurge on some new jeans that you actually like. Sometimes, you don't even have to splurge—my current favs were thrifted from Goodwill!
6. Yoga Pants
I cannot stress this enough but you need a pair of black flare yoga pants. They're the new leggings. So comfortable yet different enough that you look fashionable. I've had a pair for a few months now and they're the best thing I own.
7. Phone charms
While this technically isn't clothes or in my closet, it's become my favorite accessory. I started seeing them online but thought the pricing was a bit much. They ranged from $30 to $40, and there was no way I'd pay that much. So, I made some myself. I'm a crafty person and had threads and beads from my quarantine crafts era and got to work. Maybe even make a date from it, grab your friends, fun beads, some snacks and a good movie!
While these aren't groundbreaking fashion trends, I hope you feel a little inspired to add something new to your collection. Don't forget that the basics never go out of style and to always be true to what you like wearing and your personal style.
Want to see more HCFSU? Be sure to like us on Facebook and follow us on Instagram, Twitter, TikTok, Youtube and Pinterest!