Sara Dramis: A Powerful Voice for Silenced Women
In the month of October, the nation recognizes the survivors of domestic violence and brings awareness to the dangerous situations that each of them has faced. Alpha Chi Omegas worldwide are among those who bring awareness to these situations, by claiming domestic violence awareness as their main Philanthropy. In the midst of FSU's Alpha Chi Omegas, Sara Dramis takes a particular initiative in raising awareness about domestic violence by taking on the role of the Chapter's Vice President of Philanthropy. She uses her passion and her voice to lead her sisters in speaking up for those who have been silenced by the effects of domestic violence. I sat down with Sara to learn more about her experiences in her leadership role.
Her Campus (HC): First, can you tell us a little bit about domestic violence awareness month and what it entails? Can you explain its importance?
Sara Dramis (SD): October is Domestic Violence Awareness month. During this month, people and Alpha Chi Omega's worldwide come together to acknowledge the impacts of domestic violence while honoring those who have been affected by domestic violence. Domestic violence is typically a pattern of abusive behaviors (ex: physical, sexual, psychological attacks and economic coercion) by an intimate partner in order to gain or maintain control in the relationship. Domestic violence does not see race, ethnicity, age, gender, sexual orientation, religion or education, so it can happen to anyone.
HC: Can you tell us about your position as the Alpha Chi Omega VP of Philanthropy? What does this job require of you?
SD: I serve on Alpha Chi Omega's Executive Board with 13 other sisters. I attend weekly Executive Board meetings and host monthly committee meetings. I am in charge of putting on all of our Philanthropy events. I am mostly working with vendors, distributing tickets, creating a theme, making a t-shirt and encouraging members to raise money. Our events include Donuts for DVA, Pizza Pie with Alpha Chi, the DVA Gala, Healthy Relationships Week and this year we have added a Virtual 5K for DVA. I also work with a Refuge House Liaison, our committee member, Sam Kao, to plan opportunities for sisters to volunteer at the Tallahassee Refuge House. We have hosted holiday parties for the children at the Refuge House, and we also visit to do basic upkeep of the facilities like painting the walls of the rooms in the transitional houses.
HC: What does your Chapter do as a whole, to contribute to domestic violence awareness month?
SD: In a world without COVID-19, Alpha Chi Omega usually hosts a DVA Gala with silent auction and Donuts for DVA. The Gala is hosted during parents' weekend, and family and friends are encouraged to attend. This is a way to show our friends and family a little bit more about what our Philanthropy means to us. There are usually two speakers, someone who works at the Refuge House and someone who is a survivor of domestic violence. During the survivor's speech, they will share their story of domestic violence in order to raise awareness and gain support for this cause. All of the proceeds from the silent auction go to the Refuge House. Donuts for DVA is our main Greek life fall Philanthropy event. During this event, sisters bring their friends to enjoy donuts at our chapter house for our cause. All of the proceeds from this event also go to the Refuge House.
HC: This semester looks much different because of COVID. What are you doing/planning to do to continue raising awareness despite the limitations that the pandemic has put in place?
SD: Due to COVID-19, our sisters will not be able to volunteer at the Refuge House nor host our annual DVA Gala. The DVA Gala is typically our main fundraising event and since the Refuge House is counting on us, we were determined to figure out a solution. This semester we have planned a Virtual 5K for DVA which will allow participants from all over the country to participate and support our cause.
HC: Please tell us about the refuge house that Alpha Chi Omega works with. How does it work, and how does your Chapter help to keep them functioning?
SD: The Refuge House is a local domestic violence shelter here in Tallahassee. The Refuge House supports women, children and even men who are victims of domestic and sexual assault. They provide direct services to victims such as a 24-hour hotline, counseling, legal resources, transitional housing and mentorship. Year-round, our members attend meetings with the Refuge House staff. We participate in shelter upgrade painting projects, hosting clothing/toiletry and food drives, volunteering at development and fundraising events and hosting events for shelter residents including events specifically for children. Alpha Chi Omega hosts various Philanthropy events to raise both awareness in our local community and provide funds for the local shelter. In the past year, the women of our Chapter raised over $30,000 for the local Refuge House.
HC: Have you ever volunteered at the shelter in years prior? What was your experience like?
SD: Yes, I have volunteered at several events. It is truly an amazing experience, and I would highly encourage others to volunteer as well. Even a game as simple as tag can totally turn around some of the children's days. One time I volunteered at an event that the Refuge House was hosting called the Survivor Speak Out where women shared their stories of domestic violence. This event was eye-opening and made me realize the need to raise awareness of domestic violence.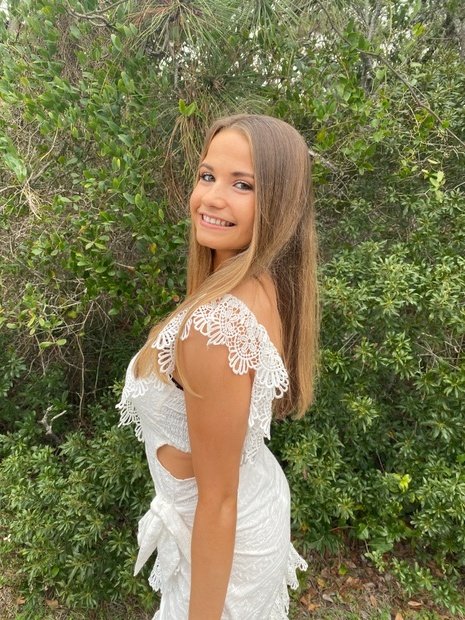 Original photo by Sara Dramis
HC: What is the most rewarding part of your position?
SD: The most rewarding part of my position is that I get to make a difference within my school's community and the local Tallahassee area. The women of the Chapter are also very passionate about this cause, and I'm so thankful that I get to work beside them. Being able to see the smile on sisters' faces when volunteering and the smiles on the women, men, children and staff of the Refuge House is extremely rewarding.
HC: Do you think that having this position brings you closer to your sisters and to women at large?
SD: I do think that having this position brings me closer to my sisters and to women at large because this is a very real issue that sometimes is uneasy to talk about. One in four women are affected by domestic violence (one in seven men) so it is extremely important to grow closer to others and simply just ask how they are doing and checking in on them. All of our sisters are trained to work with those affected by domestic violence and to also learn the warning signs of someone who might be in an unhealthy relationship.
HC: How would you recommend that people get involved in domestic violence awareness, whether they are a part of Greek life or not? How might people be able to contribute to this movement, especially during the month of October?
SD: Whether students are involved in Greek life or not, they can get involved in spreading awareness by attending different domestic violence awareness events that happen country-wide, especially during the month of October. Another way is to donate directly to the Refuge House whether it is money, time or resources. Volunteering at the Refuge House is truly an amazing experience and I highly recommend it. You can even spread awareness by posting different images or graphics on social media. Both the Refuge House and Green Dot have information and graphics on their social media accounts. The most important way to get involved is to take a pledge against domestic violence and encourage others to do the same.
Want to see more HCFSU? Be sure to like us on Facebook and follow us on Instagram, Twitter, TikTok, Youtube and Pinterest!