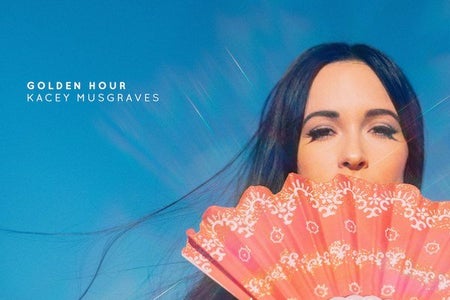 Ranking Every Song from Kacey Musgraves' Golden Hour
Kacey Musgraves' third album, Golden Hour, has been critically acclaimed and even scooped up "Album of the Year" at the Grammys, ever since its release in 2018. This album has been on constant repeat for me ever since I discovered it in late 2018. My 2019 Apple Music yearly "Music Replay" consisted of only this album in my top 10. So, I decided to put myself up to an impossible task, ranking this beloved album, and yes it was just as hard as you would think. I love EVERY song on this album, but after hours of listening, I finally sorted out my rankings.
13. "Rainbow"
I know this song is a fan favorite, and I LOVE this song! However, I find myself skipping this song occasionally, at least more than other songs on the album. I only say this due to the song being a bit slower-paced, but lyrically this song is beautiful and simple in the best ways possible.
12. "Velvet Elvis"
This song is catchy and always fun to sing along to, but I feel like this song is a bit of an outcast from the album. Meaning, it's least cohesive with the other songs and the songs' lyrics at times can feel random. However, if anyone could make the words "Velvet Elvis" work, it is definitely Kacey Musgraves!
11. "Mother"
Mother is a beautiful, simple song that is just barely over a minute long! The beauty in this song lies in the lyrics and they are brought to front and center since the singing is accompanied by a simple piano rhythm. I have no complaints about the song, I just don't go to play it as much as the others on this list.
10. "Happy & Sad"
Just like the juxtaposition of the title, this song's lyrics have the same effect. Musgraves raises the question "Is there a word for the way  I'm feeling tonight, happy & sad at the same time...",  and  I'm sure we all have had moments like this. It's the relatability of the lyrics that make this song so special, but it's not the song on this album that I constantly have on repeat.
9. "Wonder Woman"
"I don't know how to lasso the love out of you..." is one of my favorite lines from this album, as it's a witty play on the iconic comic character wonder woman's "Lasso of Truth." With it being one of the catchier songs of the album, it was hard to put it so low on the list.
8. "Space Cowboy"
"Space Cowboy" is the only country song, that I know, that makes you feel like you're floating through outer space. This song is the one critics look to from the album and was rightfully awarded "Best Country Song" at the 2019 Grammys. So why is it only number eight on my list? Although it hurt to put it in this spot, it's just not my personal favorite.
7. "Lonely Weekend"
When first listening to the album, this song was my immediate favorite. It's an upbeat tune about spending the weekend by oneself but being perfectly content with the idea of the time alone. It slowly moved down my list of favorites as I didn't find it to be as lyrically beautiful as other songs from the album.
6. "Slow Burn"
"Slow Burn" is the perfect opening song to the album, with its magical words and sound. This song has such a distinct sound that no one besides Musgraves' can duplicate. I remember listening to this song, the first track on the album, and immediately knew that this album was something special.
5. "Oh, What A World"
This song perfectly captures the visual beauty of the world through sound. It also manages to compare this beauty to the feeling of being in love to the faint sounds of the cowbell.
4. "High Horse"
A disco-country hybrid? Unheard of, but something I can listen to on repeat endlessly. Somehow, Musgraves took two genres one would never think to put together and combined them to make a standout pop, dance track. This song challenges those who feel superior than others to get off their "high horse." Even those who aren't a fan of disco or country can't help but tap their foot to the tune.
3. "Love is a Wild Thing"
Being one of the more delicate sounds from the singer's album, "Love is a Wild Thing" tells the story about how love can conquer all obstacles. It's a track I turn to when I'm looking for easy listening when I'm driving.
2. "Golden Hour"
Sharing the same name as the album, "Golden Hour", this song manages to perfectly capture the feelings of finding the one. Musgraves wrote this song with her husband in mind, and the song listens as if it was a love letter. With the singer's vocals shining through as she describes her lover as "the color of my sky," this song is nothing short of special.
1. "Butterflies"
"Butterflies" was my most-streamed song of 2019, and the reason for this is because it's the perfect collection of everything I love about all the other songs. It's not only catchy and lyrically beautiful, but it also puts a clear picture in your head of having a sacred moment with that special someone.  It's an easy listen and it's just as easy to sing along to. The song also has the perfect equation of country sound to pop beats, delivering the vocals on a silver platter to the listeners' ears. Not only does this song top my list of favorite songs on the album, but easily is also one of my favorite songs of all time.
Although the challenge of ranking the songs from this special album took way longer than I'd like to admit, it allowed me to have an excuse to stream my favorite album again. Make sure to check out the award-winning album, Golden Hour!
Want to see more HCFSU? Be sure to like us on Facebook and follow us on Instagram, Twitter and Pinterest!