Quarantine Questions with FSU Basketball's Anthony Polite
At this point, we've been quarantined long enough to have dwelled on the fact that this school year at Florida State University is over. No more late nights at Strozier Library, no spring football game, and unfortunately, we won't be seeing our beloved FSU Men's Basketball Team battle it out for a national title in this year's NCAA Tournament. 
With the understanding that there are two sides to every story, I had the privilege of getting in touch with Anthony Polite, guard for the FSU Men's Basketball Team, to discuss his reflection on this year's season and what the future holds for him and the Seminoles. 
Her Campus (HC): Walk me through your journey to FSU Basketball. What was it that made you feel confident that Florida State was where you wanted to continue your basketball career?
Anthony Polite (AP): I knew that FSU was where I wanted to be when I came here on my official visit. It was my first time here, but it felt like I'd been here forever. Everyone on the team was so close; it's really like a brotherhood. You don't see that everywhere! The coaching staff was also extremely supportive of me joining the Seminoles.
HC: Looking back at this season, what was a highlight for you personally, and what stands out to you as a big moment for the team as a whole?
AP: The highlight of the season I would say was winning the ACC regular-season title. I believe we have so many highlights but if I have to pick one it's definitely that moment. The game against Louisville was just like a movie - just the atmosphere of the gym, the crowd, how the game went was really fun to be in and win it!
HC: What or who is your biggest motivator?
AP: My biggest motivators, I would say, are my mom and dad! But my mom, she lives on the other side of the world and has done so much for me. I can't wait to be able to do the same for her!
HC: With the unfortunate cancellation of the NCAA Tournament, how do you think you'll carry that going into next season?
AP: I think we're definitely going in with a chip on our shoulder. We wanted to prove to the world that we were capable of winning a national championship and that's not going to change next year!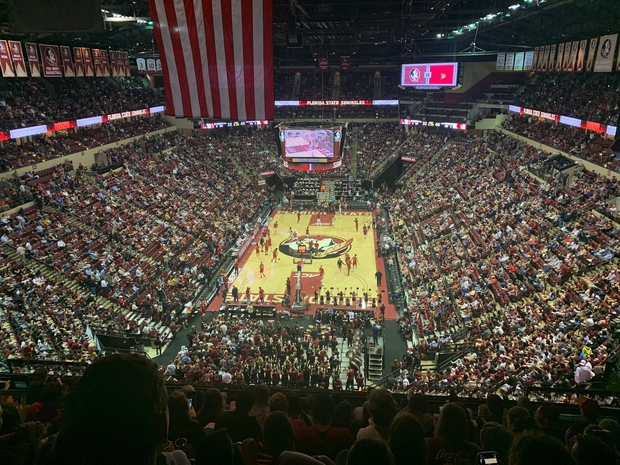 HC: What are you doing to stay busy during quarantine and the COVID-19 pandemic?
AP: I've been trying to stay creative with workouts to stay in shape. I'm also still doing schoolwork, making Tik Toks, and enjoying being home for a little!
HC: Who do you believe to be your fiercest competitor this season? Is there anyone you were looking forward to facing in the tournament?
AP: In the ACC tournament, we were definitely looking forward to getting our rematch against Duke but for the NCAA tournament, I would say we were just concentrating on what we were doing and trying to keep building off that.
HC: What has been your main takeaway from this past year in general?
AP: It's a long season so you need to take care of your body way before [the] season starts and keep up with all the routines that you had when the schedule was not as busy as towards the end of the season. It's there that you are able to get better than your opponent! As far as this COVID-19, everyone please stay safe and at home, and if you do leave your house be very careful and try not to rub your eyes, nose and wash your hands!
HC: Is there anything you'd like to say to FSU Basketball fans and FSU students?
AP: Thank you so much for going along with us on this great journey this season. I can't wait to see how next season is going to play out with all of us in it together again! Go Noles!
Want to see more HCFSU? Be sure to like us on Facebook and follow us on Instagram, Twitter and Pinterest!