Predicted Voter Turnout in 2020
After all of the ballots have been counted in November, we could have seen the highest voter turnout in the past 100 years. It's predicted that this general election is going to have an unprecedented number of people casting their votes through the mail or in person. As everything that has happened this year seems to be unprecedented, this would be no surprise.
Since 2016, voter turnout has been on the rise. Around 139 million people voted in 2016, which was a little more than years prior, but still a pretty average year for voting. But then, two years later, 120 million people voted in the midterm election. Now, obviously the turnout just two years later was less but consider the context. It was a midterm election, where typically fewer people get out to vote. But in 2018, it was the highest voter turnout in an election year since 1914. Some people who didn't vote in 2016 did come out to vote in 2018—14 million people to be exact.
And because of this incredible increase in the number of eligible voters heading to the polls in the past two years, experts predict we could see as many as 156 million people turn out to vote in this year's general election. That would be 46 million more people than in 2016. So, who are these 46 million new voters, and why have they decided this year is the year to vote?
The eligible-voter demographic has diversified significantly since 2016. According to the Pew Research Center, "[People who are not white] will account for a third of eligible voters – their largest share ever…At the same time, one-in-ten eligible voters will be members of Generation Z... That will occur as Millennials and all other older generations account for a smaller share of eligible voters than they did in 2016." This is largely due to the increased number of young people and immigrants who have become eligible to vote in the four years since 2016.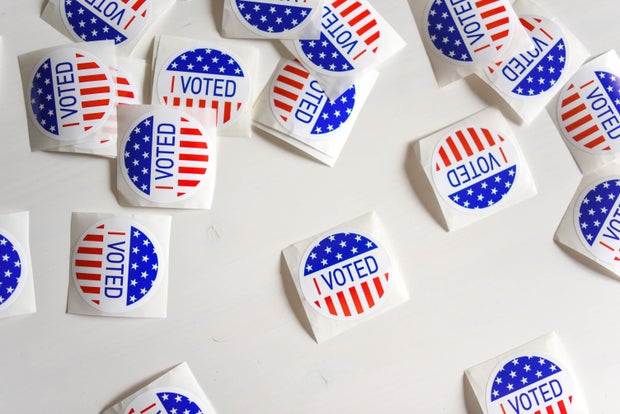 Unsplash
But history has shown us that just because people are eligible and registered to vote, doesn't mean they actually will, especially young people. So, what's changed? Young people are expected to be the demographic of voters that grows the most. Issues like COVID-19, the economy, rampant racism and healthcare have all people in the United States, but especially young people, more fired up than ever to cast their vote. A national poll of Gen-Z people found that 63 percent of respondents said they will "definitely be voting" in November's election. And this generation of young people is more diverse than the generations before them. Emotions are running high, and people are engaged in this election like never before. We can see this in the number of individuals donating to campaigns, volunteering for campaigns, sharing information about voting on social media and signing up to be poll workers.
It is very hard to predict how a larger and more diverse voter population will impact an election because the larger and more diverse voter population is also just a predicted one. However, there are a couple of different scenarios that can be worked through to see the impact, as well as going off of old statistics.
The article "How Turnout and Swing Voters Could Get Trump or Biden to 270" in the Washington Post actually works through all of the different scenarios of voter turnout in each state. And at the end of the article, it allows you to plug in your own numbers of turnout in different demographics to see how it would affect the electoral and popular vote. But, if we want to look at old statistics and use those to predict the impact more generally, we see young people and people who are not white are generally more liberal, and therefore, support the democratic nominee. Specifically, with this election, Trump has consistently low approval ratings from these groups of people, suggesting they would be more likely to cast their vote for Biden. And if we go off of what happened in 2018, the 14 million new voters in that election prefer Democrats by a 20-point-margin.
But no matter which way the high number of voters swings the election, Americans are engaged and paying attention. They are taking the issues important to them and turning them into an action at the polls.
Want to see more HCFSU? Be sure to like us on Facebook and follow us on Instagram, Twitter, TikTok and Pinterest!​