Halloween costumes for duos can be incredibly challenging to find. You have to make the costumes recognizable enough so you can bask in your creative glory, with a hint of uniqueness so you don't feel like the seventh Cher and Dionne to walk through the door.
Here are some of the easiest cute and open-ended Halloween duo costumes for you and your bestie, girlfriend, boyfriend or anyone!
1. Daphne and Velma
All you need for Daphne is anything purple, or a darker shade of pink! You could go with a cute purple dress or a little monochromatic move with a purple top and bottom. From there, wear any white shoes (Converse or go-go boots) and potentially add a purple headband with a green neck scarf​​!
Now when it comes to Velma, your focus is her orange and red color scheme. Her top is the iconic orange sweater, but you can switch this out for a more revealing or sleeveless look, depending on what you're doing for the night. Then add red bottoms, like the well-known skirt or pants. Her accessories include glasses, orange high socks and black shoes (you can wear flats for tradition, or Dr. Martens if you want to spice it up).
The perfect thing about this duo is that it's very easy to modernize these looks; Scooby-Doo is a classic, and very recognizable, so you can go a little off-script when it comes to the characters' traditional clothing. As long as you have the same color scheme and an accessory or two, people will get it!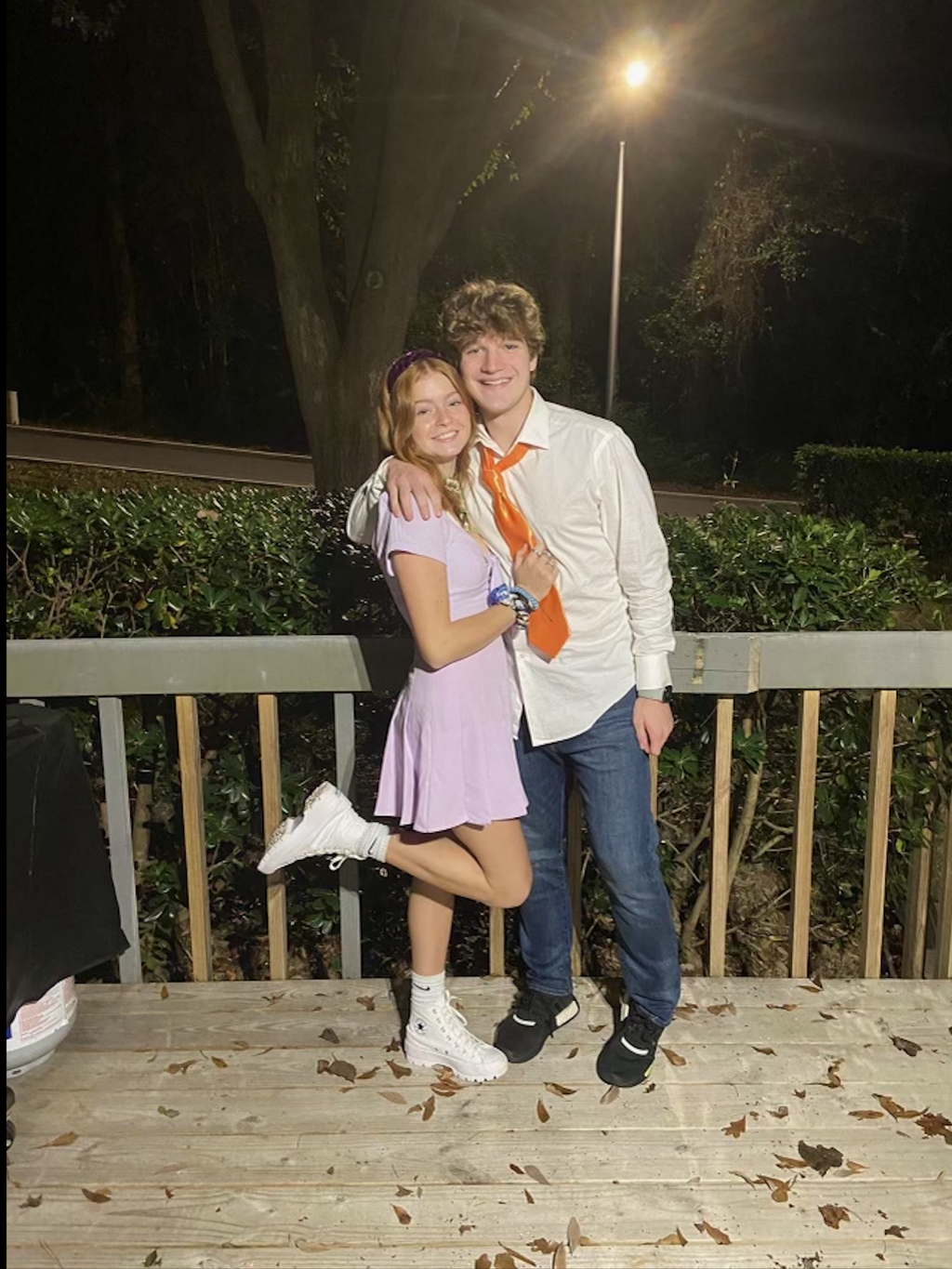 Another great point is that this one has honorable mentions! Other iconic duos can include Daphne and Fred, Velma and Shaggy or Scooby and Shaggy. If you have enough friends, put the whole gang together!
2. Bert and ernie
This is for everyone who has a really cute striped sweater at home and wants to show it off. This one may be harder to identify at first but would be so cute for those that dig the Frog and Toad aesthetic.
For Bert, our yellow king, all you will need is a sweater with blue, green and red stripes. Then add a pair of cuffed jeans or denim shorts for comfortability and a pair of Converse.
Ernie will have a similar approach, the only difference being that his sweater consists of red and blue stripes. Spike your hair up a little, maybe add some orange or yellow eyeshadow accordingly, and you are all good to go!
3. Miss piggy and kermit
Legendary, in my opinion. We have the pink aesthetic for Miss Piggy, easily created by a pink dress, boa, glitzy jewelry and pink heels. For this, I suggest whatever will be most comfortable for the night, because everything else will help scream fabulous Miss Piggy.
Kermit has an overall green theme, so this one you can approach from a few angles as he's very open-ended. You could do a light green dress, or a green top and green bottoms, or if you are really feeling like going all out: a Kermit jumpsuit. Accessory-wise, you could maybe add a guitar or ukulele to hone in on the Kermit look.
4. Fred Flintstone and Barney Rubble
Yabba dabba doo! Happy Halloween to you!
Now you could purchase these $40 costumes and have it be that, or you could easily replicate them yourself with a few simple purchases!
For Fred, all you will need is a simple orange shirt with orange or brown bottoms (for the Caveman look) or an orange dress! Then you can add the infamous blue tie or a cute little neck scarf.
For Barney, a simple brown look will do – a dress or top and bottoms! Maybe add more accessories here, like a caveman club, nude slip-on shoes and hair clips shaped like bones!
5. Fairly odd parents
This one is all about the color schemes. This duo is so easy because all you really need are the three W's: wigs, wands and wings! Cute pink and green wigs can be found at Spirit Halloween store, Party City and more. Then you could buy cheap fairy wands from the Dollar Tree, or make them yourself with a cutout star and black wand. Any clear or white wings will do! From there, you'd both need white tops with black bottoms and you're all set!
6. poison ivy and harley quinn
For Poison Ivy, anything green and 'earthy' will do! You could make this a more modern yet comfortable outfit, with any shade of green for a top and bottom, or a green dress. To really highlight the look, you could draw leafy vines on yourself. This could be a cute face look, with some features on the lower leg and arms, done by face paint or eyeliner. And if you really want to get into it, a red wig could never hurt.
Now for Ms. Harley Quinn, we all know her traditional look is a blue and red color scheme. You could go with this, and wear these shorts with a white baseball tee. On the other hand, you could pull more colorful inspiration from her latest look in Birds of Prey. For this look, a pink crop top, flowy fringe colorful jacket, black and white striped-shorts with black combat boots would suffice.
However you choose to express these characters, they are very recognizable and would be a cuter, and more original twist than Harley and the Joker.
Remember to have a safe Halloween, and don't stress too much about your costume—you're going to look amazing! Remember that you get to do this all over again next year!
Want to see more HCFSU? Be sure to like us on Facebook and follow us on Instagram, Twitter, TikTok, YouTube and Pinterest!