One Man's Journey From Clemson To FSU
Following his recent appointment as the director of the Center for Academic Retention and Enhancement (CARE) program, DeOnte Brown has smoothly transitioned. While stepping into the spotlight of former CARE director Tadarrayl Starke, it's easy to say that Brown's success in his career will carry him very far. 
Her Campus (HC): Tell me a little bit about yourself. What are the most important things to you?
DeOnte Brown (DT): I'm originally from Quincy, Florida! I've had the honor of attending the University of Central Florida (UCF), Florida A&M University (FAMU), and soon will be Dr. Brown courtesy of Clemson University. My professional higher education experiences have always focused on underrepresented students and their educational journey. I've only worked full-time at two universities: Florida State University (FSU) and Clemson. My wife, also a higher education professional, and I have three amazing sons that keep us busy and entertained. Netflix, Amazon Prime, Disney+, HULU and all the other streaming services provide great binge-worthy material or allow me to keep up with TV.
HC: What do you think is your most valuable attribute and what is one time you've used it?
DT: I am a highly observant person. Observation for me is an amazing tool that allows me to have a great impact. I take in information from all places and just store it until it has a use and purpose. Through my observations, I am able to connect people with each other, connect people with resources, present new solutions or add context to conversations. A friend and colleague recently remarked how he realized after our initial interactions when I arrived at Clemson that I didn't say much but was very much relatable with students and he realized that I was soaking it all in and taking meticulous notes. Sometimes we have to do more listening and looking to then chart our course forward.
HC: What was your childhood like and how did it impact who you are today? 
DT: In reflecting on my childhood, I would have to sum it up as rich. I have a huge extended family that also just felt more like immediate family. I learned so much about my grandparents' and great-grandparents' experiences living through segregation and the Civil Rights Movement. It was also rich because of the life lessons I learned, which include my work ethic and the value of relationships from my granddad who is a small business owner. I also had great times with cousins, whether playing video games (Nintendo 64, Sega Dreamcast and Nintendo GameCube) or playing football, kickball or just roaming the neighborhood.
HC: What is your most memorable memory?
DT: My most memorable memories were the summertime gatherings at my great grandparents' home "out in the country," as we would say. There were so many people, so much food and I can't forget about the homemade ice cream. You could feel the love in the air and saw the joy running wild.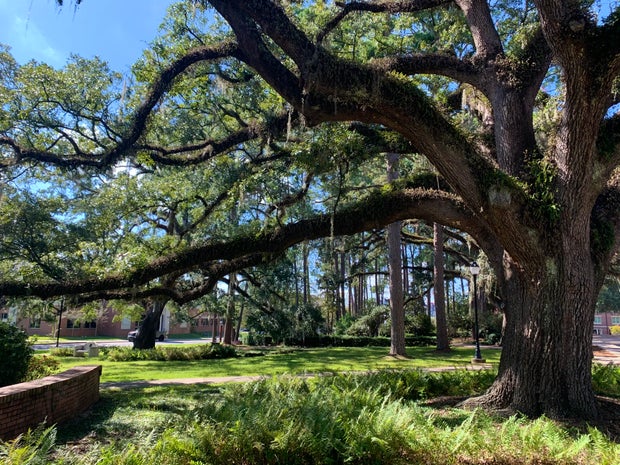 Original photo by Cristina Angee HC: What do you consider your most important accomplishment?
DT: My most important accomplishment to date is the impact that I had at Clemson University and the impact it had on me. At Clemson, I was able to lead amazing efforts to support the underrepresented of which one program became nationally recognized. The relationships established with students there were so rewarding. Clemson University made me a better professional.
HC: I did some research and I found that you were a previous CARE student, how did it shape your college experience?
DT: The support provided to me by the CARE Upward Bound program was so important. Their unconditional support (because there were times when I pushed the limits) allowed me to grow and understand how to be a leader. In my interactions with students, I think often of the balance in the type of care I received from Upward Bound. There was the right amount of challenge and support to get me out of my comfort zone. I don't know if I would have gone to UCF if it had not been for Upward Bound's encouragement and support. During my time at UCF, the CARE Upward Bound staff were still my people and over 17 years later they are family.
HC: Can you explain how you feel being the newest director of the CARE program?
DT: I feel humbled and privileged to have this opportunity. CARE's legacy is so rich and the culture that has existed over the decades is both affirming and sustaining for underrepresented students. I do not take my duty lightly and embrace my role as an advocate and equity seeker for students.
HC: What are your plans for the 2021 school year for the CARE program?
DT: The 2021 school year will include the same level of support and engagement that CARE has been known to provide to students. However, there may be some differences in delivery. I'm looking forward to increasing recognition of our College Success Program as a resource for FSU students that were not participants in Summer Bridge. I also look forward to small group engagements between new CARE students and continuing CARE students. CARE will also continue doing great work at the pre-collegiate level to introduce college to students.
HC: Where do you see yourself in 10 years?
DT: In 10 years, I see myself continuing to impact the educational journey of underrepresented students. As part of my interview process, I was asked to share my 10-year vision for CARE and it was one of it being an exceptional center for underrepresented student success. I look forward to guiding us on that journey. I also see myself as a well-respected member of the FSU community. I'll also have a college sophomore in 10 years so I'll definitely gain an understanding of the next generation's college experience as an administrator and as a parent which I feel will make for a great learning opportunity for me.
HC: What is the most important social issue to you?
DT: There are a number of social issues that our country must come to terms with and create solutions to move us towards equity and justice for all. Racism is a major social issue that must be addressed but I also think we have to push deeper and really address anti-Black racism. Anti-Black racism challenges our society to examine how oppression looks differently for Black people. This form of racism crosses through various systems in our country—judicial, education, financial [and more]—and maintains marginalization of Black people. The lives of my sons, my wife and a considerable number of students that I support through my professional roles have been impacted by this social issue.  
Want to see more HCFSU? Be sure to like us on Facebook and follow us on Instagram, Twitter, TikTok, Youtube and Pinterest!