Olympic Hopeful Struck by Lightning While Training
As the Summer Olympics approach, the competing athletes are in full-blown training. To the dismay of many, one young hopeful will not be joining them due to an unexpected incident that occurred while training.
El Salvador's top surfer, 22-year-old Katherine Diaz Hernandez, was training on Friday close to her home in El Tunco. An unexpected storm rolled in, bringing a bolt of lightning with it that struck Diaz as she entered the water. According to an article by The Guardian, emergency services had tried to revive Diaz on the beach immediately after she was dragged to shore by onlookers. Despite their efforts, they could not save her.
In an article for KCRA3, Katherine's uncle, Beto Diaz, explained that she was hugging her friend when they all heard the sound of the lightning strike. The force of the lightning had pushed back Katherine's friend, along with Beto and his board. He claims Katherine died instantly.
Diaz had been training for the ISA's 2021 Surf City El Salvador World Surfing Games. These games are planned to be held from May 29 to June 6 to qualify for the Tokyo Olympics. This would have been her Olympic debut. Surfing itself will be making its debut as an Olympic sport this year.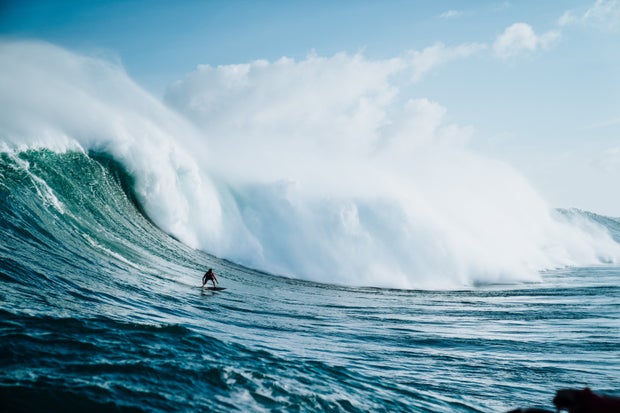 Photo by guille pozzi from Unsplash The surfing world has been paying tribute to Diaz since her passing. The International Surfing Association posted a statement on Facebook honoring her, stating that, "Katherine embodied the joy and energy that make surfing so special and dear to us all, as a global ambassador of the sport." The Salvadoran Surf Federation, whose president is actually Diaz's brother, also posted a tribute to Diaz on social media. They said, "A great athlete who has represented our country has left us. See you soon, great warrior. El Salvador is in mourning."
Additionally, El Salvador's National Institute for Sport stated, "We raise a prayer for the eternal rest of her soul and we express our most sincere condolences to her family." Salvadorian Surfers also organized a "paddle out" as a ceremony to honor Diaz. Her funeral was held the Sunday after the incident. Photos from the funeral that were posted on Facebook show colorful flowers, trophies, photos and a surfboard surrounding her coffin. The national flag for El Salvador is also draped over her coffin. Her funeral was continued at the Church of God Manantiales de Vida Eterna on the Playa el Tunco. Her body was buried at the Municipal Cemetery of Puerto de La Libertad.
Diaz had been a surfer since she was nine years old and was noted as a very passionate and motivated woman. She had grown up in El Tunco, a small surfing town ten miles south of San Salvador. She was considered a "global ambassador" of surfing by the International Surfing Association. On top of being known for her surfing skills, she was also well known in her hometown for her cooking skills.
At her funeral, her sister described her as "a girl full of energy, with a free spirit who made every day feel worthwhile."
Want to see more HCFSU? Be sure to like us on Facebook and follow us on Instagram, Twitter, TikTok, Youtube and Pinterest!