Cute dimples, gorgeous hair, an infectious smile, great style, cherubic voice - alright let me stop before I start to drool on my keyboard while writing about him. Back to what's important. THE Harry Edward Styles.
Giphy
I was never a real Directioner growing up. Surrounded by friends who knew every word to every song on every album. They went to concert after concert, bringing back posters to hang on their walls, tee shirts to wear to school and even life size cardboard cutouts. Of course, I knew a few songs here and there as well as having a favorite (Louis, sweetie, I will always appreciate your looks in your younger years.) It wasn't until Zayn broke the hearts of millions of pre-teen girls for me to start to actually appreciate certain members of what was once One Direction.
It began with my love for Zayn's first solo album. At this point I'm sure you're wondering how this relates to my Ode to Harry Styles, and I promise that without Zayn, I would have never gotten this far. Anyways, of course Harry Styles was next on my radar with his first solo album, but I was still not as deeply infatuated with him as the rest of the girls around the world were. That was until the past, I would say, year or so that I have taken the time to truly appreciate Harry and all that he has to offer.
I know that I'm acting like we're on a first name basis or something which we obviously aren't, but everyone has that special artist that has gotten them through tough times. Each of my lows that I have hit have been lower than you can imagine, and the one thing that I can always count on is music. I know so many people who suffer from anxiety, depression and/or OCD can say the same; that music is one of the most amazing outlets to have and shoulders to cry on. My most recent low was hard to climb back up from if I am being honest. That was until Fine Line was playing in my room, through my headphones, or in the car at all times. It started with the song "She." I can remember the exact moment: just out of the shower, exhausted from my day and completely taken over by such a powerful song.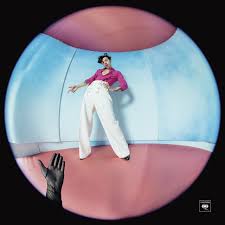 Harry Styles is easily one of the most talented current male artists - well, current artists in general- and shouldn't go unnoticed (as if he is.) With his most recent tiny desk concert with NPR, he puts so much time and effort into making his music perfect. Each song that he sings gets better and better, and his music isn't at all just for 11-year-old girls. Harry's music has aged with his original fans which I wholeheartedly admire. I also can't forget to mention his cover of Juice originally performed by Lizzo. A masterpiece in itself and I'm sure Lizzo would agree.
Overall, I have always appreciated his work, but lately it's been not only relatable but also dependable. I'm not really someone who can mediate or things like that, but the second I put Harry's music on I can immediately take a step back, take a deep breath and calm down. I feel as though it is important for people to find their sense of relief in music. Whether you prefer rap, hip hop, alternative, pop, or even country, music always has a way to be there for you. Now all that's left to do is hope that this novel coronavirus ends so I can make it to Harry's concert this summer.
Want to see more HCFSU? Be sure to like us on Facebook and follow us on Instagram, Twitter and Pinterest!