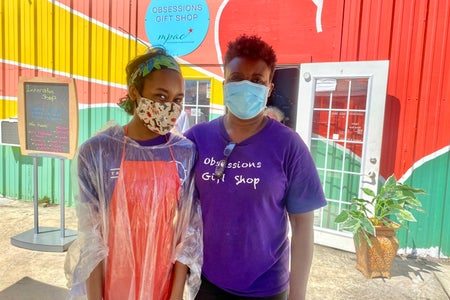 "Obsessions Gifts" Owner, Betty Proctor, on Running Her Local Business
As a first-year FSU student, I often found myself last semester googling "things to do in Tallahassee." My searches led me to the Railroad Square Art Park near campus and I was instantly drawn to Obsessions Gift Shop. Having visited the shop multiple times after, I have gotten to know shop owners Betty Proctor and her daughter Nijah very well. I sat down last week with Betty Proctor via Zoom to discuss the impact that this shop has made on the lives of herself and others.
Her Campus (HC): Obsessions is a wonderful shop and the handmade jewelry is beautiful. What made you want to start making jewelry yourself, to begin with?
Betty Proctor (BP): It started out with a gift to my sisters and my mom. I wanted to give them a gift that was not store-bought; I just wanted to make it by hand. I looked at different things on Pinterest and realized, "I can do that myself!" I made earrings for my sisters and a ring for my mom, and they loved it. So, I started wearing the earrings and making things for myself and people would say, "that's really cute! Where'd you get that?" So that's how I started.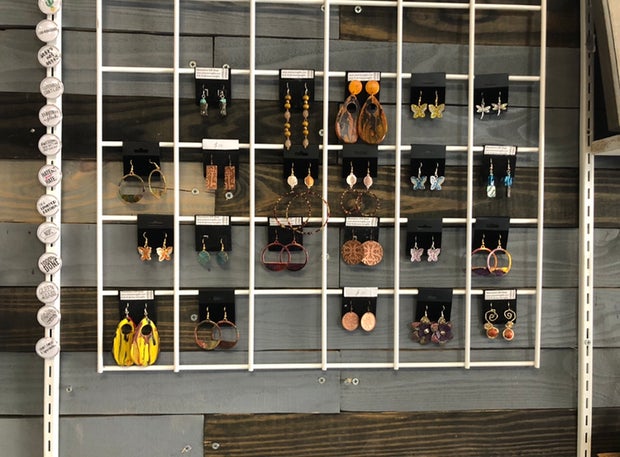 Photo by Jorge Santeiro
HC: How has the journey of working with your daughter Nijah to sell this jewelry and handmade art built your relationship with one another?
BP: It's strengthened it. My daughter has anxiety, but when she's given something to do and it's predictable to her, it lessens her anxiety. We can also talk about different things while we're making jewelry, such as our emotions and how our day went. If we went through something, such as hearing a loud noise or something not turning outright, we are able to talk about our feelings and how to correct them while we're doing our work.
HC: You guys work with the Autistic community as well. How has your work with the Autistic community fulfilled your shop's message?
BP: We are trying to network more with other businesses in the community. We network a lot with Card, and they have given us great information to make us an Autism-friendly business. That has helped people to know that they can come into our shop with their child, who may or may not be on the Autism spectrum and know that this is a comfortable and safe place for them. We have also reached out to other businesses that serve persons on the Autism spectrum so that we can create a positive environment for everyone.
HC: On the topic of networking, to what degree have your connections to local colleges and universities helped build your business?
BP: They have truly helped! We are working with FAMU students in Dr. Huang's Public Relations class. They are helping us to market Obsessions by getting us brochures and cards; one young lady also helped us to write articles. We have some FAMU students volunteer for us as well. Last semester, we had two art therapy students from FSU come in and lead a group, and two more of these FSU art therapy students will be helping us in the summer. We are seeking volunteers, so we are planning on having persons with Autism and communication disorders help out with our events and classes. We are hopefully hiring two persons with Autism by the end of this month. We have had support from both FSU and FAMU to assist us with this, and it helps us grow our business.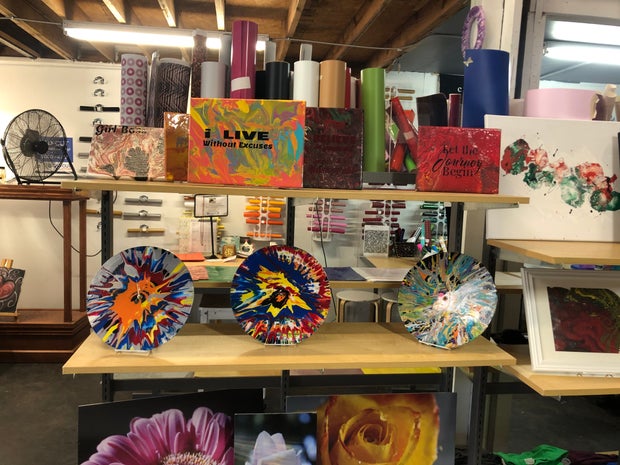 Original photo by Gabbi Santeiro
HC: In growing your business more people can see your art. You and Nijah's handmade pieces have a personal touch to them. How important is this personal touch to the art that you both create?
BP: It is very important. I have been taught all my life that doing things hands-on is so important, so we want to teach that to others. Having that personal touch means a lot because we are giving people a piece of ourselves. They can have these things to put on their wall or to look back on and enjoy. We want them to experience our art, but we also want them to do their own hands-on art as well. That's what our shop is all about. It's all about doing it yourself while interacting with others to build relationships.
HC: What advice would you give to future local business owners in the Tallahassee area who want to have the same impact that you both do?
BP: Go ahead and do it! When I first did it, it was a leap of faith. I quit my job and I just went ahead and did it. You do not have to go to that extreme, but if you have an idea or something you want to do to make a change, then work on it. Build on those steps to obtain that goal and don't put it off. I put it off at first because I was afraid and didn't know if it would work. You have to train yourself out of that thinking. If you see something that needs to be changed, change it, or if there's something you want to create, do it. It doesn't hurt to try.
Want to see more HCFSU? Be sure to like us on Facebook and follow us on Instagram, Twitter, TikTok, Youtube and Pinterest!