New Semester, New Experiences: Why I Decided To Rush In the Spring
I became familiar with sororities throughout high school, and the summer going into my freshman year of college, I swore up and down that I wasn't going to ever join a sorority. I lost count of how many times I told my parents that "I'm not like those girls."
Once I got to college in the fall, the screams and cheers I could hear from the sorority houses across the street from my dorm further solidified my stance on never joining a sorority. I felt like I was too much of an introvert and that I didn't fit in with the "all-American" looking blonde girls, being a brunette Latina. However, as the fall semester progressed and I became more familiar with the Florida State University sororities, there was one that caught my attention and my opinions began to change.
Less than halfway into my second semester, I registered for spring recruitment on a whim during an idle Wednesday evening. I decided to give sororities a chance, putting aside my own self-perception and all the negative stereotypes associated with sororities. My mindset was just to see what it actually is for myself rather than making judgments based on what other people have said and social media and told myself that if I still didn't want to join one after, then I didn't have to.
The first semester was personally a rough ride and I was constantly feeling down. After leaving Tallahassee for the holiday break, I was determined to leave all that negative energy behind in the first semester and in 2020, and decided that the second semester was going to be better because I was going to make it better. I wanted to be more social, branch out, try new things, get more involved with campus life and pursue my passions. I applied to model for on-campus publications as well as joining a sorority.
I had been meeting a variety of people online over the holiday break that also went to FSU and was expanding my circle, meeting new people and socializing like that. I also craved to develop a connection with more girls, since the majority of the new people I had been coming into contact with were guys. Don't get me wrong, I love having male friends, but sometimes that can be a tricky territory to navigate when they start making unreciprocated romantic moves on me, which can lead to these friendships being disappointedly temporary. Girl friendships offered me more permanence and stability. I thought looking into sororities and possibly joining one would help me develop connections and friendships with other girls.
The informality of spring recruitment was appealing to me because it is less intimidating than formal fall recruitment and I was able to be an introvert who loves to socialize and meet new people without the pressure to be more outgoing than I am. I found a sorority that made me feel welcome the way I am, with a more diverse group of members. I didn't feel the need to be someone who I'm not and conform to fit in with the other girls. Stomping around in my black Doc Martens, jamming out to Blink-182, rocking half a head of hot pink hair and nine piercings (and counting), I'm still "not like those girls." That's perfectly okay because I found a Chapter that I get along with and that makes me feel accepted.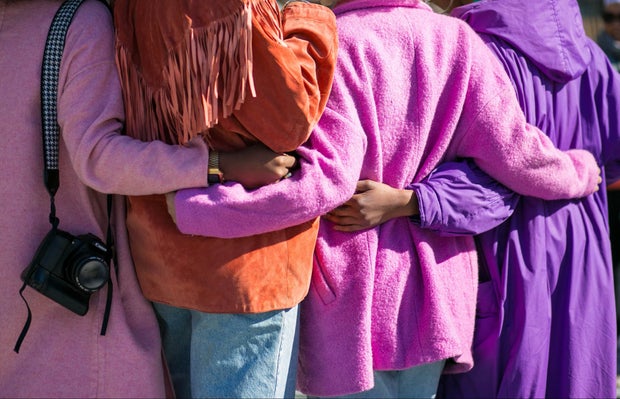 Photo by Vonecia Carswell from Unsplash
I am not what comes to mind when you close your eyes and picture a sorority girl, which helped me realize that sorority girls can come from beyond the mainstream look of the blonde, tan, "all-American" girls. In the end, it's all about finding a community you connect with.
Want to see more HCFSU? Be sure to like us on Facebook and follow us on Instagram, Twitter, TikTok, Youtube and Pinterest!