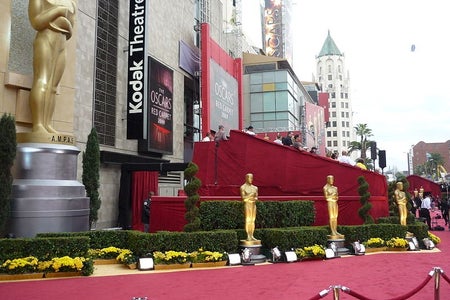 Natalie Portman and Her Tribute to the Overlooked Woman Directors
As most of us know, the Oscars were this weekend. A coveted event for all of Hollywood's A-listers to attend and see who takes home the famous golden trophy. Except for this year many fans, and Celebs, were upset at the lack of woman director nominees for the "Best Director" Category and decided to take a stand using fashion.
Natalie Portman paid tribute to these overlooked directors by having their names embroidered in gold on her Dior cape, see the full ensemble here. She commented saying, "I wanted to recognize the women who were not recognized for their incredible work this year in my subtle way," the actress told the Los Angeles Times on the red carpet.
The names included on the robe were:
Lulu Wang who directed The Farewell
Lorene Scafaria, the director for Hustlers
Greta Gerwig for Little Women
Marielle Heller with A Beautiful Day in the Neighborhood
Melina Matsoukas who directed Queen & Slim           
Alma Har'el for Honey Boy
Mati Diop with Atlantics
And finally, Céline Sciamma, who created Portrait of a Lady on Fire
Fans were inspired by the fashion statement and took to social media to announce their support for Portman. One fan said, "Her cape gives me life. I love her. Women directors have been snubbed time and time again, and it's enough!! Give them the representation and attention they deserve!! #NataliePortman." Check out more fan reactions here. 
This is not the first time this has happened at the Oscars. In the entire history of the awards, only 5 women have been nominated for the "Best Director" category. They were: 
Lina Wertmüller Seven Beauties (1975),
Wertmüller was the first woman ever to be nominated for the Director award with her movie Seven Beauties. A story of a thug who kills a man who disgraced his sister and manages to escape imprisonment by joining the military.
Jane Campion The Piano (1993),
A New Zealand Drama about a young woman who is mute, and just recently sold into a marriage, is accompanied by her young daughter. The two are left on a beach after leaving Scotland, with very little but a piano.
Sofia Coppola Lost in Translation (2003),
A movie about an aging actor, struggling with depression and loneliness, who goes to Tokyo to film a whiskey commercial and ends up meeting a girl named Charlotte, played by Scarlett Johansson. The two form an unlikely bond and find their forms of happiness.
Kathryn Bigelow The Hurt Locker (2010),
A compelling action film about the military and a squad that loses their Staff Sergeant in Iraq and gets stuck with a new leader who seems to thrive on war.
And Greta Gerwig Lady Bird (2017)
As her solo directional debut, Lady Bird is a coming of age story about a nurse who attempts to keep her family afloat after her husband loses his job. All while maintaining a bond with her teenage daughter, who is very similar to her.
Out of the five, Kathryn Bigelow is the first and only female director, winning in 2010. This year, Bong Joon Ho won the prize of Best Director with his creation of Parasite and made history as well, being the first foreign-language film ever to win "Best Picture" overall.
Want to see more HCFSU? Be sure to like us on Facebook and follow us on Instagram, Twitter and Pinterest!