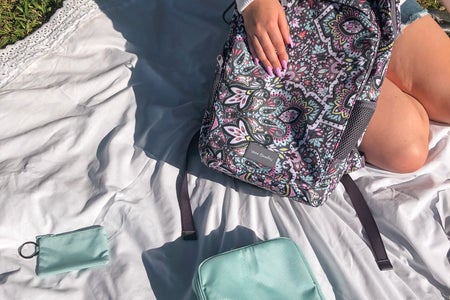 Original photo by Vanessa Valles
My Top Five Vera Bradley College Essentials
As a college student who's just a tad obsessed with accessories and constantly reorganizing my cards, keys and bags, Vera Bradley has been a go-to since middle school (consider me a stan). As a self-proclaimed Vera connoisseur, I couldn't be more excited to share my trendy faves for your college needs, so here are my top five!
1. The XL Campus Backpack
Starting off strong, this backpack just might be my favorite school bag of all time. This bag can hold my laptop, tablet, notebooks, textbook, water bottle, umbrella and anything else I might need in order to be over-prepared for my short treks to class. Between all three compartments, I feel like everything has its own place, and packing up my bag before class just gives me the confirmation I need to know I'm ready to take on the day! Plus, between their signature lightweight quilted cotton and the padded straps, walking across campus—even with textbooks and a laptop in my bag—feels like a quick stroll with a feather on my back. If you're on the hunt for the perfect backpack once in-person classes resume, this is your sign. 
2. The Zip ID Case in Reactive
One thing I've noticed in college is that I've come to despise carrying around my entire purse filled with a bulging wallet of cards I don't use on the daily. I've also found myself with quite a few keys—between my apartment, car and mail—and being able to keep my school ID, driver's license, cash and my two or three most used cards right next to my keys make it so easy to just grab my keys and go, or swap things out if I ever need to. I'm never worried about my cards or cash getting ruined or lost either, with the water repellent material and the zip close. 
3. The Lanyard in Reactive
In tandem with the Zip ID Case, I love having a matching lanyard! Being able to clip my keys and ID Case onto the lanyard makes it so easy to have everything I need all on the same key ring without having to constantly dig through my backpack for my keys or wallet—leaving me hands-free! And, bonus: the reactive line is made partly made from recycled water bottles, so we can help out Mother Earth while feeling stylish and practical!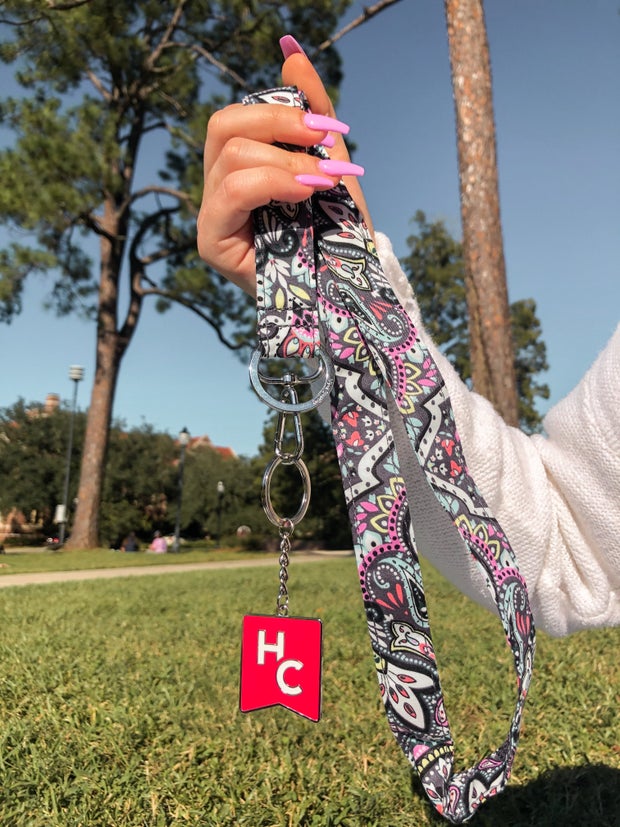 Original photo by Vanessa Valles
4. The Expandable Lunch Cooler in Reactive
This is the perfect bag for packing a picnic when the weather is feeling right. Being able to expand to fit exactly what you need to pack, whether it's for one or more, keeps it from feeling too bulky, and the already lightweight material keeps it so portable and an easy carry around campus! It's got everything you need to keep everything cold and in place, and look stylish and trendy while doing it!
5. The Grand Backpack in Reactive
This is the go-to bag for those spontaneous, overnight trips with your friends! With three huge compartments and plenty of space, this backpack is perfect to accompany (or replace if you aren't an over-packer like me) the classic overnight duffel bag. With room for a 16-inch laptop and anything else you can think of, this lightweight bag is everything you dream of in an overnight bag. Also, with the material for each bag using 24 recycled water bottles, there is literally nothing not to love about this bag!
Hopefully, these recommendations gave you a little help on narrowing your Vera Bradley shopping cart down, but of course, these are just my personal favorites for my new college lifestyle. Vera Bradley has so many options and prints for each product that might fit your personality and day-to-day life even more. You can visit the Vera Bradley website here!
Want to see more HCFSU? Be sure to like us on Facebook and follow us on Instagram, Twitter, TikTok and Pinterest!