Most kids don't develop acne flare-ups until their teenage years. Though I happened to be a lucky soul who acne waged a war against in just fourth grade.
When my parents and I came to the conclusion my new acne was no match for the orange Neutrogena soap bar, we began looking at other options. 
Finding a dermatologist was harder than 10-year-old Mary expected. I probably went through six or more until we found a dermatologist we could trust. Still, it was very hard to make any progress. Every visit, I left with clear baggies full of sample topicals to try out. All of the names for these medications became alphabet soup in my mind after the first few appointments.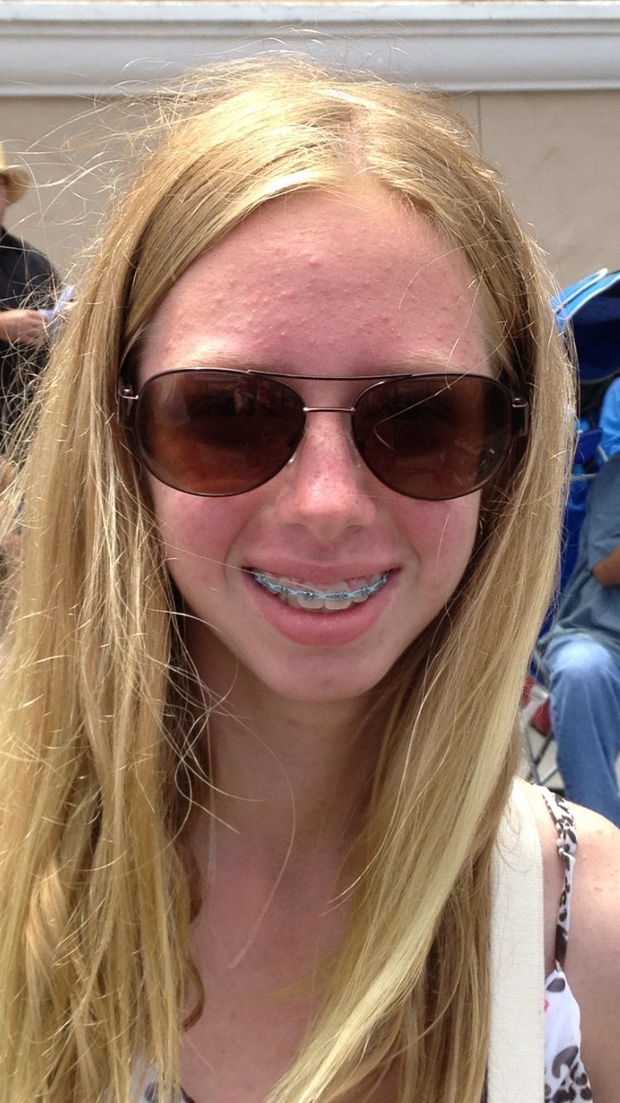 For some unknown reason, my elementary school didn't allow anyone to wear makeup, though I'm sure I blotted on some of my mother's CoverGirl liquid foundation from time to time in order to cover up the larger blemishes. Makeup and acne tend to not mix well and as a result, choosing one or the other becomes a double-edged sword. If you wear makeup to cover up acne, you don't allow your skin to breathe, thus, creating more breakouts. On the other hand, if you don't wear a full coverage foundation, you're forced to expose the zits. It's all just impossible.
Once I turned 12, I was able to veer away from the topicals and try some new oral medications. While minocycline pills were by no means a miracle worker, it substantially took away the inflammation and flare-ups. After several years on minocycline, my dermatologist told me I had most likely built up an antibiotic resistance to the medication and it was probably not contributing to any success any longer. While I was afraid to let go of the only thing that eliminated the painful cystic acne, I decided to amp up my daily skincare regimen.
It was my assumption that because I had oily skin, I had to keep my face as dry as possible.
Salicylic acid, benzoyl peroxide and I became very close-knit in a short period of time. While the relationship was almost parasitic at first as they bleached my eyebrows and the baby hairs that framed my face, it kept my acne at bay.
As I sit in quarantine bored out of my mind after I complete my work, I mindlessly watch throwback shows such as Hannah Montana and Wizards of Waverly Place. These shows serve the purpose of our childhood of teaching us right from wrong. They also force characters to go through life in the most ordinary manner, so they are relatable to the average viewer. Acne is something that many teens can relate to and both Hannah Montana and Wizards of Waverly Place address it. While they do their best to properly address it, it comes off with comedic overtones for entertainment purposes. On Wizards of Waverly Place, Alex Russo attempts to zap off a zit on her brother, Justin's forehead. Instead, she animates the zit to have the personality of a smooth-talking bad boy. The show does have good intentions, but most teenagers aren't concerned about one stubborn zit. Like me, they are concerned with a plethora of zits and keeping inflammation and redness under control. They seemed to have missed the mark by minimizing the severity of what realities many go through with acne.
For Christmas a few years ago, I received a product that changed my life, a Clarisonic brush. In just 60 seconds, the soft-bristled brush oscillates, providing softer skin than I ever had up until that point. It erased all of those little bumps that rose through my thick layers of makeup. Seriously, I think Clarisonic should consider me as a spokesperson for their company after seeing my before and after photos.
The following summer, I learned about procedures estheticians provide such as microdermabrasion, microneedling and chemical peels. While these treatments helped immensely, the true benefit was the woman educating me about the skincare world, Karen. Karen is always there to answer a phone call or text if I have a sudden messy breakout or if I'm looking for suggestions for a new cleanser. In the skincare world, knowledge really is power.
While there are still days like today as I'm writing this, as embarking on my voyage across the crimson wave is imminent, my breakouts are ramping up. It seems that not even the purest form of salicylic acid could take down these zits. Still, I'm aware of the progress I've made over the last decade, partly because of my own efforts, partly because of hormones. When I was younger, it used to be exciting to put on a whole face and have this transformation every morning. But now, I think I like waking up without the need to cover anything up much more.
Want to see more HCFSU? Be sure to like us on Facebook and follow us on Instagram, Twitter and Pinterest!