My 2020 Oscars Predictions
By no means am I a film expert, but I really enjoy watching movies and wanted to try to predict who would win the Oscars. I haven't seen all these movies, but I have seen a good amount of them and done research on what experts and critics think will win. To form my educated predictions, I based my choices off of winners from the Golden Globe Awards, the Screen Actors Guild Awards and Critic's Choice Awards. I also looked at the Atlantic's predictions and the Academy's leaked predictions on Twitter that were captured by IndieWire before they were deleted. Some of these predictions also come from my own personal opinion. The full list of categories and nominees can be found on the Oscars Nominees page. Of the main categories, I have all the nominees listed and my predictions to win in bold.
Giphy
BEST PICTURE
Ford V Ferrari
The Irishman
Jojo Rabbit
Joker
Little Women
Marriage Story
1917
Once Upon a Time...in Hollywood
Parasite
ACTOR IN A LEADING ROLE
Antonio Banderas in Pain and Glory
Leonardo DiCaprio in Once Upon a Time...in Hollywood
Adam Driver in Marriage Story
Joaquin Phoenix in Joker
Jonathan Pryce in The Two Popes
ACTRESS IN A LEADING ROLE
Cynthia Erivo in Harriet
Scarlett Johansson in Marriage Story
Saoirse Ronan in Little Women
Charlize Theron in Bombshell
Renée Zellweger in Judy
ACTOR IN A SUPPORTING ROLE
Tom Hanks in A Beautiful Day in The Neighborhood
Anthony Hopkins in The Two Popes
Al Pacino in The Irishman
Joe Pesci in The Irishman
Brad Pitt in Once Upon a Time…in Hollywood
ACTRESS IN A SUPPORTING ROLE
Kathy Bates in Richard Jewell
Laura Dern in Marriage Story
Scarlett Johansson in Jojo Rabbit
Florence Pugh in Little Women
Margot Robbie in Bombshell
ANIMATED FEATURE FILM
How to Train Your Dragon: The Hidden World
I Lost My Body
Klaus
Missing Link
Toy Story 4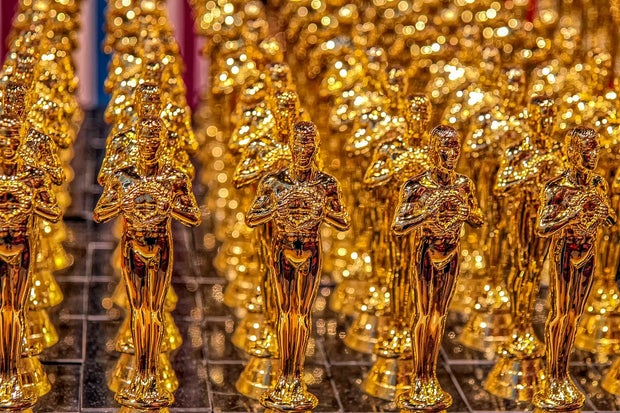 Felicity Warner / HCM The Oscars are going to be broadcasted live on Sunday, Feb. 9 on ABC at 8pm EST, but if you want to watch the red-carpet coverage be sure to turn on the TV at 6:30pm EST. During the awards ceremony, there will be a performance by Billie Eilish, as well as all five Music (Original Song) nominees. Be sure to write down your predictions and make time to watch one of the most popular film award ceremonies! The rest of my predictions for the less popular categories are listed below.
CINEMATOGRAPHY: 1917 – Roger Deakins
COSTUME DESIGN: Little Women – Jacqueline Durran
DIRECTING: Parasite – Bong Joon Ho
DOCUMENTARY (FEATURE): American Factory – Steven Bognar, Julia Reichert and Jeff Reichert
DOCUMENTARY (SHORT SUBJECT): Learning to Skateboard in a Warzone (If You're a Girl) – Carol Dysinger and Elena Andreicheva
FILM EDITING: Parasite – Yang Jin-mo
INTERNATIONAL FEATURE FILM: Parasite – South Korea; Directed by Bong Joon Ho
MAKEUP AND HAIRSTYLING: Bombshell – Kazu Hiro, Anne Morgan and Vivian Baker
MUSIC (ORIGINAL SCORE): Joker – Hildur Guðnadóttir
MUSIC (ORIGINAL SONG): "Stand Up" from Harriet – Joshuah Brian Campbell and Cynthia Erivo
PRODUCTION DESIGN: Once Upon a Time…in Hollywood – Production Design: Barbara Ling; Set Decoration: Nancy Haigh
SHORT FILM (ANIMATED): "Hair Love" – Matthew A. Cherry and Karen Rupert Toliver
SHORT FILM (LIVE ACTION): "Brotherhood" – Meryam Joobeur and Maria Gracia Turgeon
SOUND EDITING: 1917 – Oliver Tarney and Rachael Tate
SOUND MIXING: 1917 – Mark Taylor and Stuart Wilson
VISUAL EFFECTS: The Lion King – Robert Legato, Adam Valdez, Andrew R. Jones and Elliot Newman
WRITING (ADAPTED SCREENPLAY): Jojo Rabbit – Screenplay by Taika Waititi
WRITING (ORIGINAL SCREENPLAY): Parasite – Screenplay by Bong Joon Ho and Han Jin Won; Story by Bong Joon Ho
Want to see more HCFSU? Be sure to like us on Facebook and follow us on Instagram, Twitter and Pinterest!