Miley Cyrus Brings Backyard Sessions To MTV
Miley Cyrus has officially kicked off a new era, or as she would say it, "She is finally here." On Aug. 14, she released the single and music video for "Midnight Sky," the title track off of her upcoming album. "Midnight Sky" is a rock anthem inspired by the media attention surrounding her high-profile divorce with Liam Hemsworth and subsequent relationship with Kaitlynn Carter. Miley Cyrus's upcoming album is predicted to drop by either the end of the year or in early 2021.
Following the release of "Midnight Sky," Miley went on a press tour promoting the single and her new era. She kicked off the tour with an interview on the hit podcast Call Her Daddy. During her podcast episode, Miley went into detail about the inspiration behind her latest record and the media's role in it. "I feel like as a woman I was villainized for moving on and I really feel like that isn't acceptable," she explained. Miley discussed her divorce, sexual experiences and relationship takeaways. Miley's press tour also included an appearance on the Joe Rogan Experience, where she talked about her divorce, family, sobriety and RuPaul's Drag Race.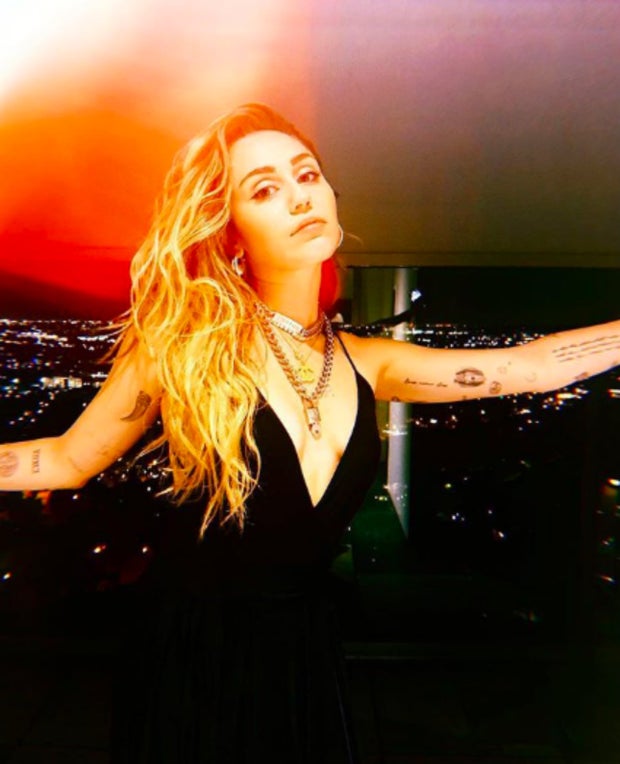 @mileycyrus via Instagram As she continues her album rollout, Miley recently made another big announcement about the return of her wildly successful YouTube series The Backyard Sessions. The Backyard Sessions were a series of song cover videos that Miley performed and uploaded on her channel from 2012 to 2015. These videos were wildly popular due in part to the showcasing of her raw talent and powerhouse vocals, as she performed songs from genres that she wasn't typically known for.
Her most popular cover is of the song "Jolene," originally written and sung by her godmother Dolly Parton. Posted in December of 2012, Miley's "Jolene" cover has gone on to gain 274 million views and counting, with many fans in awe of her vocal range and encouraging her to create music with a more country-inspired sound. Another notable Backyard Sessions cover is the 2015 duet between her and Ariana Grande on the hit Crowded House song "Don't Dream It's Over." This duet left fans craving a proper collaboration between the two as they showcased the harmony of their vocals. Though Miley's last The Backyard Sessions upload was in 2015, over the years, fans have been pleading for her to bring the series back.
On Oct. 5, Miley shocked fans by announcing the return of the series with a twist. Rather than its old platform on YouTube, The Backyard Sessions will be revived on MTV as part of their reinvention of the beloved series MTV Unplugged, a music series that has been running since 1989 and primarily features artists performing acoustic versions of their songs. As described by MTV, "Taking the stage from just outside of her home in Los Angeles, Cyrus will channel the connective spirit of the MTV Unplugged series as she also tackles some big covers, including Britney Spears' 'Gimme More' and songs from Pearl Jam, The Cardigans and more." 
According to RESPECT magazine, "Fans will have front-row seats as Cyrus performs stripped-down and acoustic sets of her career-defining hits and latest single 'Midnight Sky,' which debuted at [No. 1] on iTunes in 41 countries with the accompanying self-directed video amassing over 65 million views."
MTV Unplugged Presents Miley Cyrus Backyard Sessions airs on MTV Friday, Oct. 16 at 7/6c.
Want to see more HCFSU? Be sure to like us on Facebook and follow us on Instagram, Twitter, TikTok and Pinterest!