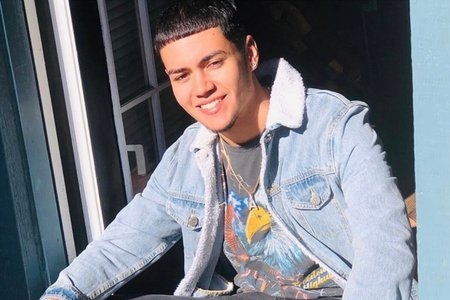 Meet Tallahassee's King of Thrift Anthony Aguiar
As fashion revival takes over, the demand for more vintage apparel rises. Need no fear because the unsung hero of our thrift needs has arrived: Anthony Aguiar of Tallahassee Vintage. Aguiar, also known as tallahassee_vintage on Instagram, recently started his small business here in Tally which specializes in vintage athleisure and streetwear. As a customer myself, I've returned again and again to Aguiar's collection to find some of my favorite statement pieces. He constantly delivers the highest quality items and curates some of the coolest apparel turning his followers into loyal customers. Additionally, Aguiar upcycles some older pieces bringing a modern look to aged fashion. I wanted to get an opportunity to discuss his process, his entrepreneurial spirit and how his roots inspire his business-savviness and here is what he had to say: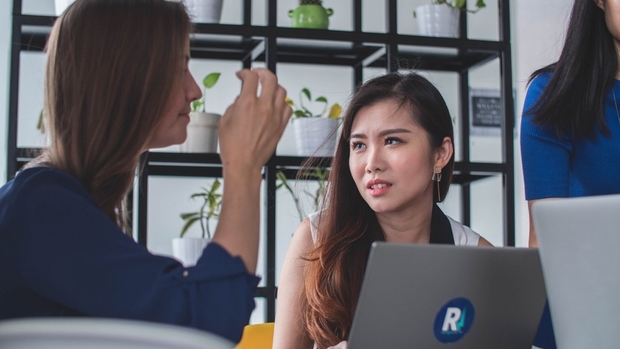 Her Campus (HC): What inspired you to start your own brand/small business here in Tallahassee?
Anthony Aguiar (AA): I've had a passion for second-hand clothing since I was young, I have always enjoyed finding that one of one piece that you can't find in a retail store. My goal when I started my business was to find clothes that I know people need in their wardrobe. I've always seen so many cool clothes that either didn't fit me or did not fit my style, but I know someone else would love and appreciate it.
HC: How did you start becoming interested in upcycling and restyling apparel?
AA: My passion began when I was young, about like 5th grade, looking for vintage snapbacks and t-shirts for my collection. But even before I loved "vintage", I began looking for clothes in second-hand stores when my mom and I would walk across the street from my house to a children's thrift store and she would let me go crazy and get whatever I liked because everything was so cheap, and I was like 8 years old at this time.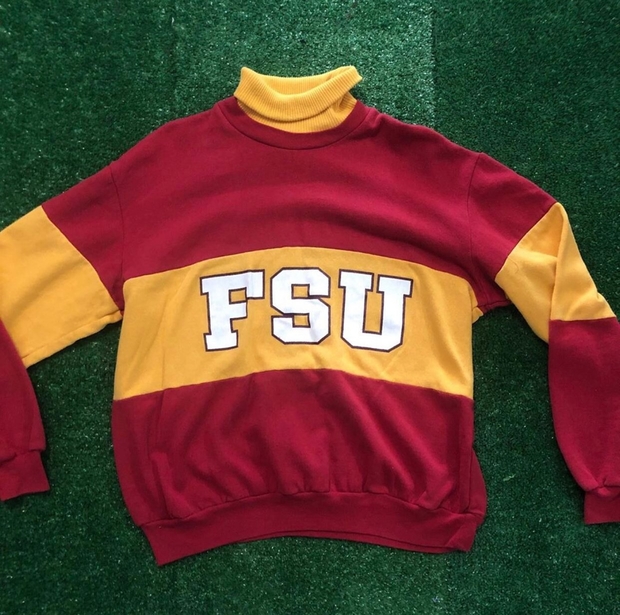 HC: What is your process when searching for new apparel?
AA: I come across a plethora of clothes daily, I can say I pick through thousands of pieces of clothes every single day, and less than 1% of it is Tallahassee vintage worthy. I make sure to look through everything because there could be a gem hiding from me anywhere. I must look everywhere high and low to make sure I don't miss that gem that's hiding from me. I never know what I'm coming across, so I make sure to look through anywhere I see clothing of any type, any gender, any size.
HC: How did you learn how to sew and tailor clothing?
AA: I learned to sew and tailor with my grandma, "Mammita Ana". I learned my freshman year of high school because I was tired of stores making jeans that never fit me properly. I like my jeans to fit me a certain way, so I took matters into my own hands and tailored my jeans to fit me perfectly skinny. I owe my sewing skills to my grandma. Also, a special shout out to my brother who bought me my first sewing machine which is still running strong and is the machine I use to this day.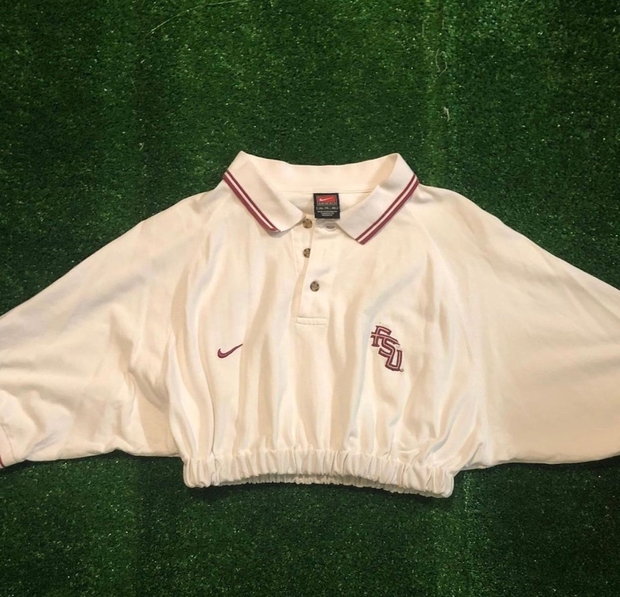 HC: How do you know what's worth buying and turning around to your customers?
AA: I sell a lot on my Instagram, but I also sell a lot of my clothes on eBay. My Instagram is cool FSU clothing and cool stuff that I know someone will appreciate, but my eBay is where I sell my real vintage where I can get top dollar because they are items that many people are looking for. I've gained all my knowledge over time, and it just accumulated over the years so it's just instinct what will sell well. The way I see it, if I see something that I think is super cool, chances are someone else will feel the same way.
HC: What are your favorite pieces to thrift and find?
AA: There's something about eagles on t-shirts that drives me crazy. If I see an eagle on a t-shirt it's an automatic cop for the personal collection. I also love looney tunes and Nascar clothes, they always have cool prints and lots of colors. Nascar shirts always have a lot going on with lots of colors, and looney tune shirts are funny and bring back memories of my childhood.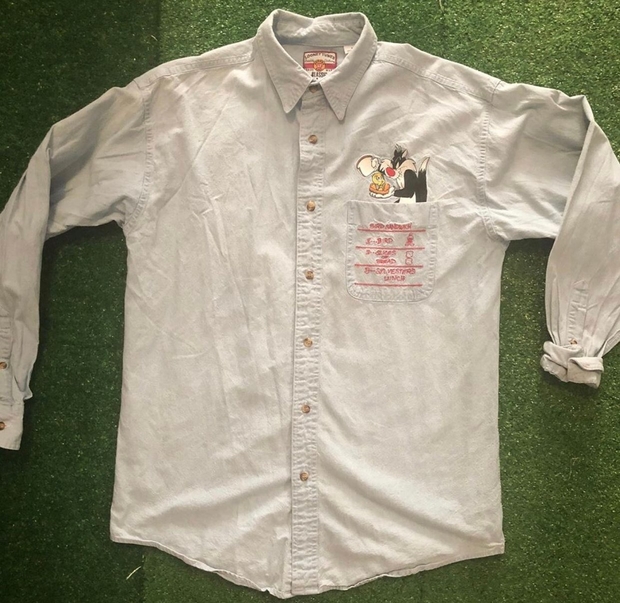 HC: What can we expect from your brand in the future? Is there any future growth you have planned?
AA: I'm a "go with the wind" kind of guy, I leave everything in God's hands, and I know he will guide me in the right path. I don't have anything planned for the future because I know it's nothing I can control, the only thing I can control is how hard I work to find cool clothing and everything else will fall into place. Any growth in my business is a blessing from above and I'm forever grateful.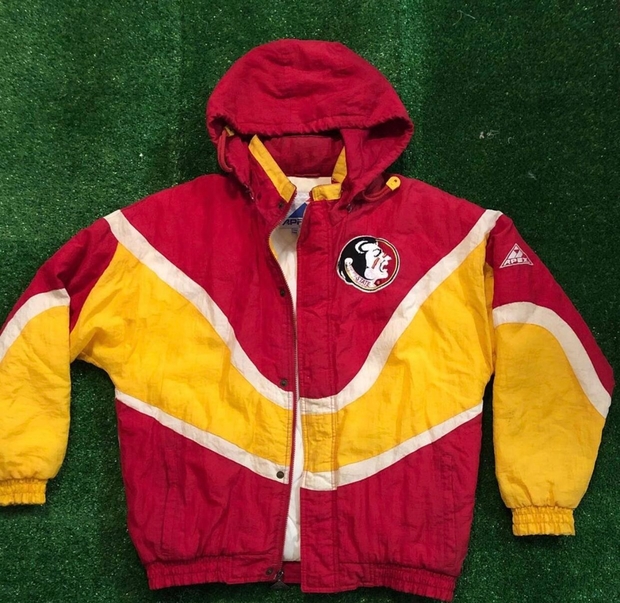 HC: What's the most fulfilling part of being a business owner in this field?
AA: I love to see my customers wearing clothes they've bought from me. This is a super fulfilling feeling because I feel like I'm making someone feel powerful and confident. I've seen people wearing my clothes out at the club numerous times and this makes me feel so happy. Usually, people wear their best fit at the club or parties to impress others, and the fact that they wear my clothes to do this just makes me so unbelievably happy. I also see my customers posting pictures to their social media accounts in clothing they purchased from me and this is amazing because they're flexing in clothing that I worked so hard to find.
HC: Who is your biggest inspiration for your business?
AA: My biggest inspiration for my business has been my father. My dad has always instilled in me to work hard and be a hustler. The word hustler has a bad connotation, but it is what we are and I'm proud to be just like my old man, I truly learned from the best. 
Be sure to check out both Anthony and Tallahassee Vintage on Instagram for new releases, upcoming thrift events and to follow his small business thrive!
Want to see more HCFSU? Be sure to like us on Facebook and follow us on Instagram,Twitter and Pinterest!