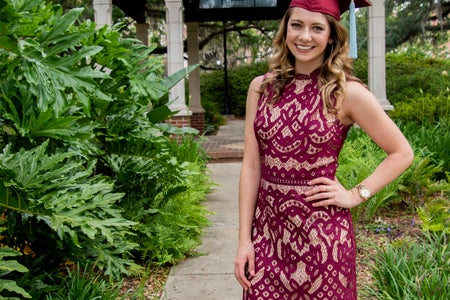 Meet Michelle Futo: Professional Boss Babe
When I started my collegiate career at Florida State University, I was a junior transfer student. I didn't know anyone in Tallahassee and was a little rocky in the "what do you want to do with your life" department. I went into my first week of classes feeling like I was already behind other students academically and professionally. In an attempt to find some guidance, I swapped one of my classes for a Careers in Communications class. My professor kicked off our lecture with a very enthusiastic guest speaker who came to inform my class on the Florida State Career Center and our professional development. I listened in awe as the Assistant Director of Mock Interviews and Employee Development spoke with such passion about her role in the Seminole community. I left class that day and thought to myself, "I want to be like Michelle Futo." 
Fast forward to my Senior Year and I'm working as a Senior Mock Interview Mentor at the Career Center and Michelle is my boss! This internship has truly changed my life and Michelle has played a major role in that. I knew I had to find an opportunity to sit down with Michelle and pick her brain about her career, and that's exactly what we did! 
I started off by asking Michelle what an Assistant Director of Mock Interviews and Employee Development did. "It's honestly just a fancy title." Michelle said laughing "It's a two-way road where I get to prep students for their interviews with employers and match employers with students. I manage 18 interns, one graduate intern and a full-time assistant." Michelle always acts like her job is no big deal, but she always does the most while making such a difference in so many people's lives! I learned that her job requires her to work on back end program management, take on brand building calls, consult employers and get students, as well as employees, plugged into Career Center programs. Needless to say, she is the Queen of Google Calendar.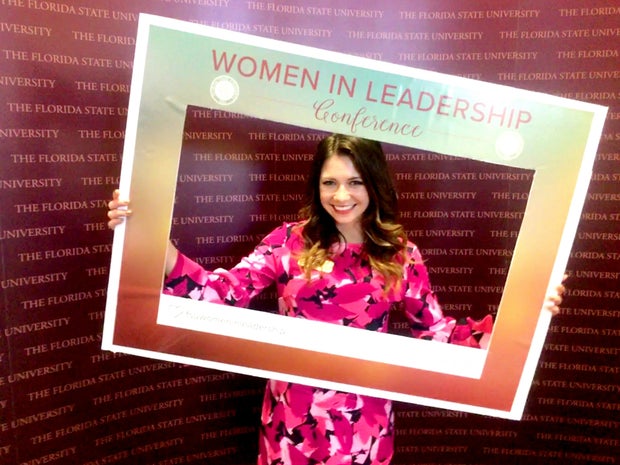 Michelle Futo
Michelle shared that, "No matter what job you're assigned to, always keep an eye out for other projects. This is something I didn't understand in Undergrad. Step up in group projects! Pick up the slack while also reaching out to help your other teammates or coworkers. The sooner you do this, the easier it will be for you to help your coworkers in your professional career. This is also how I got promoted. I started out as an assistant and within a year had my own team of 18 people. I didn't even have my Master's Degree yet! This all happened because I took as many opportunities as I could."
The Mock Interview Program is such a vital aspect of the Career Center. I asked Michelle to share her thoughts on the importance of the program. "When you're sitting in class and have a discussion about a book, but you only read the spark notes, 75% of the time you either fluff your answers or you straight up word vomit," Michelle said. "This is also what happens if you don't properly prepare for a job interview. If you review a company's website five minutes before the interview, you're going to either fluff your answers or word vomit. The Career Center has a simulated job interview experience that could change your knowledge and overall confidence of job interviews. Sure, your friends or family could help you; but students have the chance to submit a resume and cover letter to have in-depth research done for personalized interviews and feedback. This opportunity won't be available after your four years at FSU so take the opportunity while you have it."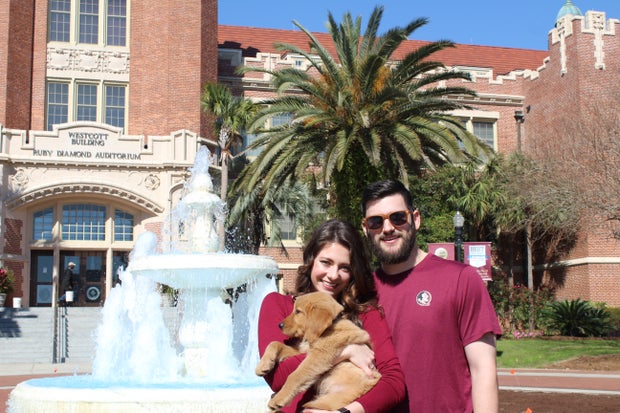 Michelle Futo Even though Michelle is a kick-butt boss, she is also a two-time alum from THE Florida State University. She shared that her favorite memory was "being an FSU Tour Guide, a University Ambassador, a member of Theta… oh and meeting my fiancé that was cool too I guess." I asked her why being a tour guide was so fun and she said, "The fact that I got to inspire people in as little as two hours was amazing. When I was doing my recruiting for Theta, I rushed a girl who asked if I remembered her. She then told me that I had been her tour guide two years ago and that since then, she'd wanted to come to FSU and join Theta. At that point, if you know anything about sororities, you know we were both crying!"
Outside of Michelle's Florida State bubble, she can be found planning her wedding, binging The Bachelor and playing with her adorable future ring bearer, Westcott! As we finished gushing over puppy pictures, I asked Michelle what her final piece of advice would be for female college students. Without hesitation, she replied with, "find your champions. Find people who lift you up and support you. Once you graduate, your friends, staff members and professors are going to be your references and your support group."
I could fill up 100 pages about why Michelle is so great, but instead, go to the Career Center and get to know her yourself! Thank you, Michelle for leading by example and being an outstanding contribution to the Seminole family! 
Want to see more HCFSU? Be sure to like us on Facebook and follow us on Instagram, Twitter and Pinterest!