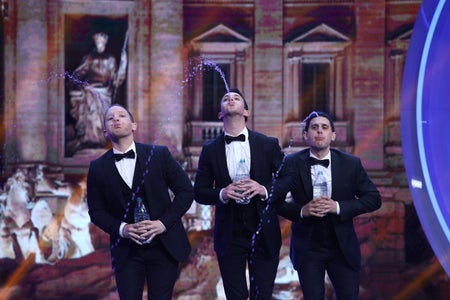 If you're an America's Got Talent fan, there is a good chance you remember the Human Fountains act. In 2018, they made it to the quarterfinals doing one of the most bizarre things this show had seen, spitting in each other's faces. For their audition, they performed to "My heart will go on" by Celine Dion shocking everyone when they didn't sing. Viewers were either repulsed or found this act to be the most hysterical thing they've ever witnessed. I happened to be in the latter and was lucky enough to interview this creative group of young men. 
Her Campus (HC): How and when did you all meet? 
Human Fountains (HF): We actually all met in high school in Denver, Colorado where we grew up.  
HC: At what point did you guys begin formulating this act? 
HF: The beginnings of our act stemmed from a high school talent show. We performed an act where we spat water. People enjoyed it and told us to tape it afterward. We taped a version and that was that. We all went off to college and got real jobs in different cities. Fast forward eight years later. We all have real jobs and happen to have all moved to Los Angeles at separate times. At this point, just for fun, a member puts our old video on Reddit. It goes viral overnight and becomes the #1 video there. That's when we started getting calls from different TV shows and it really all took off from there.  
HC: What would a practice session of your act look like? 
HF: Our practice sessions consist of us standing in bathing suits blasting opera music in our driveway as we spit water. As you can imagine, our neighbors think we're crazy!  
HC: What made you guys think let's take this to the big stage of America's Got Talent? 
HF: We thought it would be fun to perform on a bigger stage. Little did we know......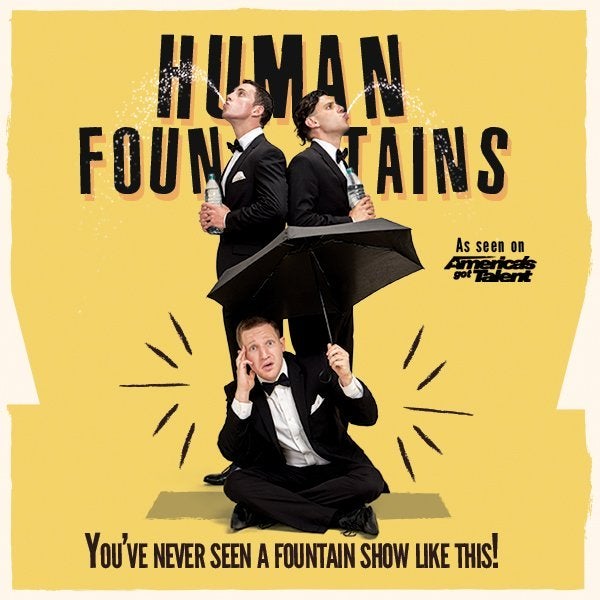 Human Fountains
HC: Were you guys surprised when you made it past the Judge's Auditions? 
HF: YES!!!!!! Weren't you?! We were just hoping the judges would let us get through our whole act without all buzzing us. We were shocked by the standing ovation! 
HC: What made you guys think to step it up for the next rounds to use food? 
HF: We knew we couldn't just do the same shtick again. We had to add elements to it including a storyline, food, and some shocking surprises.  
HC: How did you guys react to making it to the quarterfinals? 
HF: We were shocked again! You could say it made us spit out the water we were drinking ;)  
HC: In what ways did America's Got Talent change your lives? / What are the Human Fountains currently up to? 
HF: AGT really kick-started everything. Since then we've traveled around the world performing in countless countries and tv shows. We've also greatly improved our performing ability, as AGT was really our first experience being on stage. We're proud to now have a full hour show that we perform monthly in Los Angeles. We also do private events, so keep us in mind if you ever want some fun and crazy entertainment! 
HC: If I told you guys you would be quarterfinalists on America's Got Talent 10 years ago, what would your reaction be? 
HF: No way we would have believed you!!!  
Want to see more HCFSU? Be sure to like us on Facebook and follow us on Instagram, Twitter and Pinterest!