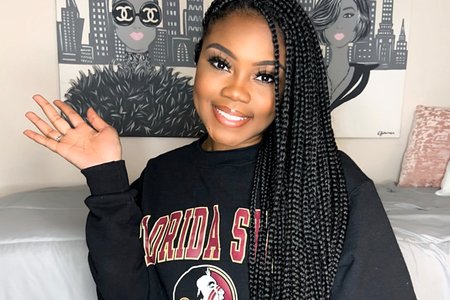 Meet Emiah Youman: Entrepreneur, Blogger, and Future Lawyer
From on-campus to off-campus, the successes of this FSU student can be seen and heard. Emiah Youman is a dedicated sophomore at Florida State University majoring in Political Science with a minor in Communications. Upon graduation, she has plans of attending Law School to become an attorney. While she has interests in becoming an attorney, Emiah is an entrepreneur and creative at heart.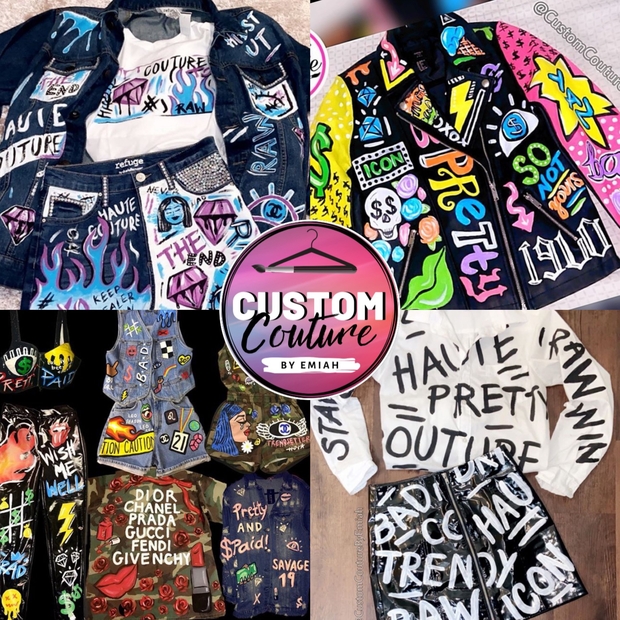 Unlike many other pre-law students, Emiah is a jack of all trades – literally. When she's not hitting the books, she's busy running her black-owned business – Custom Couture by Emiah. Her business is dedicated to "hand-painted fashion." Here, she paints custom designs on various articles of clothing – from t-shirts to bomber jackets and more. Though she started this business in her junior year of high school, it's followed her all the way to college. Due to this, she's expanded her custom design category to include college graduation gear; such as custom graduation caps and graduation stoles.
Her Campus (HC): Do you want this business to grow with you throughout your J.D. journey?
Emiah Youman (EY): I've always been passionate about art and fashion and my business is literally a combination of those two things. It's been a great way to make money and I'm very passionate about the pieces I create. I can definitely see myself continuing this throughout law school and maybe even beyond that. I'm not sure how much extra time I'll have as a practicing attorney, but I hope that I'll still be able to run my business when that time comes.
HC: What is Journey2JurisDoctor and what do you hope to achieve through its existence?
EY: I created Journey2JurisDoctor last March and it's a blog dedicated to my journey throughout undergrad, law school, and eventually receiving my JD and practicing law. I began this blog because when I was looking for a law blog by a woman of color, and it was very hard to find one. So, I figured I'll just create one myself.
Not only do I want to be an attorney in the future, but I also want to be able to inspire other women of color and show them that it's possible to be successful in the field of law despite the many obstacles they may face along the way. Through Journey2JurisDoctor I'm able to share a space and a platform that does just that.
Emiah's talents do not stop there. While running her own designing company and blog, she is also a YouTuber; Emiah Lamari. You can find vlogs of her traveling, videos of her giving college advice, and way more on her channel.
With all of Emiah's extracurricular activities, she still finds time to maintain focus on her academic achievements on campus, which definitely doesn't go unnoticed. Emiah is a member of the WEB DuBois Honor Society, classified for undergraduate students achieving a cumulative GPA of 3.3 or higher throughout their current and entire college career. Not only is she an active member, but she also serves as their Social/Seminar Chair – a role granted to high achieving members of the Honor Society. Emiah also serves as the Historian for the Black Law Students Association, Collegiate Chapter. Here, she's able to gain even greater insight on her future career goals as an attorney. Emiah is a member of Big Sister Little Sister, FSU Chapter (BSLS) and is a  UROP student – a program at FSU that allows students to shadow and aid professors in their research.
HC: How do you balance your schoolwork, campus leadership roles, and off-campus endeavors efficiently?
EY: I am very big on planning ahead and using journals and planners to keep track of everything from assignment deadlines, campus events, meetings or business orders. I write everything in my bullet journal, which is basically half a planner and half personal journal. This helps me manage my time and make sure that I never miss important events or deadlines.
While she continues her journey as an entrepreneur, blogger and future attorney, Emiah is motivating young women all around to do the same. Through her consecutive posts on her Journey2JurisDoctor blog page and her custom designs, she is creating a positive future for women of color. Her rigor, motivation and creativity make her the perception of Black Girl Magic – this is Emiah Youman.
Want to see more HCFSU? Be sure to like us on Facebook and follow us on Instagram, Twitter and Pinterest!