Everyone knows the infamous saying that diamonds are a girl's best friend; however, the price may not be. This college student named Cecilia Kauffman is curating handmade, dainty jewelry pieces for other college students at reasonable prices.
Cecilia started making handmade jewelry in high school when she took a metal working art class. She cut pieces of metal, soldered metal together and made stones that gave her a creative outlet to turn a spontaneous idea into a small business.
"The transition to college was really hard for me because I'm out of state and I was really bored," Cecilia explained. " I got a necklace for my birthday and thought that I could make this really easy and I just need the stuff to do it. So for my birthday that year, my boyfriend's mom bought me $30 worth of jewelry and I just kind of started."
Cecilia didn't anticipate for her idea to become as big as it is now and she didn't think she would turn it into a small business that she now calls Tally Beads. With the support of her friends and family, Cecilia made the jump and started an Instagram page in November of 2017 to showcase her handmade jewelry and sell various pieces. 
View one of her latest Instagram posts here.
As a college student, Cecilia knows that most people want to purchase inexpensive, cute jewelry, but have a hard time finding companies that do exactly that. So, she was inspired to make jewelry that aims towards young, college students. Cecilia is a junior at Florida State University studying information and communications technology and minoring in psychology.
"The reason I have Florida State in the Tally Beads Instagram bio is so that people know that I'm a real student who's actively going to school and I want people to know where they can find me," Cecilia commented. "I also think it's really cool to know where your jewelry is coming from."
Cecilia wants her customers to know where and from whom they will be purchasing their jewelry. She wants to make Tally Beads an authentic and approachable small business that college students can trust buying custom made jewelry from.
As Tally Beads grew, Cecilia introduced a website in January of 2018 and started the Tally Team to further her engagement on Instagram, where she was making a majority of her sales. The Tally Team initially started with around 50 brand ambassadors from different college campuses that rep Tally Beads and have discount codes that they can give people who are interested in.
"The Tally team is great for advertising and a cool way to meet new people," Cecilia stated. "It's a great way to get Tally Beads out there to different college campuses and give people cheaper jewelry."
Cecilia currently makes necklaces and earrings from chains, beads, and charms that she buys separately online from places like Amazon and Etsy, as well as warehouse bead stores in Atlanta, where she is originally from. For Cecilia, it's all about the assembly process when she cuts all of the pieces in order to make them into complete necklaces and earrings.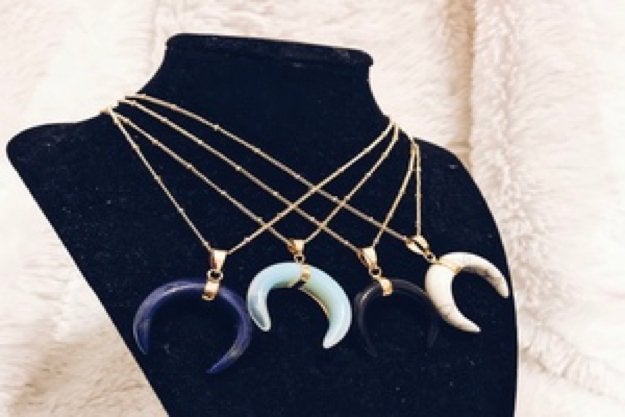 Courtesy: Cecilia Kauffman
Cecilia makes various pieces, like dainty jewelry, chokers and layering necklaces. If there is something that a customer wants custom made, she takes the time to make one of a kind, handmade jewelry.
"For anybody who's starting a business, the most important thing is to believe in your product," Cecilia advises. "You can't sell something if you do not wholeheartedly believe in it because that takes away the integrity and how genuine it is."
With just two pairs of pliers and a box to hold her beads, Cecilia's main goal of Tally Beads is to make people happy and spread joy through the love of jewelry.
If you are interested in learning more about Tally Beads, you can find Cecilia at many trunk shows or online at her website. If you want to contact her, check out The Tally Beads Instagram or email her.
Want to see more HCFSU? Be sure to like us on Facebook and follow us on Instagram, Twitter and Pinterest!