Meet Aimee Alcime: The Face Behind @aimyoncee and Your Fave Tiktoks
TikTok is home to many viral videos created by your everyday content creators where you are bound to find someone or something that relates to you. Almost everyone dreams of being 'TikTok famous' but that was never Aimee Alcime's main goal at first. Before she was on the app, she was just one of my good friends who loved participating in theatre and playing her flute during our band days in high school. Now with over 1.5 million followers on the app, she's still in disbelief over her popularity. She never thought a simple video of her reenacting a scene from Real Housewives of Potomac would trend so rapidly in hours. Her lip-syncing of two characters at the same time with the help of her bathroom mirror skyrocketed her into influencer status.
Her Campus (HC): What motivated you to continue making TikToks?
Aimee Alcime (AA): I love to have fun and bring smiles onto people's faces, so that is what motivates me for the most part.
HC: Now that you have a large following, do you feel like people gravitate towards you more now than before TikTok?
AA: I guess in a way, yeah. It's usually either people that have seen me once or twice at school or random people that don't know me. I see the same people, who didn't want to associate themselves with me in the past, try to be friends with me now, but I'm not going to go down that path.  The people I do know mostly congratulate me but there's never been that random person that goes "Let's link!"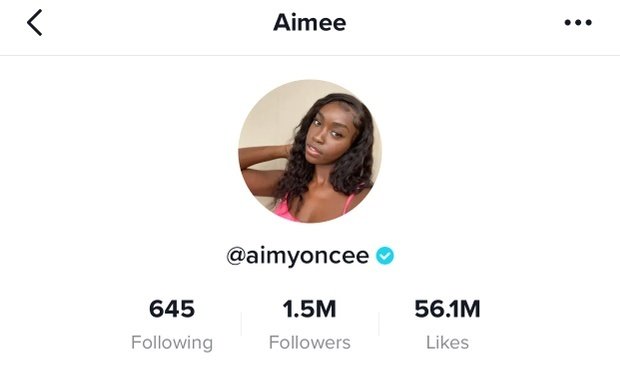 Photo by Aimee Alcime
HC: What were you feeling when you first got verified on the app?
AA: I was super happy and relieved because I've been working up to get verified for a while. I started posting about ten times a day because I wanted to continuously push out content. I feel very excited about what's left to come in the future.
HC: Also, I noticed that you went to the "Make Black History" event back in Feb. How was it like to meet all of those creators and what did you gain from that experience?
AA: At first, I was super scared because I didn't know if they were going to be judgmental or shun me. I only just started in Dec., so I wasn't that well known. I wasn't sure if they were going to push me away or not because some have been doing it for YEARS, but they all were honestly so kind. I was also so surprised that some people did know who I was.
AA: I learned a lot from the experience because TikTok brought professionals to come in and talk to us about how to grow our accounts. The one thing that stuck with me the most was that I had to learn to ignore the haters, which I actually learned from Nick Cannon, one of the guest speakers. He said that "what other people think about you has nothing to do with you" and that was engraved in my mind throughout the rest of the weekend. Who cares what they think? At the end of the day, I'm still going to be myself and do what makes me happy. 
HC: This ties into my next question but how exactly do you deal with hate comments? I understand it can be a lot sometimes.
AA: Yeah… Sometimes I get rude comments or DMs telling me what to do with my life but to be honest, I try to ignore those comments because I'm not trying to hurt my feelings and let them affect my mental health. Then again, I do say to myself that most of these comments have nothing to do with me because people try to redirect their anger towards someone they don't know. Like, you don't know what a person behind the screen is going through at home, so I don't like to judge too quickly.
HC: Which brands were your favorite to work with and why?
AA: Recently, I just worked with Disney and that was probably my favorite because I'm in love with the whole franchise. I had to promote on how clean and sanitized the parks were while also showing my followers the cute fall decorations that were displayed everywhere. Don't get me wrong, it was very fun, but I had to work at the same time.
HC: Do you have any plans on using your current status to your advantage in the future? Maybe a career possibly?
AA: I was thinking that I could try out acting because I love doing it already. I did musical theater in high school and I'm currently taking acting classes. I've been practicing my acting through my skits on TikTok. At the "Make Black History" event, I got to talk to some managers, who gave me advice on how to pursue a career in acting, where to audition and how to specifically find a manager. It was an enlightening experience and hopefully, I'll be able to use those tips in the future.
HC: What message would you like to bring into this world by using your platform?
AA: The one message that has stuck with me on this journey and what I can hopefully spread to others is that "you are loved, you are enough and you matter."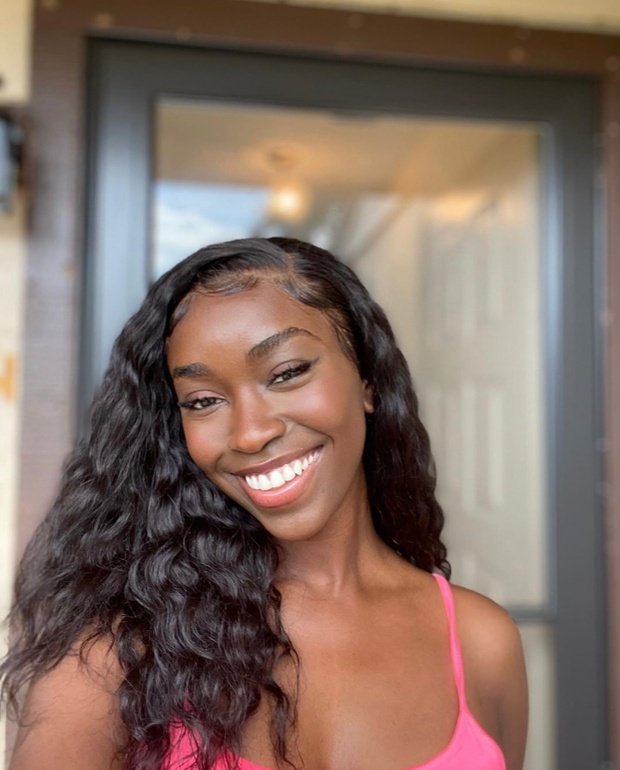 Photo by Aimee Alcime
Be sure to check out Aimee's TikTok for a quick laugh today!
Want to see more HCFSU? Be sure to like us on Facebook and follow us on Instagram, Twitter and Pinterest!