안녕하세요 (annyeonghaseyo)
This week we are taking a journey to South Korea. The country that became my home less than a year ago. I would have never thought in a million years I would come to this country and rather much have the opportunity to live in it. Throughout this article, I will tell you about my personal experience, places, foods, favorite TV shows and makeup brands that I love in South Korea.
First off, we are going to discuss the places which South Korea has to offer. A little disclaimer, these are my favorite places in the country, and I am still finding more places to discover. 
1. Changdeokgung Palace
This palace is located in the area of Jongu in Seoul. The Changdeokgung Palace is one of the "Five Grand" Palaces built by the kings of the Joseon Dynasty (1392-1897). In 1997, the palace was added to the UNESCO World Heritage List. Moreover, inside the palace area, there is a garden called the "Secret Garden", which accommodates trees that are more than 300-years old. The "Secret Garden" was used as a place of rest, contemplate life, write poems and hold banquets.
2. Myeong-dong
This area is a place in Seoul where you can go shopping for different international brands, as well as local brands. Moreover, you can engage in different activities while being in this area. My ultimate favorite is the Key Escape Room, where you play with a group of friends or family to escape a room; most of them have a specific theme, such as, Sherlock Homes, dwarfs, love stories, etc. Myeong-dong is also home to "the late food snacks" or famous night-street food, in which I discovered a famous sweet dish, better known as Hotteok or also known as Korean Pancakes.
3. Lotte World Tower – Seoul Sky
This skyscraper is the tallest building in South Korea and the fifth tallest in the world. The Lotte World Tower has 123 floors. Let me tell you something, while you are going up in the elevator you definitely feel the rush while going up. On the upstairs floors, you can have the opportunity to look down through a see-through glass/floor. I would definitely not recommend this if you are scared of heights or just ate. In the Lotte World Tower you can observe a beautiful view of the city (see picture below).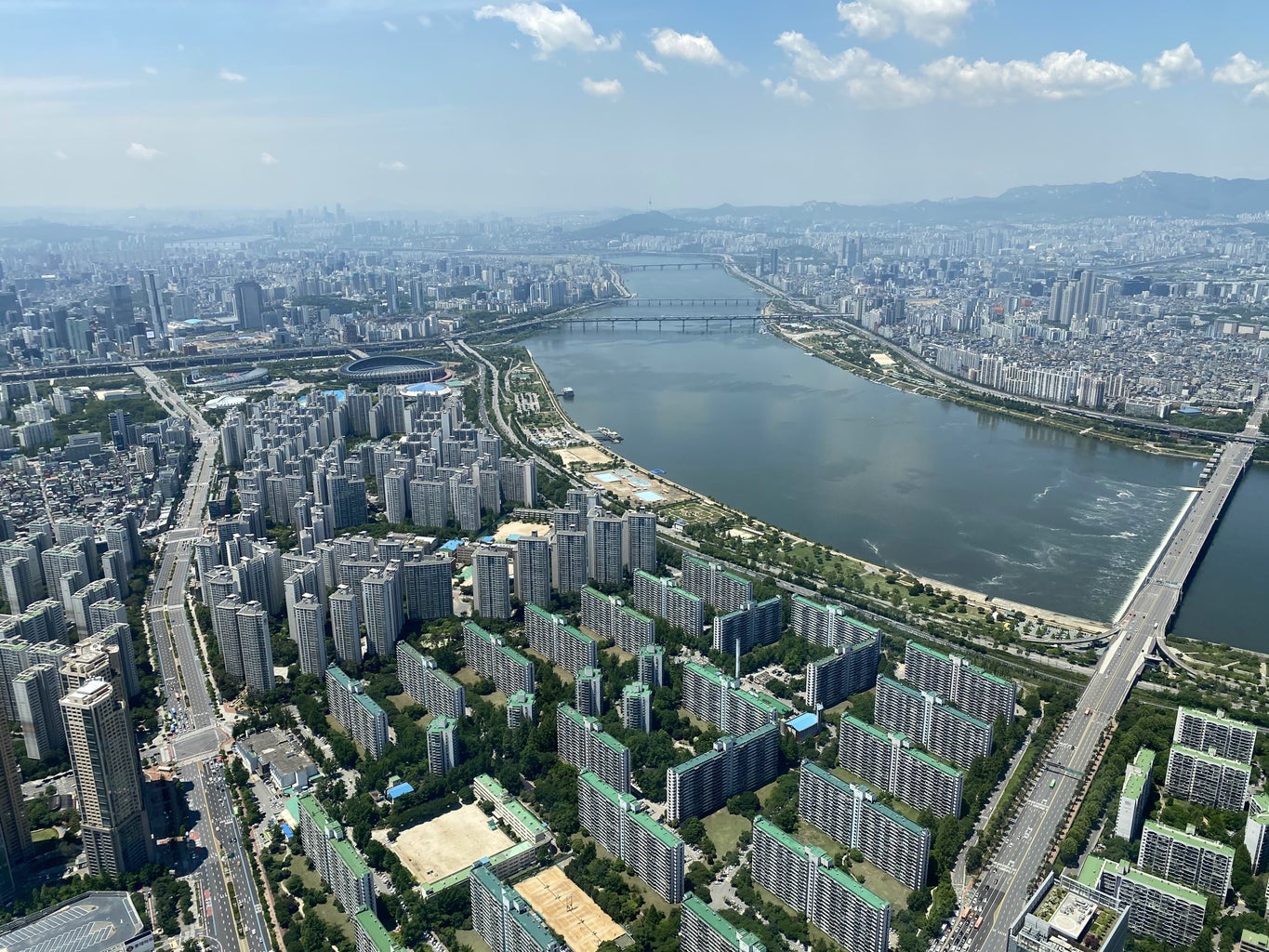 4. Busan (City outside of Seoul)
Busan is a large port city and the second-largest city in South Korea. The region around the port city of Busan is known for its mountains, beaches and temples. I had the opportunity to visit Busan a couple of weeks ago.  While my visit there, I went to the beach, one of the temples and ports. My favorite place in Busan was the Haedong Yonggung Temple which is located near the shoreline. This place is absolutely breathtaking, you can observe both the shoreline and temple in the picture below. 
Now let's talk about food, what we all love. While walking through the streets of Myeong-dong late at night (before the COVID-19 pandemic) I bought a Hotteok. Obviously, I had no clue what this dish was, if it was sweet or salty no clue. To much of my discovery, this was a yeast dough filled with different types of sugar, cinnamon and nuts. Later on, I also discovered this could be filled with noodles, pizza toppings or sauces and other types of fillings. Let me tell you something, I am currently obsessed with them and no they are not fat-free. However, if you have the opportunity to visit South Korea, this is a must-have.
If I am being honest I have not gotten much into the trend of Korean music or K-Pop. Therefore, I will be speaking of Korean drama, or better known as K-drama. The TV show that started my obsession with K-drama was "Crash Landing on You". This drama revolves around a South Korean heiress having a paragliding mishap and falling into North Korea. When Yoon Se-ri falls into North Korea she meets Ri Jeong-hyuk, a North Korean army officer. This is the moment where Jeong-hyuk decides to help her go back to South Korea, or you could probably say he was coerced by Se-ri to help her go back. I will not give you guys many details because I definitely do not want to spoil it. Unlike some TV dramas around the world, Koreans display affection in the TV show and in real life through gestures and acts, not in physical ways. I will finish this topic by saying that nowadays I walk across the streets of Seoul and hope to meet Jeong-hyuk, that is how much I loved the "Crash Landing on You". I definitely recommend watching it and when you do please let me know if you fell in love with Korean drama. 
Finally, I will discuss a little of my favorite Korean makeup brand. South Korea is very well known for its exquisite skincare. If you are in South Korea you definitely should visit the makeup store called "Aritaum", which sells an array of cosmetic products. In this store, I discovered a South Korean brand called "Mamonde" which sells skincare and cosmetics and was launched by Amore Pacific. One of my personal favorites is the Rose Water Toner and you definitely feel your skin as smooth as a baby.
To conclude, I wanted to tell you guys why I called this article "Lost in Translation: South Korea". One of the main reasons is because I knew very little about South Korea and also because … I do not speak the language, so I was definitely lost in translation. However, South Korea has made me feel at home; it is filled with wonderful people, food, music, art and views. I would definitely recommend visiting or living in this country. As Koreans would say, 감사합니다 (gam sa ham ni da).
Want to see more HCFSU? Be sure to like us on Facebook and follow us on Instagram, Twitter, TikTok, Youtube and Pinterest!