Let's Travel! Thanksgiving Around the World
If you grew up and went to school in the United States as I did, then you've probably been exposed to the myths of Thanksgiving as much as I was. Its origin story is not all that it's cracked up to be, and there are stories of Native American culture that we should honor and make time to educate ourselves about. Although you'll continue to spend and enjoy time with your family this holiday season, I'd like to take you on a trip around the world to indulge in other countries' equivalent of Thanksgiving.
Erntedankfest in Germany
This is a religious holiday that typically takes place on the first Sunday of October. It is focused on giving thanks for the year's harvest and grain by filling baskets with produce, having it blessed by the churches and then distributing it to the disadvantaged. Most German-speaking countries also celebrate the holiday, including Switzerland and Austria. Church services typically take place during the day and then afterward, a lantern parade for children called laternenumzüge is hosted in the evenings. The dinner food is similar to that consumed in the States but also includes roosters, fattened chickens (Masthühnchen) and poppy-seed sweet bread (Mohnstriezel).
Kinro Kansha no Hi in Japan
Also known as Labor Thanksgiving Day, this holiday has traditions that date back to the Meiji Era (1868-1912) when it was originally known as Niinamesai. The more modern traditions began in 1948 following the end of World War II to celebrate the rights of Japan's workers. Celebrated every year on Nov. 23rd, the country's workers and laborers are commemorated, given the day off and often receive "Thank You" cards from schoolchildren. This thanksgiving in Japan is not marked by the event of large feastings like that in the States or Germany but is rather a famously large festival and fireworks show held by labor organizations in Nagano, Japan.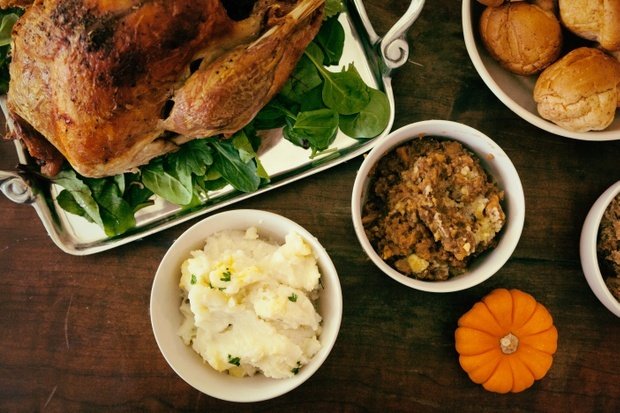 Photo by Pro Church Media from Unsplash
The Harvest Moon or Mid-Autumn Festival in China
This three-day celebration occurs under the brightest full moon and is said to originate from ideas of moon worship by emperors in ancient China over 3,000 years ago. The moon is appreciated by people reciting poems and singing and eating offerings from the sacrificial ceremony. Mooncakes are the main delicacy of choice during this holiday as they are shared between loved ones to reflect on togetherness, unity and peace. Kids will often perform dances and play with festival lanterns as well.
Chuseok in North and South Korea
The Chuseok Harvest Festival, also known as Hangawi, commemorates harvested produce and rice, familial ties and ancestral roots in the mid-autumn season. One tradition includes making Songpyeon, a type of rice cake filled with red beans, sesame seeds and more. Making Songpyeon is a bonding experience that many look forward to as it is one way to really emphasize the importance of family unity in Korean society and culture. Korean families also visit ancestral hometowns and hold memorials at relatives' gravesites. Overall, this holiday celebrates family life to the fullest.
No matter where you are this year or which holiday you'll be honoring, remember that family, friends and staying safe remain the top priority. Happy Thanksgiving!
Want to see more HCFSU? Be sure to like us on Facebook and follow us on Instagram, Twitter, TikTok, Youtube and Pinterest!