Let's Hear It for the Girls
In more ways than one 2018 turned out to be the year of the female: Team USA women's hockey won their first Olympic gold medal in 20 years and a record number of women gained seats in Congress. 2018 turned out to be one of the best years in FSU history to be a collegiette. All in one year, two female teams in the garnet and gold walked away with national titles. In an unexpected twist, the Seminole softball team won their first national championship, taking down impressive opponents to win. In a similar fashion, the FSU women's soccer team won their second national championship coming four years apart. On top of all, the FSU women's beach volleyball team finished their season as runner up for the 2018 national championship. With those two incredible championships and the second-place finish by the beach volleyball team, FSU was respectively named number two in the Capital One Cup national standings for female athletics.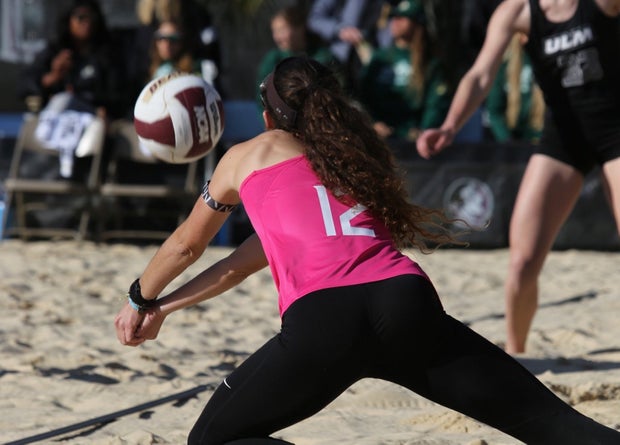 Jenna Johnson
The 2018-2019 season marks the 50th anniversary of female athletics at FSU. This is fitting because this year looks to be just as victorious as the year before. Currently, FSU has a hefty number of ranked teams and players in the national spotlight.
With their reigning season starting up on Feb. 8, the Seminoles softball team is heading into their season ranked number three in the AP poll. The FSU women's basketball team has been consistently ranked in the AP Top 25, the women's track team is riding high in the NCAA Division One Track & Field Rating Index, and the FSU women's tennis team is sitting at No. 15 in this week's USTA Team Ranking. Respectively, the FSU women's swim team ended their year unbeaten in head-to-head meets, now their eyes are focused on the championship season. There's a lot to be rooting for Noles because our women's athletics are legit.
Ladies like Frida Kinhult and Kertu Alnek are standing out on their own platforms this season. Freshman swimmer, Alnek won seven national titles at the Estonian National Short Course Championships that took place from Dec. 20-22. Golfer, Kinhult became the first Seminole to begin her career with five consecutive top 10 finishes. That was just two of the countless female Noles writing their names in the history book this season.
What do we want? RESPECT! When do we want it? NOW! Within this year, the women have led the Seminole creed in winning. Spring season is here and there are tons of female athletics you can catch on and off-campus. Women's basketball, softball, swimming and diving, beach volleyball and golf have or will kick-off, and it's time we support our Lady Noles. 
Yeah, the men are doing good this season, but it seems they always get the recognition and the ticket sales. The girls? They are getting the titles.  After nonstop irritation and frustration this fall, while cheering on the FSU football team we know and love, I think it's time more of us spread our Seminole spirit for all athletics, especially the girls.
The future really is female, and FSU's women's athletics programs are helping to prove that to fans all over the nation.