Kendall Jenner's Recent "Skims" Photo Sparks Debate and Insecurities
Just before Valentine's Day, Kendall Jenner posted a photo in a red bra and matching G-string on Instagram to promote sister Kim Kardashian's new "Skims" Valentine's Day Collection. The controversial photos from the shoot (seen here) quickly went viral.  
As fans pointed out on Twitter, Kendall looked "unreal." One user mentioned that "Kendall Jenner is obviously very gorgeous, but these are not her real body proportions nor are they anybody's." The user advised people not to compare themselves to these "heavily edited" images. As the images gained more popularity, many fans began accusing her of photoshopping the images that looked "too good to be true," while others were Tweeting about how the photo was making them feel insecure. Thousands of people shared Kendall's mirror selfie to their social media and compared it to their own bodies. There were so many concerning comments that Kendall Jenner herself had to step in and reassure her fans via Twitter that "[she] has bad days too" and that "it's not always as perfect as it may seem."  
One Instagram account compared videos from the shoot with Kendall's posts on Instagram, suggesting that she overused the "smoothing" tool on an editing app. The caption read, "Nobody looks like that. Gals have lines, razor bumps, discoloration, etc. Nobody is completely smooth down there." The user made it clear that they were not attacking Kendall, rather, they just do not support the use of photoshop, as it sends the wrong message to users.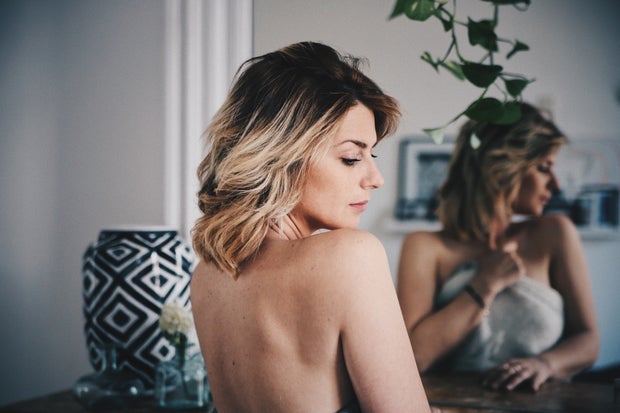 Caroline Hernandez via Unsplash
Other users on Twitter pointed out that Kendall may have even edited videos taken that day. In one video, the curtain seemed to be glitching in the background.  
The news that Kendall Jenner may have edited her photos and videos from the shoot spread across the media, frustrating many people because of the unrealistic body standards it promotes. These photos can give social media users the impression that they can look the way Kendall looks, which is nearly impossible.  
Many influencers reached out to their followers to spread body positivity. Social media influencer Jess Rae King posted a side-by-side of her and Kendall Jenner on her Instagram (seen here), mentioning that even if someone ate the same and did the same exercises as Kendall, their body would still be completely different because everyone is made differently. King also let her followers know that it's not okay to think that "another woman's beauty results in the absence of [one's] own!"  
Comedian Celeste Barber also posted a side-by-side image (seen here) with the caption "Skims- Now with bonus yeast infection." Fans thanked her for sharing what a "real" woman's body looks like. 
Kendall is not the only member of the Kardashian-Jenner family to be accused of editing photos. Months ago, Khloe Kardashian was mocked all over social media for a heavily edited selfie that fans claimed: "didn't even look like her."  Recently, Kylie Jenner was also accused of editing her body. She deleted and reposted an Instagram post after fans noticed the unusual curving of the side of the pool.  
Whether or not Kendall Jenner's "Skims" photos were edited, it is important to note that famous people have the money and the resources to look however they want, and what is posted on the internet is not necessarily real life. 
Want to see more HCFSU? Be sure to like us on Facebook and follow us on Instagram, Twitter, TikTok, Youtube and Pinterest!