Keep Calm and Stay Organized
Now more than ever, it is extremely important to stay organized and have a routine. With school being online it can be challenging to meet deadlines and keep track of what work is due. When I started college, it was stressful to handle rigorous courses on top of extracurricular activities and a social life. Almost instantly I realized I needed an organized plan that allowed me to get my work done and attend my club meetings all while still making time for myself. Here are my tips and tricks to keeping calm and staying organized:
1. Get a planner.
Throughout the year (even when I'm not in school) I use my planner religiously. Recently, I switched from a paper planner to a digital one. This was a perfect way to stay organized because I have all of my information in one area. The best part about having a digital calendar is that you can have reminders pop up that way you'll never miss a deadline or event. Regardless of what type of planner you get, just make sure it's easy to maintain and something you will look at frequently. 
2. Write out your schedule.
This is my favorite part of getting organized. If you're a color-coding enthusiast like me, writing out your schedule with assigned colors is the best part. Each class should have a color like red, blue, green. In my digital planner, I even have my events color-coded in pink and my designated study times in black. This might sound too extra but trust me it's not. Having an organized planner that includes all your activities will decrease your stress levels because you won't have to panic about when something is due, when you have a meeting or when your doctor's appointment is. 
3.Keep a to-do list.
Staying organized with a calendar is only the first step for staying organized in school. Writing out a to-do list every morning is a great way to keep track of the specific tasks you need to accomplish before the day is over. These lists go into more detail where your calendar might say "Study for the LSAT" but your to-do list would say "Drill 25 questions" in the morning and at night.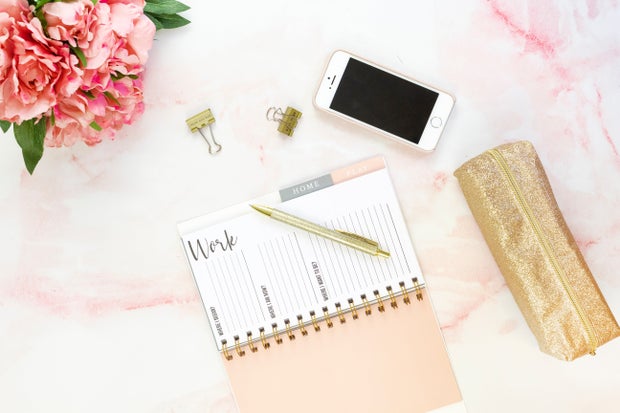 Photo by Emma Matthews Digital Content Production from Unsplash
4. Figure out your most productive time.
I cannot stress this enough! This summer, I found my most productive time by experimenting with different time schedules. I like to start early in the morning and finish mid-afternoon that way I have time to do other activities I enjoy afterward. For some people, their most productive time could be late at night once things have quiet down. Whatever time of the day it is, find out when you get the most work done and take advantage of it. 
5. Set deadlines.
Procrastination is my worst enemy. I am guilty of doing this every once and a while because life happens. Setting your own deadlines for assignments like papers can be useful so that you're not writing it the night before it's due. Make yourself a promise that you'll get the paper done a few days before its due. There is nothing worse than waiting till the last minute and then having writer's block. This tip has saved me from stressing out at the last minute. 
6. Selflove.
Last but not least, set time aside for yourself. The most important part of keeping a schedule and being stress-free is being able to do things that you enjoy. Get enough sleep and do something that makes you happy. Remember you don't HAVE to do all these things to stay organized. Go easy on yourself and do what is best for YOU. 
Want to see more HCFSU? Be sure to like us on Facebook and follow us onInstagram, Twitter, TikTok and Pinterest!