The Journey of a Co-Editor-in-Chief with Gabi Rodriguez
Her Campus (HC): When did you first realize you have a passion for writing? What has your writing journey been like?
Gabi Rodriguez (GR): I've been passionate about writing for as long as I can remember, honestly! My earliest memory of finding my passion for writing was in 4th grade. My teacher always used to tell me how great of a writer I was and she was the first person who really encouraged me to write more. I began by entering poetry and essay contests in elementary school and I eventually started journaling as a hobby in high school. But I didn't really know how much writing would change my life until college. I hesitantly chose Editing, Writing, and Media (EWM) as my major, based solely on the fact that I loved to write. But once I started taking my first few EWM classes, I knew I was in the right place. And once I started writing for Her Campus, I knew it was what I wanted to do forever.
HC: How long have you been a member of HCFSU? What has been the most rewarding experience so far? Best learning experience?
GR: I joined Her Campus FSU in the fall semester of my freshman year. The entire process has been incredibly rewarding, but I would say that becoming Co-Editor-in-Chief takes the cake! Leading the organization this year has allowed me to become both a resource and a mentor to so many talented young women. The ladies on our team inspire me every single day and having the opportunity to work with them has been the most rewarding part of my college experience so far. At the same time, I would also say that it has been the best learning experience for me. While leading a team of 70+ women is a lot of fun, it also has its challenges! As a result, I'm constantly learning new things and continuing to grow as a leader every single day.
HC: What is something HCFSU gave you that you couldn't find anywhere else?
GR: Being a part of Her Campus has given me so much in such a short time. The most important thing I've found in this organization is a true sense of community. In college, it's so important to find a place where you feel like you belong. For me, this chapter is a group of like-minded women who I know will always be there for me through anything. Finding a sense of community is so important to college and it can often make or break your college experience. For me, it has made college a true home away from home. The other major thing I've gotten out of Her Campus is real-world experience in my desired field. Her Campus is a learning publication so I've not only learned how to write for a magazine, but I've had dozens of articles published at such a young age. It's been such an amazing opportunity for me to build a portfolio and immerse myself in the field. The ability to not only gain real-world experience but also have fun while doing it has been the highlight of my time in college––and that's all thanks to Her Campus!
HC: What has being in such a large girl gang taught you over the years?
GR: Having a "girl gang" has always been incredibly important to me. Growing up, I danced for 12 years, where I belonged to a team of girls that became a second family for me. That sense of community was the thing I missed most when I stopped dancing and luckily, I found it all over again in Her Campus. Since my first semester, the team welcomed me with open arms and truly made me feel like I belonged to something special. I became a part of this group of women who all shared the same fundamental belief: "women supporting women." That phrase is something you'll hear thrown around a lot in our chapter and it's something we truly stand by. In today's political climate, and really since the beginning of time, women need to stick up for each other. Her Campus has taught me that, despite what society wants us to believe, other women are not "competition." They're allies. Now, the words "women supporting women" are ones that I live by and I do all that I can to practice them in my daily life!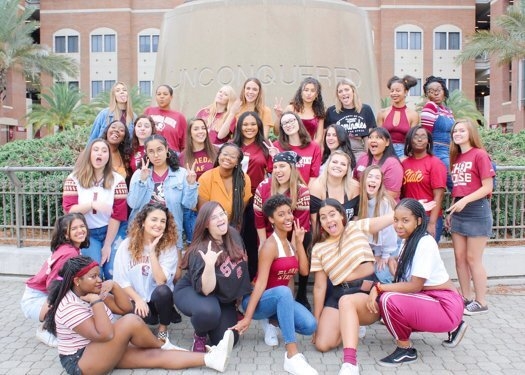 HC: Would you say you love your job being the Co-Editor-in-Chief of HCFSU? Would you say the work and effort you put into earning this position was worth it?
GR: Anyone who knows me knows the love I have for this organization. Aside from the fact that it's pretty much the only thing I talk about, my passion for Her Campus is evident in everything I do. From writing weekly articles to eventually managing our Instagram account, I have always been looking for more ways to help contribute to the organization. So, when I was selected as Co-Editor-in-Chief for the 2019-20 school year, it was like a dream come true! It felt as though everything I had been working for led me to this point. Now that I'm halfway into the school year, I can reflect on this past semester as being some of the best few months of my life. I truly have the best job in the world and I can't possibly imagine being anywhere else!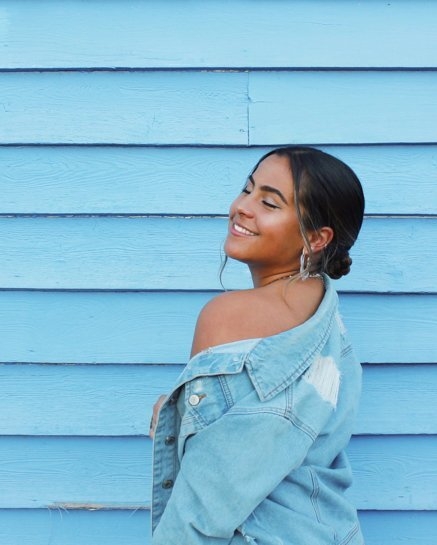 HC: Do you believe you have inspired others to become a leader within the community?
GR: I hope I have! In everything I do, I aspire to be a good leader and role model for others. Specifically, in my role as Co-Editor-in-Chief, I am a leader for 70+ young women. So, in a large group like that, I do all that I can to make sure they know they are supported and welcomed. I let them know that if they ever need anything at all, I will be there for them! If they have questions or just need someone to talk to, I'm there. I want them to be proud to be a member of this organization and that includes having a leader they admire and respect. So, if I can inspire just one of them by the end of my time as Co-Editor-in-Chief, I will feel like I've done my job!
HC: Would you go back in time and relive every experience, both the good and the bad, of being part of the HCFSU community?
GR: DEFINITELY! Honestly, I haven't had a single bad experience with Her Campus! Every element of this organization has exceeded my expectations. I've learned so much and grown as a leader, a writer, an editor, and a woman. Her Campus is my family and it's made college such an incredible time in my life. If I had it to do over again, I wouldn't change a thing!
HC: What were some of the things you did in order to get to where you are now? What do you plan to do moving forward to achieve your future goals?
GR: It may sound a little cliché but one thing I've always lived by is the saying "do what you love and you'll never work a day in your life." That expression is a huge factor in the majority of my decisions. In fact, it's the reason I chose to major in EWM and join Her Campus! I've always followed my heart and done the things I love. The reason for that is simply that if you're passionate about something, it'll show. You'll excel at it. For me, being Co-Editor-in-Chief has never felt like work. Getting to this point has never felt like work. I'm simply doing what I love and sharing it with the world! Another thing I live by is focusing on myself. I take pride in the fact that I focus on my own success without comparing it to the success of those around me. These days, especially with social media, this one is a little harder to live by. However, it truly makes all the difference! Once you stop worrying about what everybody else is doing, you'll find that you have a lot more time in the day to focus on your own journey. I plan on keeping these same ideas with me in the years to come and letting them guide me to my next step in life!
HC: What is one piece of advice you would want the younger generation of women interested in the writing field to know?
GR: Your voice deserves to be heard. Your story deserves to be told. If you're interested in writing and you have something you want to share with the world, do it. Don't let anyone silence you or make you feel like your opinions don't matter!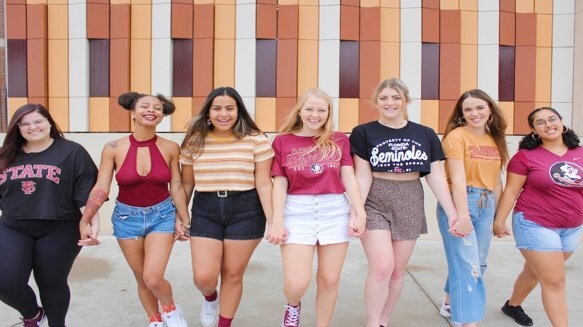 All photos courtesy of Gabi Rodriguez.
Want to see more HCFSU? Be sure to like us on Facebook and follow us on Instagram, Twitter and Pinterest!