Hurricane Delta: A Potentially Historic Storm
2020 has already proved to be a year with an intense hurricane season. Now, Hurricane Delta threatens to cause major damage to the Gulf Coast. The storm follows less than a week after Tropical Storm Gamma, which resulted in the deaths of at least six people.
According to USA Today, Delta formed this past Monday in the Caribbean Sea and was quickly upgraded from a tropical storm to a hurricane. By Tuesday, winds reached up to 85 miles per hour. Hurricane Delta continued to strengthen in the Atlantic and made landfall Wednesday morning as a Category two storm in the Yucatan Peninsula of Mexico. Following this event, the hurricane was weakened to a Category one storm; however, experts predict a restrengthening as it continues to approach the gulf, with winds expected to reach up to 115 miles per hour.
In addition to the obvious negative environmental and humanitarian concerns Delta presents, possible economic consequences surrounding the hurricane have also arisen. According to CNN, natural disasters this year have already amassed a sum of around $16 billion in damages. If Hurricane Delta makes landfall in the United States, it will probably be coupled with severe winds and flash floods—both capable of furthering financial strains. Hurricane Delta has the potential for major damage and could very likely push this year to be the most expensive recorded in terms of weather events.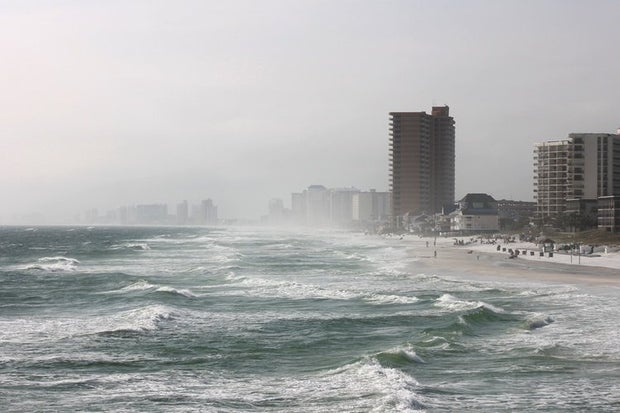 Photo by Michael M from Unsplash
Hurricane Delta will be the twenty-fifth Atlantic storm named this season, and if it makes landfall in the United States, will be the tenth to directly impact the country this year—a record-breaking occurrence. As of now, the storm is headed in the direction of Louisiana, a state still recovering from a storm earlier this year. Hurricane Laura swept the coast as a Category four, causing severe damage to areas of both Louisiana and Texas. The imminent threat of Hurricane Delta has prompted responses on local and national levels. Residents living in cities near the Louisiana coast have experienced both voluntary and mandatory evacuation orders as well as curfews. President Trump also chimed in on the danger of Delta via Twitter, addressing the residents of Texas and Louisiana directly and stating, "Please heed the directions of your State and Local Officials. We are working with them very closely- please be prepared, be careful and be safe!"
If you or loved ones live in areas projected to be affected by Hurricane Delta, there are precautions that can be taken to lessen the threat of the storm and ensure safety, according to the Federal Emergency Management Agency (FEMA). First, pay attention to the suggestions of local and state authorities. Plan evacuations in advance if possible, whether that means staying in a hurricane shelter or with friends and family out of the path of the storm. Also, make sure to have an emergency kit prepared. FEMA suggests including important items such as medications, cash, face masks and documents to name a few. Most importantly, stay alert and stay safe!
Want to see more HCFSU? Be sure to like us on Facebook and follow us on Instagram, Twitter, TikTok and Pinterest!