The stray cat population in rural areas of Georgia, such as Abi Fritz's college town of Statesboro, has seen massive rises over the years. With her passion for animals, Abi took note of this problem and decided to step into action by caring for and fostering her neighborhood's stray cat population. She has saved multiple cats and has even worked with a local animal shelter to bring these cats off the streets and to loving homes. A heart of gold and a passion for local animals is what drives this college student's mission to save the strays!
Her Campus (HC): Would you please introduce yourself and give a little background into why and when you first started helping the neighborhood strays?
Abi Fritz (AF): My name is Abi Fritz, I am a third-year student at Georgia Southern University (GSU) where I study communications and criminology. Georgia Southern University is located in Statesboro, a rural town in South Georgia. Student housing at GSU is quite different from what most readers at Florida universities are familiar with; the majority of us do not live in high-rise luxury apartments [with] walking distance to campus with a balcony. Most of us live in cottage styles houses with open front porches, spacious yards and grass fields. This allows us to always be outside interacting with nature and observing the neighborhood; furthermore, allowing us to be aware of the massive stray cat population. In 2019, two of my friends and I noticed two stray kittens prowling the neighborhood and scuffling through trash cans just to stay alive. From this point forward, it was our mission to prevent these young cats from dying of starvation or freezing to death in the cold. This was the start of a mission to save as many cats as we could and reduce the growing number of feral strays as much as possible. We named the original two Beans and Beatrice. After domesticating Beans, we knew we could save even more and allow these feral creatures to become someone's beloved pet. This is when my heart grew and I found such a passion in saving these delicate little lives.
HC: When did you realize you had a passion for helping animals? Have you always loved them or is this a recent thing in college?
AF: From a young age I have always liked animals but more specifically dogs, I was raised in a home that never gave cats equal respect in comparison to dogs. We had an outdoor cat named Bruzer but he was no more than that. I never gave cats the same chance as dogs to be "man's best friend," but once you take the time to learn the differences between these animals you can find a love for both. You don't have to be just a dog person or just a cat person! When I got to college and saw the huge feral cat population in my town, I knew it was only right to convert from the "dog person" I was always raised as to an animal person that just wanted to save furry little lives in any way. My passion has only grown from here and continues to grow with every cat I see.
HC: How many kittens or cats have you saved and brought into your college home?
AF: We started by first domesticating Beans and leaving Beatrice under the care of our neighbors. When my roommates and I all moved into our house, we realized the extent of the stray cat population in our neighborhood. Within just days we spotted our first stray duo who we named Dixie and Charlie. The numbers only multiplied from here, and we spotted the next pair who we call, Addison and Blake-Grey. At this point, we knew that they were close to starvation and possibly left by previous tenants throughout the years. So, we decided that we would start to feed them and slowly bring them into our home or have them adopted out through a local shelter, Fixing The Boro. The shelter then rescued a large litter of stray kittens from a Statesboro neighborhood and we took in our second cat, a four-month-old kitten named Lady. The stray numbers were just becoming more apparent when we spotted Jason, Rosie and Tilly. Tilly was just a two-pound kitten with little chance of survival. We brought Tilly inside and fostered her until a local family adopted her through Fixing the Boro. New strays started to appear after returning from winter break and we were introduced to five more: Sara, Lola, Carebear, Ivy and Delilah!  We then decided to make it our mission to save every stray; Addison was brought into our house and became my second saved cat! Lola was then saved and adopted by a neighbor! We are working on saving each stray and getting them fixed, and we plan to get each stray adopted through local shelters, fostering them in our own home during the process.
HC: What other ways do you help the stray animals of your local college neighborhood?
AF: We work with Fixing The Boro, which is a low-cost shelter for all kinds of animals. They do each of the stray's shots and surgeries at low cost, and help us in our mission to lower the feral stray population in our community.
HC: Do you have plans for the future in your mission to help stray cats?
AF: I mentioned earlier that it is our goal to help every stray in some aspect, so we are working on getting each stray in our neighborhood adopted. In the waiting process, they are getting fostered, fixed and then adopted. As I approach graduation and leaving this neighborhood, I will always let my love for cats follow me. I hope to work with local rescues anywhere I am and foster strays until they find forever homes.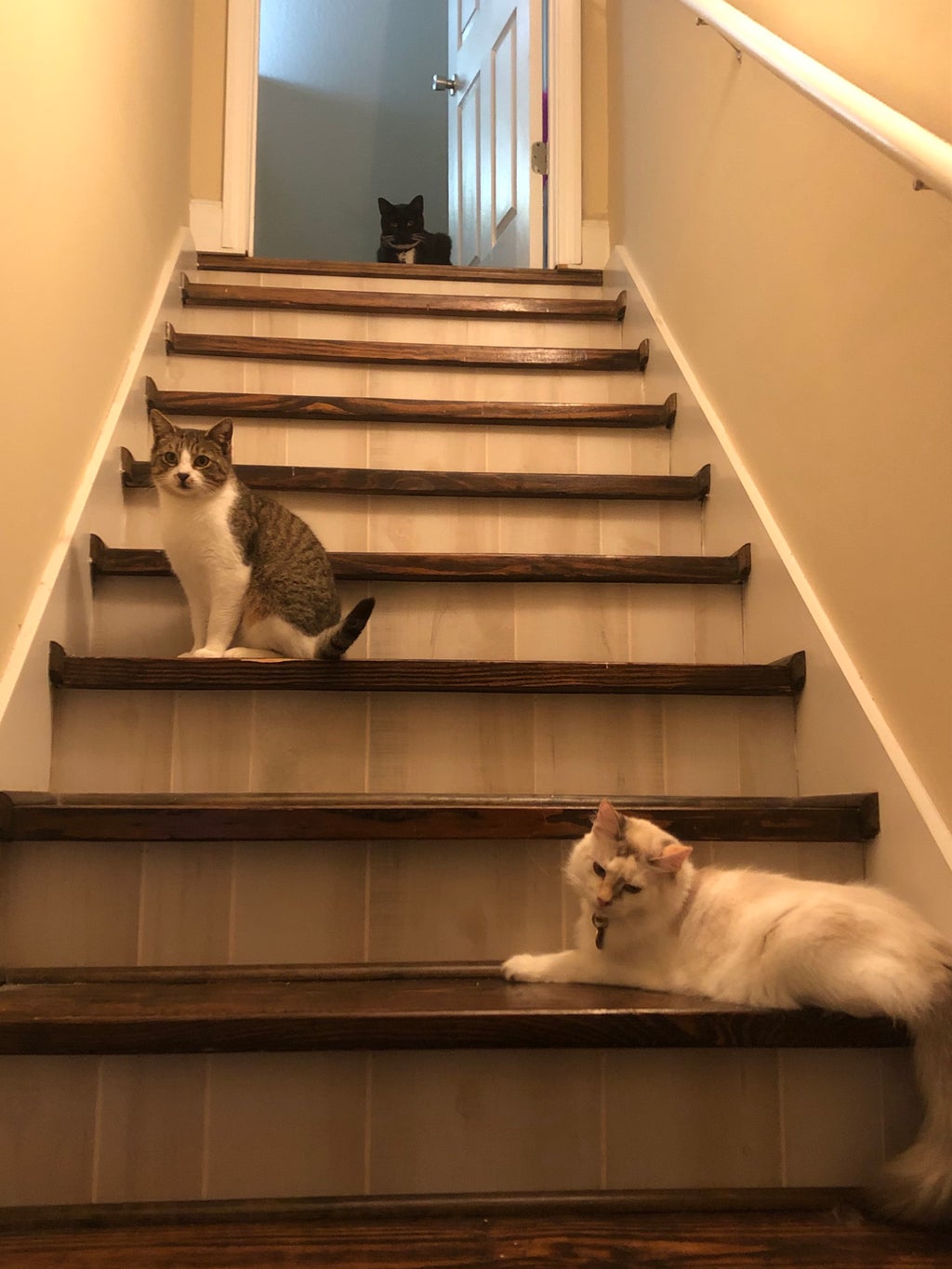 HC: What is the most rewarding part of helping and rescuing your local strays?
AF: The most rewarding part of saving the strays is watching them grow such a strong love for life through forming trust with humans.
HC: Lastly, what is some advice you can give to others wanting to bring strays into their home safely?
AF: My advice is to work alongside a local shelter­—they provide low-cost fixing, neutering and shots. They also will work to find the strays a forever home. It is also very important to be patient with the strays and let them warm up to you. Once they build trust in you, it's very easy to integrate them into your house and start the process of finding a forever home for each one. You can't always tell what a stray animal could be carrying, but the local shelters will easily take care of feral cats through shots and medications before you bring them into your home with other pets.
Want to see more HCFSU? Be sure to like us on Facebook and follow us on Instagram, Twitter, TikTok, Youtube and Pinterest!