I got into photography as a freshman in high school. When I first started, I used my mom's digital camera and had no idea what I was doing but I loved it nonetheless. Over the next few years, I received my first camera of my own: A Canon Rebel T3, and purchased a lens I still use almost every time I shoot, a Canon 50mm f/1.8. My friends and I had regular photoshoots, ran semi-successful photography accounts on Instagram, the whole thing. But, towards the end of high school, I got much more involved in extracurriculars, and until my sophomore year of college, my photography was very much on the back burner.
In the spring of my sophomore year, three exciting things happened to me that brought photography back into my life. I got the amazing opportunity to upgrade my camera from my trusty Canon rebel T3 to the Canon 80d, I was chosen to be a photographer for an on-campus magazine called Philia, and a few months later, a friend of mine asked me to take her graduation photos. My camera opened so many opportunities for me to learn and grow as an artist, and I'm still learning new things about it and how to take full advantage of it every day. Philia, which I worked on for two semesters, gave me the chance to work with so many new people, get outside my comfort zone, find my voice and gave me the confidence that I could do shoots for people outside of my friends. But the biggest thing was that first graduation shoot. While I had fun working on Philia, I never thought of making my own business out of my photography independently. Florida State has a huge community of photographers that take graduation photos, and I had no idea how to make myself stand out amongst them. What I didn't expect was to love taking those graduation photos so much. The girls I worked with were energetic and open to all my suggestions, FSU is a gorgeous campus that is super easy to work with and it was such a fun experience I forgot I was even working. Here is my favorite photo from that shoot, and honestly, it still stands as one of my favorite photos I've ever taken:
Since this day, I knew I wanted to be a graduation photographer for the rest of my time in college. It was not easy getting myself out there, but through some extreme determination, pushy marketing and a very supportive group of people, I've come a long way. I re-vamped my old photography account from high school, built and invested in my own website, saved up for and purchased a brand new Sigma 35mm f/1.4 lens (it's a great lens I promise) and reached out to friends to model for me to create content to promote. Here's a favorite from one of my most recent creative shoots (yes, it was taken by both me and my roommate hanging out of broken windows of an abandoned trolley):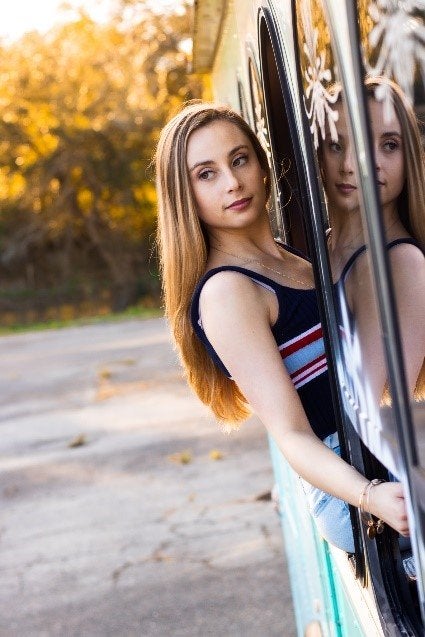 I think the most important part of building this business was finding a community of other Tallahassee photographers. Yes, it's a very competitive job, and we are technically competing for clients, but it doesn't feel like that. We all follow each other, give each other shout-outs and are the first to compliment each other's work. I know if I have a question on technique, good locations in the area, or what lens is better, I could reach out to them and they would help me no hesitation. Seeing the work of my peers pushes me to do better, be more creative and keep working through uncertainties. With that mindset, I've gone from one client a year ago to almost 20 this year. Here's a shot from my first grad of this season: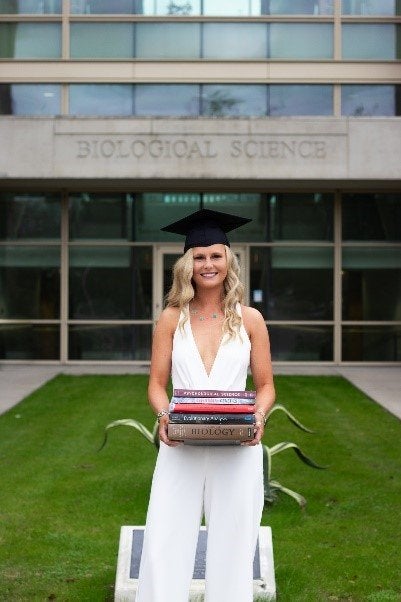 I'm extremely fortunate I've had the opportunity to make a living from something I'm passionate about. It blows my mind that in less than a year I've built my own small business, and it's one of my proudest accomplishments. If you're on the fence about taking your passion or hobby to the next step, I implore you to give it a chance. You never know what could happen!
If you'd like to see more of my work, my website is www.danasardinaphotography.com and Instagram is @danasardinaphotography.
Want to see more HCFSU? Be sure to like us on Facebook and follow us on Instagram, Twitter and Pinterest!