The Hottest Fashion Trends of Summer 2021
It's hard to believe that it's finally time to say goodbye to my sweats and hello to my summer wardrobe. I think we can all agree that this summer has a special kind of excitement linked with it. As vaccines continue to roll out, you can feel the electricity in the air. The buzz that's surrounding summer 2021 has definitely influenced the trends for the season. Trust me when I say these are five fashion trends that will rule this summer season. 
1. Feel-Good Prints 
Summer 2021 is making a statement with bold prints! It's no surprise that prints are a hot trend for this summer. After staying home for a year, we're all ready to wear something that'll make us stand out. I've seen the wavy swirl and vintage floral prints take off, and I know they'll be sticking around for the summer. Prints are an amazing addition to your wardrobe because you can get creative and show your unique sense of style. Also, if you're feeling bold, you can start mixing prints. 
2. Sorbet Pastels
Summer is a season of joy, so, of course, you should include happy colors in your wardrobe. Sorbet pastels can make your outfit look very vibrant and will be the staple colors for this summer. I love incorporating pastels into my closet because they pair well with neutrals or look great on their own. Wearing a pretty pastel outfit boosts my mood instantly, so I can't wait to keep this trend going. 
3. Bold Nail Art
In 2021, we're boycotting dull nails. A neutral base coat with a funky design is such a simple way to enhance your summer style. Pinterest offers a never-ending supply of inspiration for unique nail art, so you have many options to try out. My personal favorite is a French manicure with colorful tips instead of the classic white. If you don't feel like heading to the nail salon, there's also plenty of easy designs you can attempt on your own. 
4. 

Chunky Rings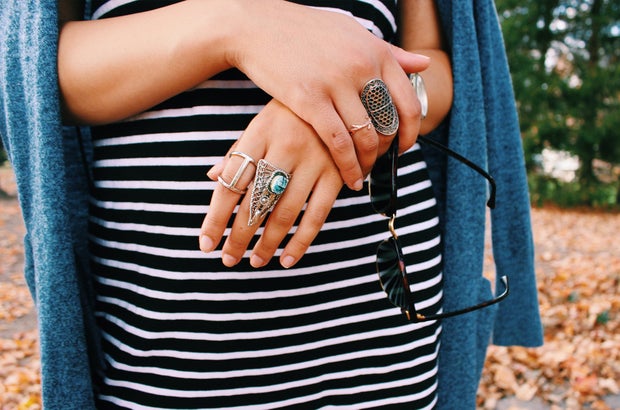 Anna Schultz / Her Campus I am obsessed with this trend. Chunky rings take a simple outfit to a whole new level. I've seen so many iconic celebrities such as Bella Hadid and Emma Chamberlain rocking chunky rings. The best part is that you can find so many stylish chunky rings on Etsy for a low price. Seriously, these accessories make it so easy to spice up any outfit.
5. Retro Patchwork 
You might have picked up a few sewing skills during quarantine, and you're finally able to show them off with this trend! Retro patchwork is such an edgy trend to try out this summer. You can get so many different patchwork pieces to add to your closet. I've seen everything from patchwork tops to patchwork denim (which is my personal favorite). Retro patchwork has proven itself as a very versatile trend, and it's super unique! 
It's so exciting that we finally have the chance to dress up again! We've gone through so much in the past year; we deserve to have fun with these summer trends. Whatever you choose to wear, make it your own! Summer 2021 is about being bold but incorporating that quarantine-level comfort. Remember to stay safe, keep others around you safe and wear whatever makes you happy! 
Want to see more HCFSU? Be sure to like us on Facebook and follow us on Instagram, Twitter, TikTok, Youtube and Pinterest!