Hobby Turned Hustle: Danielle Kuzel on Her Reselling Journey
I sat down with Florida State University (FSU) senior Danielle Kuzel to talk about her journey in reselling over this past year. 
Her Campus (HC): What made you first want to start selling clothes on second-hand platforms?
Danielle Kuzel (DK): Well, like most people, I was really bored during quarantine and was doing some spring cleaning, and I realized I had a lot of clothes and accessories that I didn't have needs for anymore. A friend gave me the idea to sell some of them on Poshmark and Depop, and once most of that stuff was sold, I realized how much I enjoyed selling things and the extra income that came with it. 
HC: So, it started off as more of a hobby to you? When did you start taking it more seriously?
DK: Yeah! I started thrifting during quarantine at some smaller Tallahassee thrift stores to fuel my shopping addiction and support locally owned businesses, but I kept finding so many things that I liked that I kept needing to sell more from my wardrobe to make room for the new stuff! I realized pretty quickly how much more cost-efficient it was over buying new clothes and how much more sustainable it was keeping these clothes from the landfill. The money I was making from my sales was already covering the cost of my new clothes! Once some of the bigger thrift stores opened back up, I was finding so many things I loved and I realized with the following that I was already growing on these apps, I could keep sourcing and selling the cute items I was finding. That's definitely when I started taking it more seriously. I would say that now I spend around 15 hours a week on reselling, between sourcing, taking and editing photos and shipping out packages. It's definitely become more of a business than a hobby; I'm lucky I still enjoy it so much!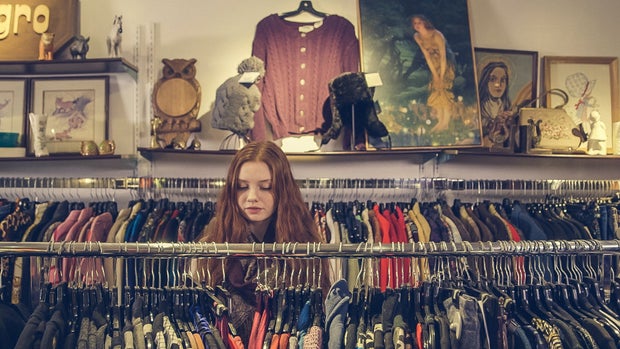 Photo by Burst from Pexels
HC: Where are you now in your reselling journey? Have you had any cool opportunities come from it?
DK: To date, I've sent over 850 items out to new homes, and I've gained some pretty decent followings on several platforms like Instagram, Poshmark and Depop. I also got accepted into the Poshmark On Campus program, where I can help to recruit other Poshers here at FSU, and I get to take part in sponsored reselling challenges through them. It's pretty cool to gain experience working with such an established brand while doing something I love!
HC: What are some of your favorite aspects of reselling?
DK: It's rewarding to know that so many of these clothes are getting a second chance when they probably would've just ended up in a landfill. Since I've started reselling, I've learned a lot more about the negative environmental impacts of buying clothes new, and with each article of clothing that I send out (or keep for myself), I know I'm doing my part to be sustainable. I've also become very interested in fashion and fashion trends! I always love learning about new brands and predicting what styles will be popular in the next season!
HC: We'll end with a fun question: What have been some of your all-time favorite finds?
DK: Some of the coolest things I've found? There have definitely been a few: a Chanel crossbody purse, Christian Louboutin pumps (red bottoms!) and a Supreme Backpack. Just last week, I found a gorgeous Prada backpack, and I was able to get it authenticated! It's crazy seeing some of the things that people donate!
HC: Wow! Those are some pretty insane finds! Thank you so much for letting me talk to you about this, and hopefully, you can keep finding cool items you love while you continue to grow!
You can find Danielle on Poshmark, Depop and Instagram so you can keep up with her latest finds… and maybe even snag that next Prada backpack!
Want to see more HCFSU? Be sure to like us on Facebook and follow us on Instagram, Twitter, TikTok, Youtube and Pinterest!