Welcome to the familia. The Hispanic Latinx Student Union (HLSU) has long been a part of FSU's rich history since its creation in 1929. Now over, 90 years later the agency remains serving Hispanic/Latinx individuals while spreading advocacy and awareness on issues pertinent to the community. On Feb. 17, HLSU announced its theme for this year's pageant titled "On My Block." The annual pageant was revived this past year after a 7-year long hiatus becoming HLSU's most anticipated event of the semester. 
The pageant serves as a way to educate students on the Latinx community with participants putting forth their best performance to win. The theme for this year's pageant was meant to encompass the entire spectrum of the Hispanic/Latinx community unifying them under one idea. "Having so many countries in our community makes it hard to find a commonality," says current Director Kristian Diaz. "We felt that the one thing we could all remember is our block. Our roots make up who we are as Hispanic/Latinx folks yet we can all connect to our home." This touching sentiment has resonated with the people as HLSU received a record-breaking number of applications for the pageant. The theme also gives a nod at the Netflix original show "On My Block" which explores the lives of Latinx and black teenagers as they navigate their way through school, life, and their block. This show has been momentous in shedding light on the Hispanic/Latinx experience creating more diverse perspectives within traditional media.  
On Feb. 25, the agency revealed their contestants for this year's pageant increasing the number of contestants from the year prior. The pageant now has 10 contestants competing for royalty over four rounds: formal dress, talent, cultural dress, and a Q&A portion. The contestants are: 
Ana Zortea, Junior 
Alain Acanda, Sophomore 
Andrea Moran-Meléndez, Freshman 
Samuel Lopez, Sophomore 
Krystal Nieves, Sophomore 
Carlos González, Sophomore 
Erica Iglesias, Sophomore 
Jan Nicle, Freshman 
César Fernández, Sophomore 
Daymee de las Mercedes, Sophomore 
Only two will be crowned HLSU's Royalty holding this position until the next Royalty takes over. Who will be the crowd favorite? To learn more about these contestants check out the Hispanic Latinx Student Union's Instagram here and remember to like their posts while you're at it! 
The contestants have been practicing for weeks now in order to nail their routine before the big day. The group has grown as a whole and are proud to represent HLSU and their affiliated organizations.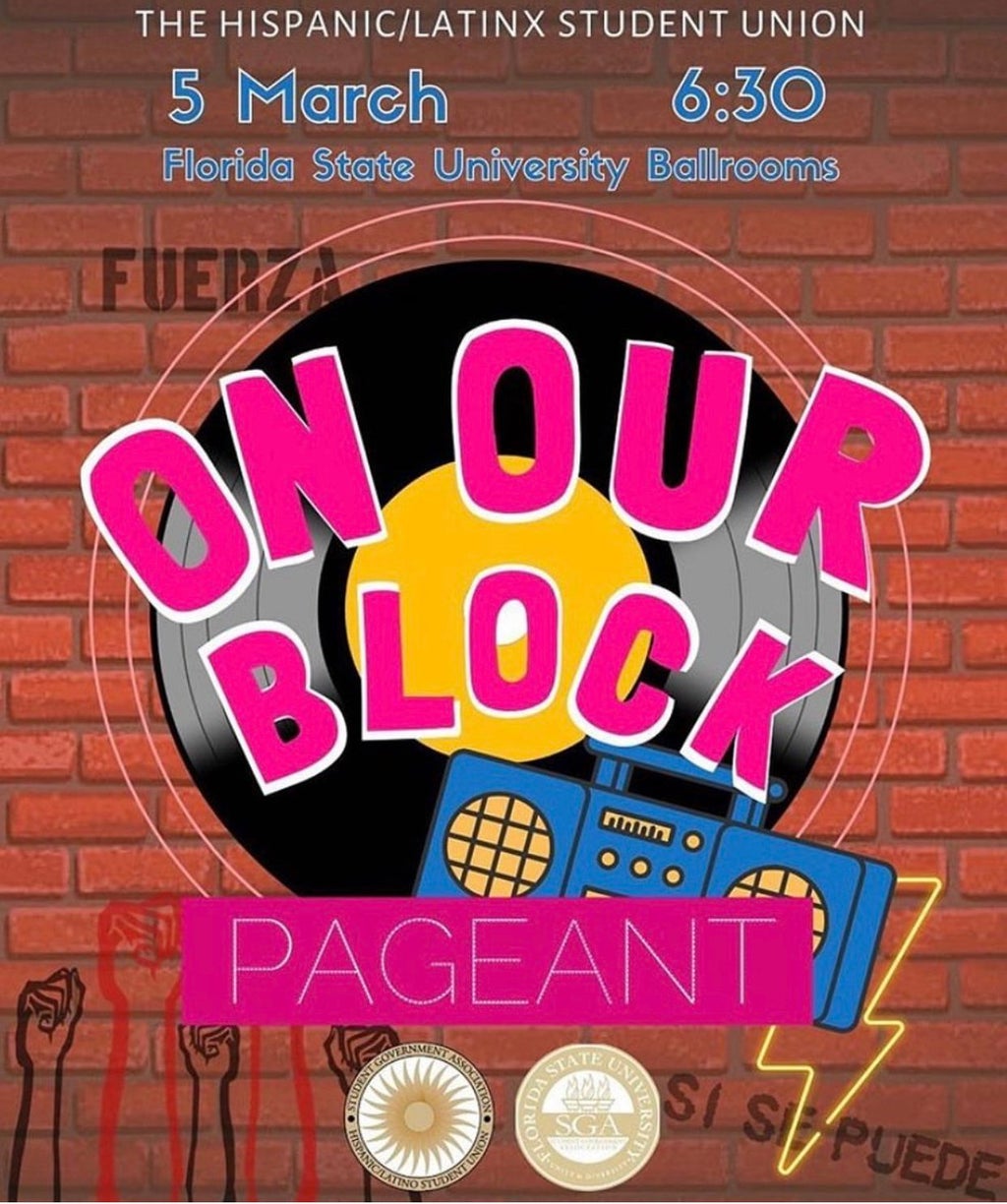 HLSU's "On My Block" Pageant will take place on March 5 at 6:30 pm in the Florida State University Ballrooms. Come out and support la familia and witness the exciting competition. You won't want to miss this! 
Want to see more HCFSU? Be sure to like us on Facebook and follow us on Instagram, Twitter and Pinterest!