Having Trouble Staying Productive for Online Exams? Look No Further!
Create your own work area—and make it quiet.
If you're like me, you're back home for quarantine. Losing your study spaces is hard enough, but the hecticness of being home can make it nearly impossible to focus. Finding a quiet place somewhere in your house is a great way to counteract this. Carve out a corner with a couch, desk or table and make it your space. Having a zone solely for your work will keep you on track. And if you're lucky enough to still have a room to yourself impose your own "quiet hours" to keep your distractions to a minimum.
Snacks, snacks, and more snacks!
Use snacks to motivate yourself! Whether its larger breaks in between assignments or small snacks for each section of studying that you complete, is there any better motivator than food? Plus, it's a great way to ensure that you're committing to learning the information you need to know for your finals. Make the snacks better the further into your studies you get and reward yourself with a special dessert or meal for each final you complete!
Schedules are superheroes.
Create a schedule! Even just having a brief week overview will help you to sort your thoughts and your assignments. Color code for your classes, mark assignment dates and exam dates. It'll relieve so much stress to have it all written out for you to see.
Outside? In this pandemic?
Wander outside! Fresh air and plants will both make you feel less stressed. The relief that they bring is honestly magical. Work outside for a day if you're feeling unproductive, it'll help you to get some work done on that day. Getting yourself out of the house may be exactly what you need! But to be clear, this is meant for your own backyard only. Don't endanger others for a study spot! And make sure to social distance and wear a mask if you do leave your own yard.
Sanity > Studying (Use Sparingly)
Take a break! Walk around, eat, watch a movie, paint or call a friend. That's probably not what you expected, but honestly? The most important part of staying productive during online finals is staying sane. Online finals have taken the stress of finals week and multiplied it by about a hundred. Don't let that get to you! Keep up with your work and studying for sure, but also make sure that it's not at the cost of your own health.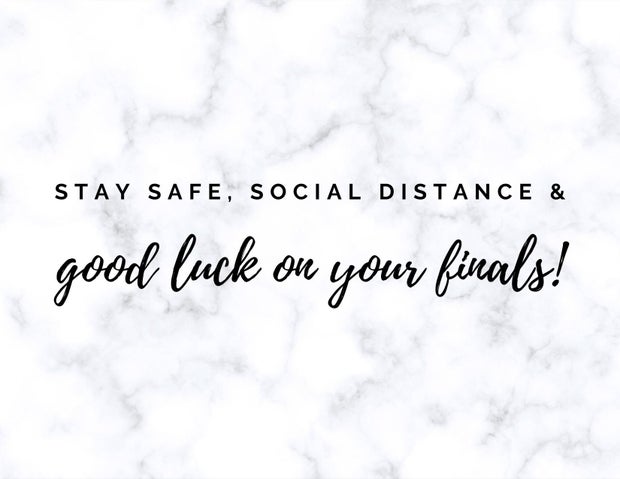 Maria Diyaljee
Stay safe, social distance & good luck on your finals!
Want to see more HCFSU? Be sure to like us on Facebook and follow us on Instagram, Twitter and Pinterest!