Harry Styles and Emma Corrin Set To Star in My Policeman
Harry Styles, 27, who came to fame as a member of the hit band, One Direction, has been reportedly cast alongside Emma Corrin, 25, who is best known for her portrayal of Princess Diana in The Crown. Since his leaving One Direction, Styles has created a successful solo music career and landed a supporting role in the film Dunkirk (2017) and a leading role in Don't Worry Darling, which is currently wrapping up production. On the other hand, Corrin is fresh off her first Golden Globe nomination for best actress in a television series in the drama category for her role in Netflix's The Crown, and this will be her first major film role. 
The film will be based on the 2012 novel of the same name written by Bethan Roberts. The story follows a love triangle between Marion (played by Corrin), Tom (played by Styles) and Patrick (who has not been cast yet). According to Harper's Bazaar, the book is centered around a 50s queer love story. Throughout the novel, Marion, a schoolteacher, falls head over heels in love with Tom, a policeman, and decides that her love for him will be enough for the both of them. Still, years later, Tom meets Patrick, with whom he strikes up a romantic relationship. However, since the story is set in the 1950s in Brighton, England, where homophobia is prevalent, and one can be arrested for being gay, Tom must marry Marion, despite only being in love with Patrick. As the story unfolds, Marion and Patrick must share Tom in the shadows until someone breaks, and everything falls apart.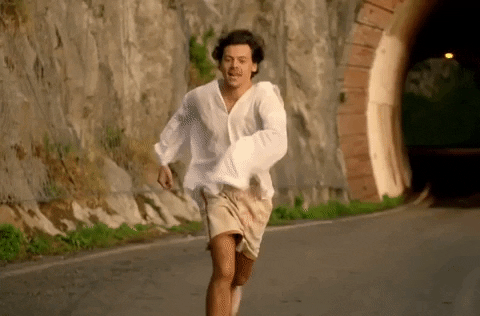 Harry Styles / Giphy Months ago, when Harry Styles first signed on the project in September, there were rumors that the Mamma Mia: Here We Go Again and Rebecca star, Lily James, was in negotiations for the role of Marion; however, as seen time and time again, negotiations can fall through, and scheduling conflicts can occur, causing new actors to be brought on to the project. 
According to Deadline, the film adaptation will begin in the 1990s after Patrick and Tom run into each other and reminisce on the events of forty years ago. However, beyond the timeline, we know very little about the onscreen adaptation and how it will differ from the plot of Roberts' novel. The film is set to be directed by Michael Grandage, who is a Tony and Olivier Award recipient, and based upon the screenplay adapted by Ron Nyswaner. 
Production is likely to begin this spring or summer in England; however, due to the ever-changing nature of the COVID-19 pandemic, this is subject to change. As previously mentioned, no one has been cast for Patrick's role or for the older versions of Styles and Corrin since the story will take place forty years later in a flashback narrative. However, since production is slated to begin so soon, casting announcements should be swift. Since the rights were purchased by Amazon Studios, the film could be headed straight to streaming. At this time, no release date is known. 
Want to see more HCFSU? Be sure to like us on Facebook and follow us on Instagram, Twitter, TikTok, Youtube and Pinterest!