Forever and Always? I Guess We'll See Feb. 12!
Get ready for Valentine's weekend with the final installment of To All the Boys I've Loved Before. Last week Netflix released the official trailer for the third and final film following Laura Jean Song Covey and Peter Kavinksy's love story. The very talented Lana Condor and Noah Centineo return to complete the To All the Boys sequels. The trailer starts right where the couple left off, looking as happy as ever but by the end, we aren't so sure of what their future would hold. The movies are based on books by author Jenny Han, the books and films follow Laura and Peter as they navigate high school and their relationship. So, what can you expect from this next film?
Although the title of the movie is To All the Boys: Always and Forever, Laura Jean, the trailer suggests everything wasn't paradise for Peter and Laura. The pair is now in their senior year of high school and making plans for their future. The high stakes of college admissions and the possibility of a long-distance relationship does not make their decisions any less stressful. What do they do when Laura finds out she didn't get into Stanford and Peter did? What happens when Laura realizes New York might be the right move for her instead? The trailer shows Laura Jean contemplating her plans and whether they'll include Peter or not. "Will I look back in 20 years and wonder if I made the wrong choice?" The trailer ends with a big question mark: will it actually be always and forever?
The previous films To All the Boys I've Loved Before and To All the Boys I've Loved Before: P.S. I Still Love you were big successes for Netflix. Released in 2018 and 2020, the first film was and remained one of Netflix's most-watched and rewatched movies. Both Lana Condor and Noah Centineo were up and coming in their careers, and the first film was what boosted their social media followings and careers. Noah Centineo has gone on to make five more movies with Netflix since the release of the original film.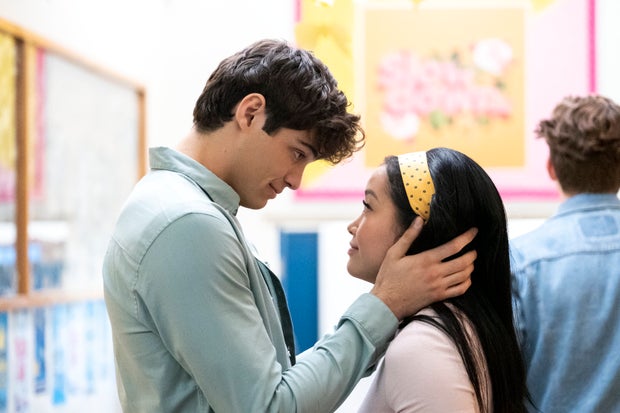 Bettina Strauss/Netflix
However, before the films were the books Jenny Han published To All the Boys I've Loved Before back in 2014. She goes on to explain that the reason the books hadn't been adapted to films earlier was the push back on keeping her characters as Asian-Americans. In an interview with Teen Vogue, Han says "I think that one of the biggest struggles with it was to find the right partners who would agree to cast an Asian-American family and to have Lara Jean, specifically, be Asian. That was the biggest challenge." To All the Boys I've Loved Before is one of Netflix's biggest streaming hits, it remains one of the "most viewed original films ever with strong repeat viewing." But how will it all end?
Will this movie show us that love conquers all or that our first loves should be ourselves? Make sure to check out To All the Boys: Always and Forever on Feb. 12 to find out!
Want to see more HCFSU? Be sure to like us on Facebook and follow us on Instagram, Twitter, TikTok, Youtube and Pinterest!