The Askew Student Life Center, known as the ASLC, is the epicenter of student life at FSU. The ASLC is known for its movie theater as well as its diverse calendar of events. Samantha Gomez, a third-year FSU student majoring in Media/Communications and Sports Management and minoring in Sociology, speaks on her position as the Director of Special Events and everything it takes to bring you your favorite on-campus events.
HerCampus (HC): How did you get involved with the ASLC and the Special Events Committee?
Samantha Gomez (SG): The ASLC was the first thing I got involved in during my freshman year! I learned about it during orientation when given a choice to either go to a dance party or to watch a movie, and I chose the movie. When I heard that FSU had a movie theater, I thought it would be small and cute, but I remember being shocked seeing the full-sized theater with concessions, a ticket booth and walls lined with signed movie posters. At an involvement fair the next day, I got the chance to speak to someone from the building, learn what it was all about and get free stuff! By the start of freshman year, I joined the film committee, did some volunteering through the Special Events Committee and it ended up sticking! I loved working events, giving feedback during meetings, spending time at the ASLC and being part of a team. Later that year, applications opened for Special Events Coordinator, so I jumped at the opportunity to apply and got the position after an interview!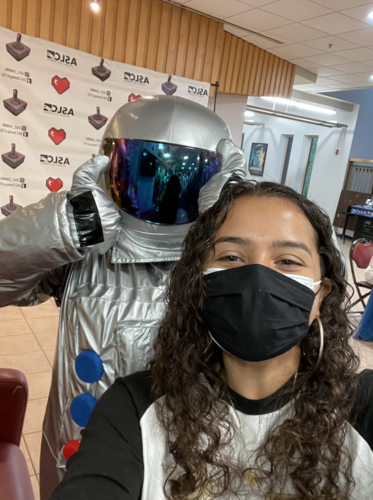 HC: Is your position as the Director of Special Events relevant to your desired career path, or is it for fun?
SG: It's a bit of both. I want to work in the Sports Communications field in either social media, content creation, community relations or PR! These roles may come with event planning responsibilities, so having this knowledge is useful for my future, but most of my time at the ASLC has been for fun. After being involved for so long, I realized that it's something I enjoy and would like to work more in. The process of organizing an event, planning it and seeing people enjoy it is incredibly rewarding.
HC: Who makes up the special events team, and how do you plan the events?
SG: The Special Events team is a dynamic duo made up of me, the Special Events Director, and Andrew Neppl, the Special Events Coordinator! Also, special shoutout to Amie Runk, the ASLC Program Manager, and our amazing volunteers, who we wouldn't be able to do anything without. Our event planning process is long, but every step is necessary for a successful event. Andrew and I plan events a month in advance, starting at our weekly one-on-one meeting. The idea stage is my favorite because we brainstorm events that we feel the student body would enjoy. Later, we become more logistics-oriented. We make pre-event checklists, submit event permits and purchase everything we need for the event. On event day, we show up early to set up, have volunteer meetings and do run-throughs to make sure it runs smoothly. To promote events, Special Events collaborates closely with other committees like Advertising and Video Production, which create beautiful event graphics and videos. These two committees consist of magicians who create amazing content with the smallest amount of information!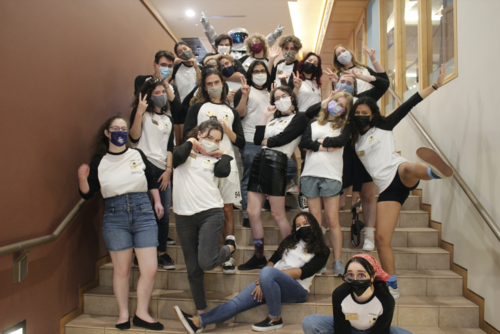 HC: Now that more students are back on campus following the COVID-19 pandemic, what kind of events do you have in store for new students, especially those who haven't been on campus in a while?
SG: We were fortunate during the pandemic to be able to team up with Club Downunder and have the resources to put on safe drive-in movie events last year. While helping lead those drive-in movie screenings was a fantastic experience, I'm excited to organize in-person and on-campus events this year. After so much time away, we're trying to give students opportunities to safely get to know FSU outside of the classroom and meet new people. One of our goals this year is to have more co-sponsored events. We want to act as a resource for organizations on campus to host events and reach bigger audiences, so you can look out for that this year!
HC: What are your favorite types of events?
SG: Craft events or events where creativity is involved. My favorite event so far this year has been the Lego Block Party, a Lego building competition. Judges vote on the structures built, and the top three are awarded prizes and displayed in the ASLC all year. Some pieces made at this event include a replica of Van Gogh's "Starry Night," a beach house and a futuristic spaceship. It's fun to see what people make when they get the chance just to relax and be creative for a few hours.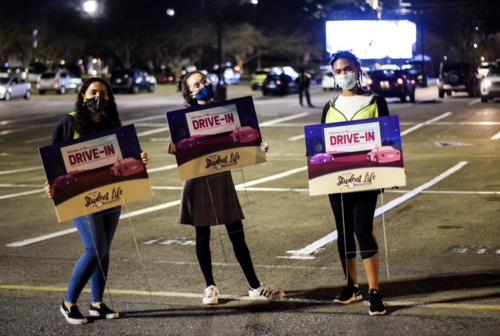 HC: How can students keep up with and get involved in all things special events?
SG: The best way to stay up to date with everything that's going on in the ASLC is to follow us on social media, @SLC_FSU. You'll be able to see all events and movie announcements, so you don't miss a thing. Anyone looking to get involved can reach me directly at SLCEvents@admin.fsu.edu or request to join our Nole Central page. Getting involved in Special Events is a great way to meet some of the best people on campus, build your resume, get service hours and have fun! I've grown so much during my time with the SLC, and gained not only skills and experience but also a community. I'd recommend getting involved to anyone!
Want to see more HCFSU? Be sure to like us on Facebook and follow us on Instagram, Twitter, TikTok, Youtube and Pinterest!