When I was in elementary school, my mom was the BEST, most creative room mom ever. For every classroom holiday party that we had, she would (and still does with everything) go full out. One of my favorite holidays that she would decorate the room for was Valentine's Day. Even today, our kitchen is full of sparkly hearts and signs that read "love." Along with the cutest decorations, we would always make little Valentine's Day inspired treats together. Below are five of my favorite V-Day treats that are easy and so fun to make. XOXO.
Heart-Shaped Cake
Ingredients
For the cake:
Cookie spray

One c. (two sticks) butter, softened

One c. granulated sugar

Two large eggs

One tsp. pure vanilla extract 

Two and a half c. all-purpose flour 

One-fourth c. Dutch-processed cocoa powder 

One tsp. baking soda 

One tsp. kosher salt 

One c. Buttermilk

Two tsp. distilled white vinegar 

Two tbsp. red food coloring 
For the cream cheese frosting:
(Eight-oz.) block cream cheese, softened 

Four tbsp. butter, softened 

Four and one-fourth c. powdered sugar 

One tsp. pure vanilla extract 

Pinch kosher salt 

Colorful sprinkles, for serving (optional)
Directions
Preheat oven to 350°. Line one eight-inch round cake pan, and one eight-inch square cake pan with parchment paper. Grease both with cooking spray. In a large bowl using a hand mixer (or in the bowl of a stand mixer), beat butter and sugar until light and fluffy. Add eggs one at a time, beating well after each addition, then add vanilla. 
In another large bowl, whisk together flour, cocoa, baking soda and salt. Add half the dry ingredients to wet ingredients, beating until just combined. Add buttermilk, vinegar and red food coloring, beating to combine. Add remaining dry ingredients. 
Divide batter between prepared cake pans and bake until a toothpick inserted into the middle comes out clean for 25 to 30 minutes. Let cool for 15 minutes, then invert onto a cooling rack to cool completely. 
Meanwhile, make the frosting: In a large bowl using a hand mixer (or in the bowl of a stand mixer), beat cream cheese and butter until smooth. Add powdered sugar and beat until light and fluffy. Add vanilla and salt and mix until combined. 
Cut round cake down the center, then place cut sides on two adjacent sides of the square cake. Frost entirely with cream cheese frosting. If using, garnish with sprinkles and serve. 
Peanut Butter Balls
Ingredients
Two c. confectioners' sugar 
One c. creamy peanut butter 
Four tbsp. unsalted butter, at room temp 
One tsp. pure vanilla extract 
One-fourth tsp. kosher salt 
Nine oz. bittersweet chocolate, chopped 
Flaky salt and melted red candy melts, for decorating 
Directions
Using an electric mixer on medium speed, beat sugar, peanut butter, butter, vanilla and salt until dough forms into a ball for about two minutes. Roll dough into one-inch balls and place on a parchment-lined baking sheet. Freeze until firm for about 20 minutes. 
Once balls are firm, place chocolate in a small measuring cup and microwave in 30-second increments, stirring between each, until melted and smooth. 
Line a second baking sheet with parchment paper. Working with a quarter of the balls at a time (keep remaining frozen), dip in chocolate one at a time, letting excess drip off, and transfer to the baking sheet. If desired, sprinkle with flaky salt. Repeat with remaining peanut butter balls.
Once the chocolate has set, if desired, decorate with melted red candy melts. Keep refrigerated until ready to serve. 
V-Day Brownies
Ingredients
Three-fourths c. unsalted butter 
Four oz. unsweetened chocolate 
Four oz. semisweet chocolate 
One-half c. all-purpose flour 
One-half c. unsweetened cocoa powder 
Three-fourths tsp. salt 
Six large eggs 
One c. granulated sugar 
One c. packed brown sugar 
Two tsp. vanilla extract 
Vanilla frosting, for decorating 
Directions
Heat oven to 350°F. Line 13-inch by nine-inch pan with foil; grease foil. 
In a three-quart saucepan, melt butter and chocolates on low, stirring. Remove from heat. 
In a bowl, whisk flour, cocoa and salt. In a large bowl, with an electric mixer on high speed, beat eggs until blended. Gradually add sugars; beat until tripled in volume for about 10 minutes. 
Fold in chocolate mixture and vanilla, then flour mixture. Pour into pan. Bake until a toothpick inserted near the center comes out almost clean for 28 to 32 minutes. 
Once cool, cut brownies into hearts freehand or using a heart-shaped cookie cutter. (Tip: Don't let the trimmings go to waste—you can even crumble them onto a sundae!) 
Pipe on store-bought frosting to create cute chocolate "conversation hearts."
Mini Rosebud Cupcakes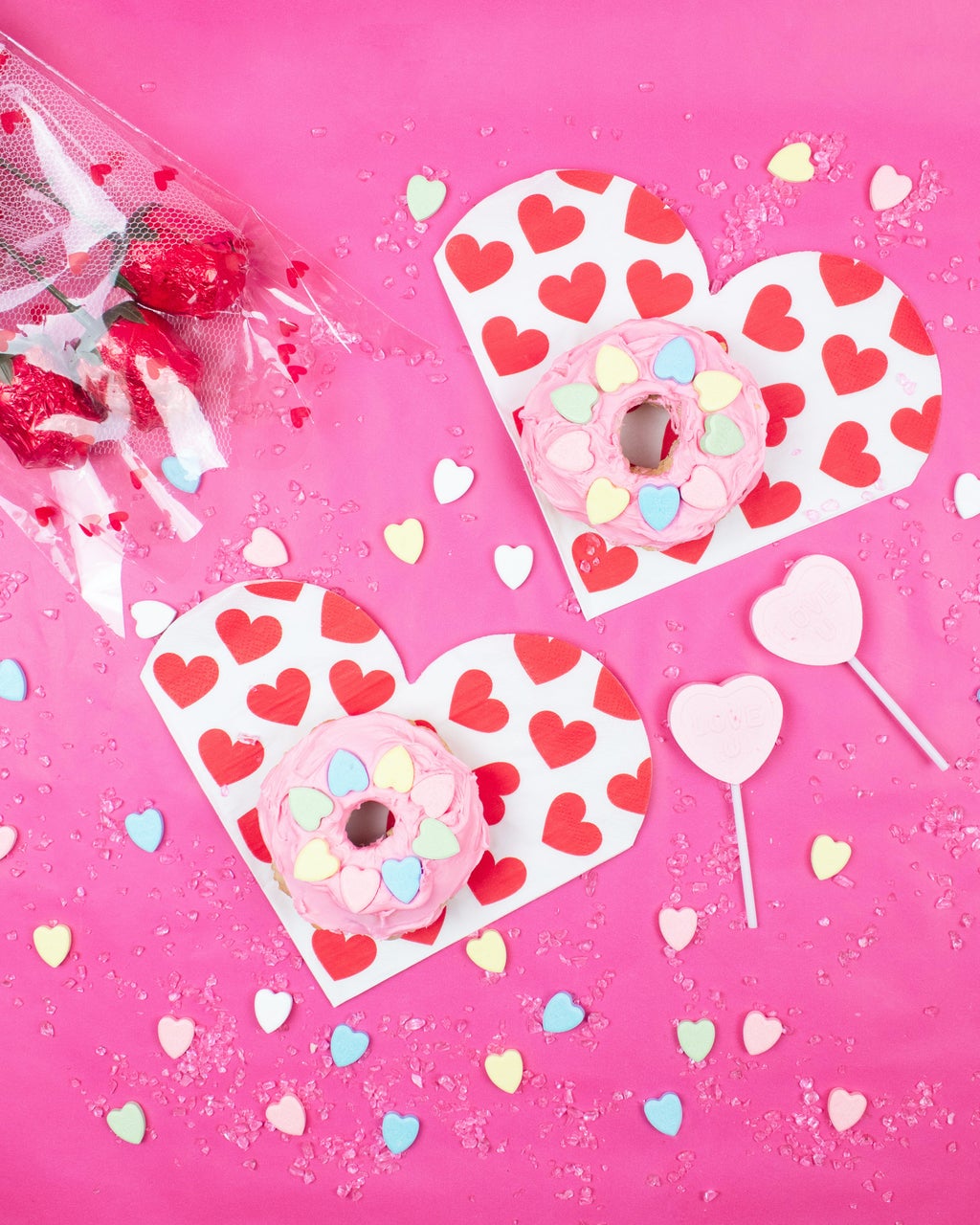 Ingredients
For the buttercream frosting:
One lb. confectioners' sugar 
One c. unsalted butter 
Two tbsp. heavy cream 
Two tsp. pure vanilla extract 
For the toppings:
Directions
Make a batch of your favorite cupcakes. Let cool. 
Make frosting. 
Begin to tightly roll a red sour strap into a rosebud, then loosely twist it while continuing to wrap it around the bud to form the petals. Tuck the end underneath the rose and secure with one end of a toothpick; stick the other end into the top of the cupcake. 
Rice Krispie Valentine Lollipops 
Ingredients
One 10 ounce package of large marshmallows 
Four tablespoons butter 
One teaspoon red food coloring 
Six cups rice Krispie cereal 
Eight ounces vanilla-flavored candy coating 
Candy sprinkles for decorating
Directions
Place butter and marshmallows in a large bowl and heat on high in a microwave for two minutes. Remove, stir and heat for another two minutes. Take the bowl out of the microwave and stir really well until marshmallows and butter are combined. Add food coloring and mix well. Add rice Krispies to the bowl and stir to combine, working fast. 
Mold mixture into a large square, about nine by 13 by one-half inch thick, on a sheet of wax paper, let cool slightly and cut out heart shapes with a cookie cutter and set aside. 
Melt candy coating in a small sauté pan according to package directions. Spread a thin coat of the candy coating on the top of the heart shapes, place in a wide flat bowl or on a plate and coat generously with candy sprinkles. Insert lollipop sticks in the bottom of each heart or serve on their own as cookies. 
Enjoy and happy Valentine's Day!  
Want to see more HCFSU? Be sure to like us on Facebook and follow us on Instagram, Twitter, TikTok, Youtube and Pinterest!