Five Spooky Halloween Treats
What's your favorite part of Halloween? Getting dressed up? Going trick-or-treating? But nothing beats making Halloween treats. Below are five fun and easy desserts to make your corona safe Halloween get-together even spookier!
1. Worms in Dirt
Ingredients:
12 cookies chocolate cream-filled sandwich cookies
One (3.9 ounces) package instant chocolate pudding mix
Two cups of milk 
One (three ounces) package gummy worms candy
Directions:
Place the chocolate sandwich cookies into a resealable plastic zipper bag and crush with a rolling pin into crumbs. For a more mudlike appearance, untwist the cookies and scrape off the creme filling before crushing cookies.
Whisk together the chocolate pudding mix with the milk in a bowl, stirring for two minutes. Sprinkle about 1/3 of the crushed sandwich cookie crumbs into the bottom of a serving bowl and spoon the chocolate pudding over the crumbs. Smooth out the top of the pudding, then top with the rest of the chocolate cookie crumbs to resemble dirt. Poke gummy worms halfway into the dirt. Refrigerate until serving.
2. Boo Bark
Ingredients:
Two four ounce semi-sweet chocolate bars (226g), coarsely chopped
Two four ounce white chocolate bars (226g), coarsely chopped
Festive Halloween candy such as eyeball sprinkles, Halloween sprinkles and Halloween M&Ms
Directions:
Line a large baking sheet with parchment paper or a silicone baking mat. Set aside.
Melt the semi-sweet chocolate. Melt in 20-second increments in the microwave, stopping and stirring after each increment until completely melted and smooth.
Melt the white chocolate the same as in step two.
Pour the melted semi-sweet chocolate onto the prepared baking sheet and spread out into a large rectangle. Drizzle the white chocolate mixture on top. Decorate the top of the bark with candies.
Allow the chocolate to completely set uncovered at room temperature or in the fridge for about 45 minutes.
Refrigerate for up to two weeks or store in a cool, dry place for one week.
3. Gluten-free Halloween Monster Cookies
Ingredients:
Directions:
Pre-heat oven to 350F degrees.

In a small bowl add the chocolate chips and melt them for about one minute in the microwave. Mix well and set aside.

In a medium bowl, whisk all the ingredients together, except the chocolate chips melted.

Pour the chocolate chips melted and mix.

Scoop out one tablespoon of the batter onto the tray with silicone mat or parchment paper and pat down a bit with your fingers.

Bake for nine minutes.

Remove from the oven and let them cool down for one minute.

Add candy eyeballs and sprinkles while cookies are still warm.

Let them cool completely to remove from the baking sheet. Makes 22 cookies.
4. Ghost Smores Dip
Ingredients:
Four packages of ghost Peeps
Two c. semi-sweet chocolate chips
1/4 c. heavy cream, warmed
Graham crackers, for serving
Mini chocolate chips
Directions:
Preheat oven to 450° F degrees. At the bottom of a square baking dish, spread out chocolate chips and pour cream on top. Cover completely with a single layer of ghost Peeps. Place mini chocolate chips over the eyes and mouth. (The already-drawn faces will fade in the oven.)
Bake until the chocolate has melted and the ghosts are golden, for about eight to 10 minutes.
Serve warm with graham crackers for dipping.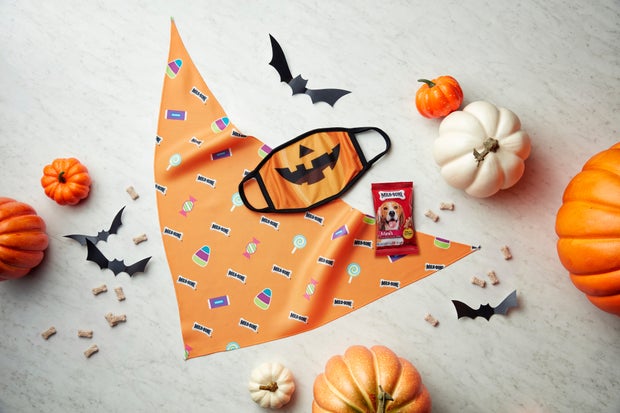 Milk-Bone
5. Jack Skellington Candy Apples
Ingredients:
Two c. white chocolate chips
Two tbsp. coconut oil
Four Granny Smith apples 
Two c. powdered sugar
Two tsp. corn syrup
Two tbsp. milk
Black food coloring
Directions:
In a large bowl, melt together chocolate chips and coconut oil. Dip apples into melted chocolate and place on a baking tray lined with a cooling rack. Refrigerate 10 minutes or until hardened. 
In another large bowl, mix together powdered sugar, milk, corn syrup and black food coloring. Transfer to a piping bag or a Ziploc bag. 
Pipe eyes, lips and nose. Let set another 10 minutes to harden.
Now with these five treats, nobody will go hungry and they will definitely have their sweet tooth satisfied. So have fun making these, and make sure to have a spooky and corona safe Halloween!
Want to see more HCFSU? Be sure to like us on Facebook and follow us on Instagram, Twitter, TikTok, Youtube and Pinterest!